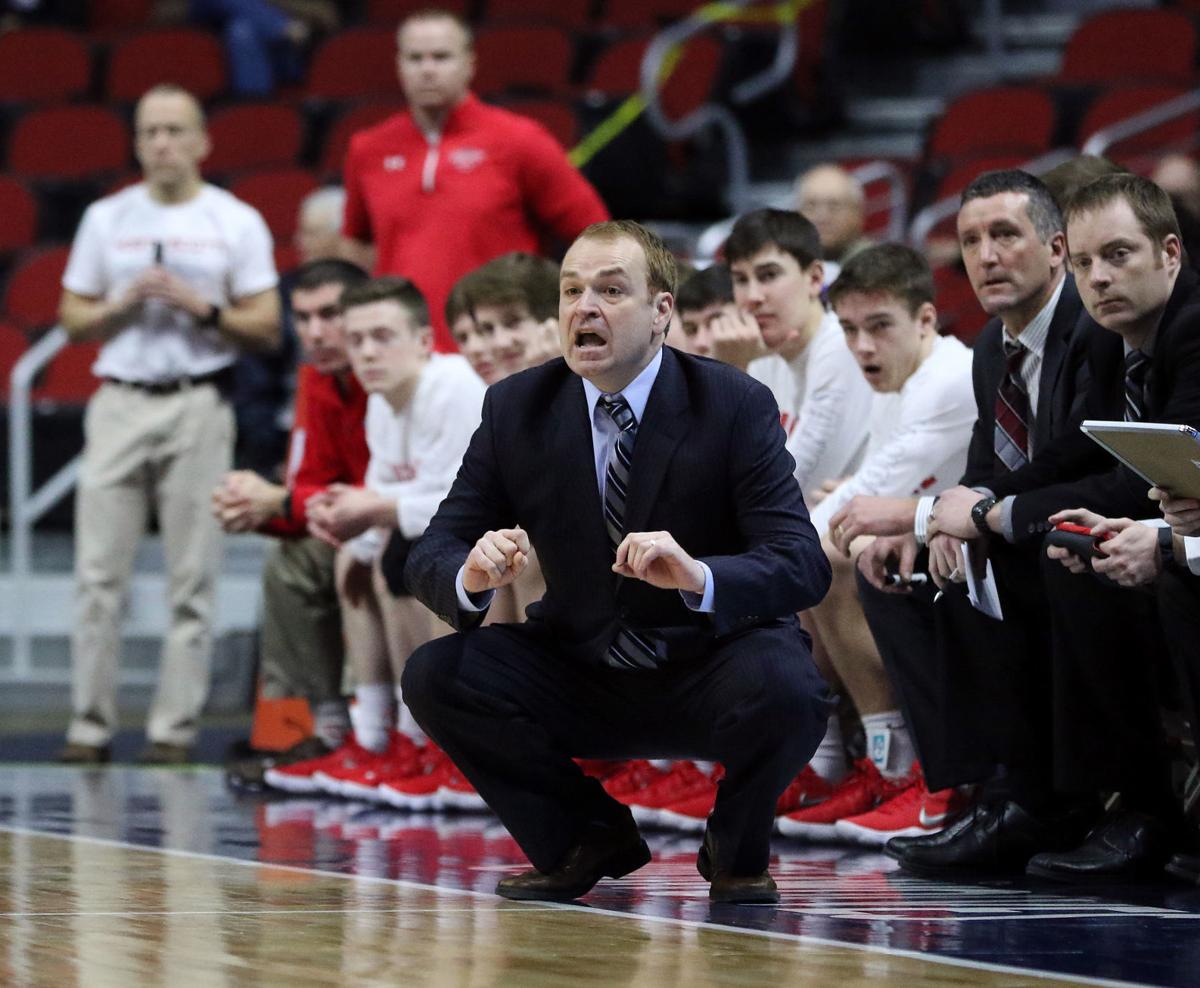 DES MOINES — The gesture had Justin Ohl in tears afterward.
Noah Hart, a senior point guard on the Waukee boys' basketball team, suffered a season-ending knee injury in mid-January. It changed the complexion of the Warriors, a squad many had on their short list to capture a state championship this winter in Class 4A.
So before Waukee's final game of the season Friday morning, Ohl — the Warriors' head coach and a former assistant at Drake — called North Scott coach Shamus Budde and told him he was going to start Hart.
Once the teams arrived at Wells Fargo Arena for their third-place game, Budde approached Ohl and said, "Let's get him a bucket."
"I was like, 'Wow, I really appreciate that,'" Ohl said. "That speaks volumes for him and type of program he runs at North Scott."
After Waukee controlled the opening tip, Michael Vincente threw the ball to Hart near the basket. Uncontested, the 6-foot-3 Hart, who averaged 11.1 points per game, gently laid it in off the backboard for two points. The contest was stopped temporarily as Hart came out of the game to a nice applause.
The coaching fraternity is tight.
Budde and Ohl have been friends for a long time. The programs have formed a solid relationship in recent years as Waukee has come to the Quad-Cities during the summer to scrimmage.
"We've had a chance to know a lot of their players, and a lot of our kids are friends with Noah," Budde said. "I feel bad for a kid that has put a lot of time into it and is a very good basketball player.
"That was an easy decision to honor him."
North Scott guard Cortaviaus Seales joked with Hart before the tip that he was going to block the shot.
All kidding aside, it was a generous act of class and sportsmanship.
"I can't tell you how much our kids appreciated that," Ohl said.
It spoke to what is beautiful about athletics.
We've seen plenty of examples of lost perspective and uncivil behavior at high school contests. Whether it is a player or coach berating an official, physical altercations or fans acting unruly, the win-at-all-costs culture has given youth and high school sports a black eye.
This was one of those warm, fuzzy moments.
North Scott lost the game 66-57, but that was a mere footnote afterward.
"This is a lot more than wins and losses," North Scott senior Carson Rollinger said. "You learn many life lessons coming through this program. Coach Budde puts you on the right path, in life and in basketball. He always makes sure you're OK, and he'll do anything for you."
Reece Sommers has witnessed that for four years.
Sommers has been hindered by a knee injury all season. He's missed considerable practice time and multiple games, but Budde has been supportive each step of the way.
When Sommers reflected on the last four years with Budde following Friday's game, his eyes welled up with tears.
"The toughest part is leaving this group of guys," Sommers said, "but more specifically Shamus. What's he's done for me and who he has turned me into as a person, I can't even describe. It was very special to be part of his program for four years."
That's what athletics should be about. That's what coaching should be about, molding teenagers into young adults. 
Budde provided a remarkable example of that. 
Ohl said Hart's rehabilitation is going well. Hart hasn't decided what he'll do next, but Ohl believes there will be options for him to compete at the Division II level or possibly attend prep school.
As Budde walked out of the locker room area Friday, Ohl had a few parting words to him: "Thank you again, Shamus. You'll probably be getting a note from me."
Budde brushed it off as no big deal.
It was an act of kindness Ohl and his team won't forget. 
Get in the game with our Prep Sports Newsletter
Sent weekly directly to your inbox!