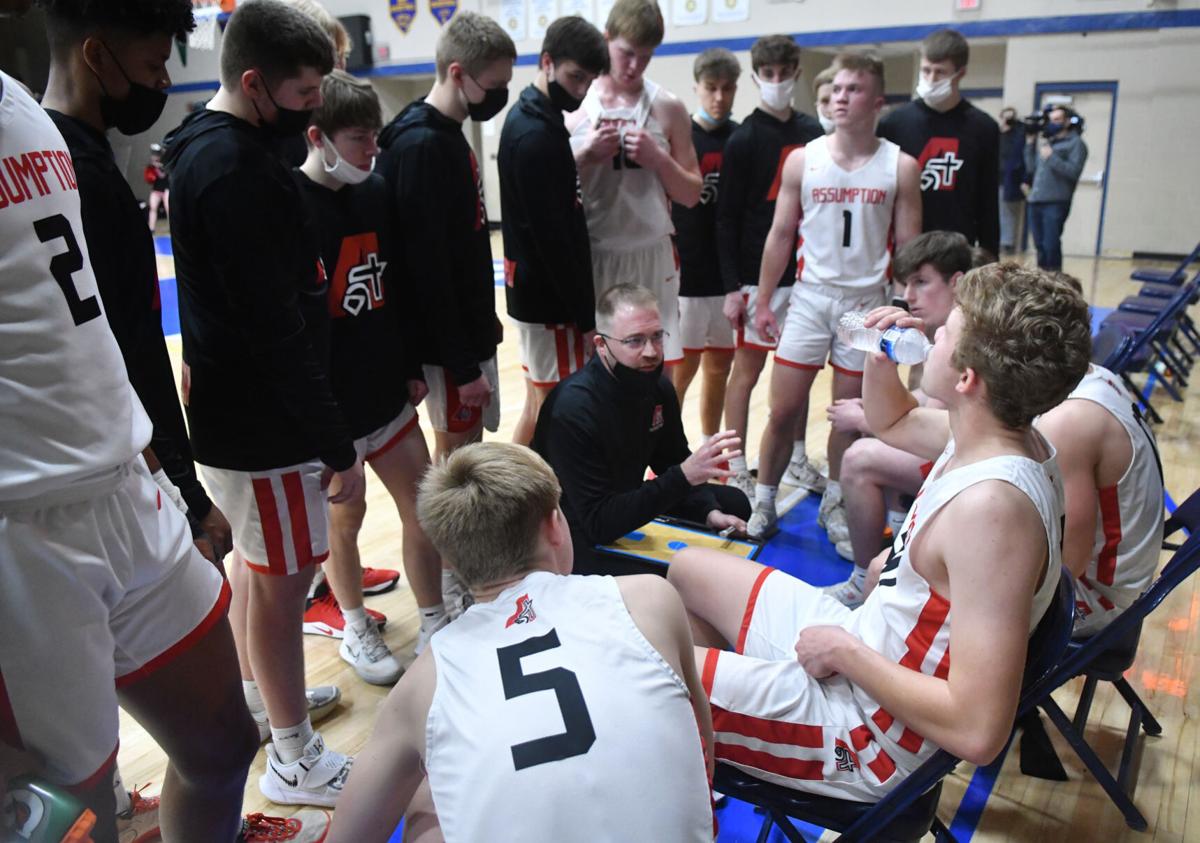 Matt Fitzpatrick admits he is mentally exhausted at the conclusion of each basketball season. It usually takes about a week for Davenport Assumption's coach to recharge before he begins peeking ahead to the following year.
"I didn't get that feeling of excitement back I normally do," Fitzpatrick said. "This was the first year, to be honest, where I was like, 'I can't do it again.' This program means too much to me not to do this job 100%."
With that, Fitzpatrick submitted his resignation and informed the team of his decision Thursday.
In his six seasons coaching at his alma mater, Fitzpatrick compiled a 90-54 record. The Knights were 19-7 and reached the Class 3A state semifinals this past winter.
"This was obviously a very tough decision because this is a special place to me," Fitzpatrick said. "I've been a fan of Assumption hoops since third grade. The last six years was really special.
"At the end of the day, there is so much that goes into running a varsity program. It isn't just coaching a varsity team, but the freshman and sophomore teams, having the staff in place, all the logistics, ordering gear, and the feeder programs."
Fitzpatrick didn't completely close the door on a return to coaching.
Right now, the 40-year-old wants to focus on his family, which includes a 20-month-old daughter, and his business as an insurance agent.
"As I told our team, as you get older and your family changes, your priorities start to change," Fitzpatrick said. "That happened with me.
"I've basically been playing and coaching my whole life. Next year will be the first time I'm not on a team, and I don't know how it is going to be. I have some anxiety about it, but I need to step away for a little bit and put my energy and focus into other areas."
After a 9-14 mark in his first season, the Knights won 14, 14, 15, 19 and 19 games, respectively, the past five years.
Assumption played in a substate final each of the past four seasons, and Fitzpatrick has coached multiple all-staters in Dylan and Sean Peeters and Emarion Ellis. 
"When I first got here, all the talk was about state championships and conference championships," Fitzpatrick said. "We weren't able to bring that, but I definitely look back on the six years with a lot of pride. The program got better, and I'm extremely proud about that."
The cupboard is not bare for Fitzpatrick's successor.
Noah Mack, J.J. Stratman and Jay Costello played pivotal roles on this year's state tournament squad. Mack was the team's second-leading scorer at more than 11 points per game while Stratman and Costello were sparks off the bench.
"I feel no question we've left the program in a good place," Fitzpatrick said. "A big thing is getting a good staff you can trust, from the freshman level on up, and all that is pretty much in place.
"This is a player-driven program and a lot of control in how good they're going to be is them. The coaches create a good environment, but at the end of the day it is their program, and our kids right now know that. I feel good about that."
Fitzpatrick's departure leaves three Mississippi Athletic Conference head coach openings for next season.
Craig Wurdinger announced his resignation at Davenport Central last week, and Clinton's Troy Ersland won't return next winter.