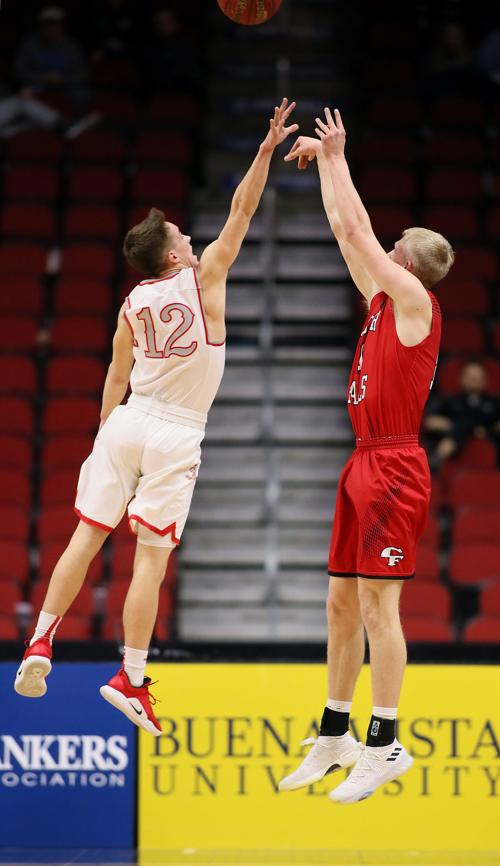 DES MOINES — The championship trophy is no longer at stake, but the North Scott boys basketball team has an opportunity to finish its season with a win. 
For four seniors, including three starters, they'll don the Lancer uniform one last time at 11:55 a.m. Friday against top-seeded Waukee in the Class 4A third-place contest at Wells Fargo Arena.
"These guys will be ready to play," North Scott coach Shamus Budde said. "That's what was great about winning on Tuesday. You get a chance to take the floor with these guys one more time.
"Whenever you put that Lancer jersey on, you're going to compete, be tough, and we're playing to win. It doesn't matter if it is June, July or March. We'll be ready to go."
It is particularly meaningful for a group that has played basketball together since elementary school.
Seniors Carson Rollinger, Cortaviaus Seales and Reece Sommers have been part of two state tournament teams and 74 wins the past four seasons.
It can make it 75 on Friday against Waukee. The Warriors (21-3) lost to Dubuque Senior 57-55 in overtime late Thursday night. 
"It has been a fun ride with these guys the last couple of years," Rollinger said. "It is something I'll remember the rest of my life."
North Scott (23-2) won a share of the Mississippi Athletic Conference title with Bettendorf this season, has been ranked in the state's top five and has limited all four postseason opponents to 40 points or fewer. 
Even though a championship isn't at stake, North Scott's Ty Anderson said the Lancers are going to cherish their last game together.
"These are all really close friends of mine," Anderson said. "I've been growing up playing with them since the sixth grade, and we bust our (butts) for each other. 
"We're going to come out with the same attitude that we're going to win (Friday) like we did Tuesday. We want to get as high of a place as we can."