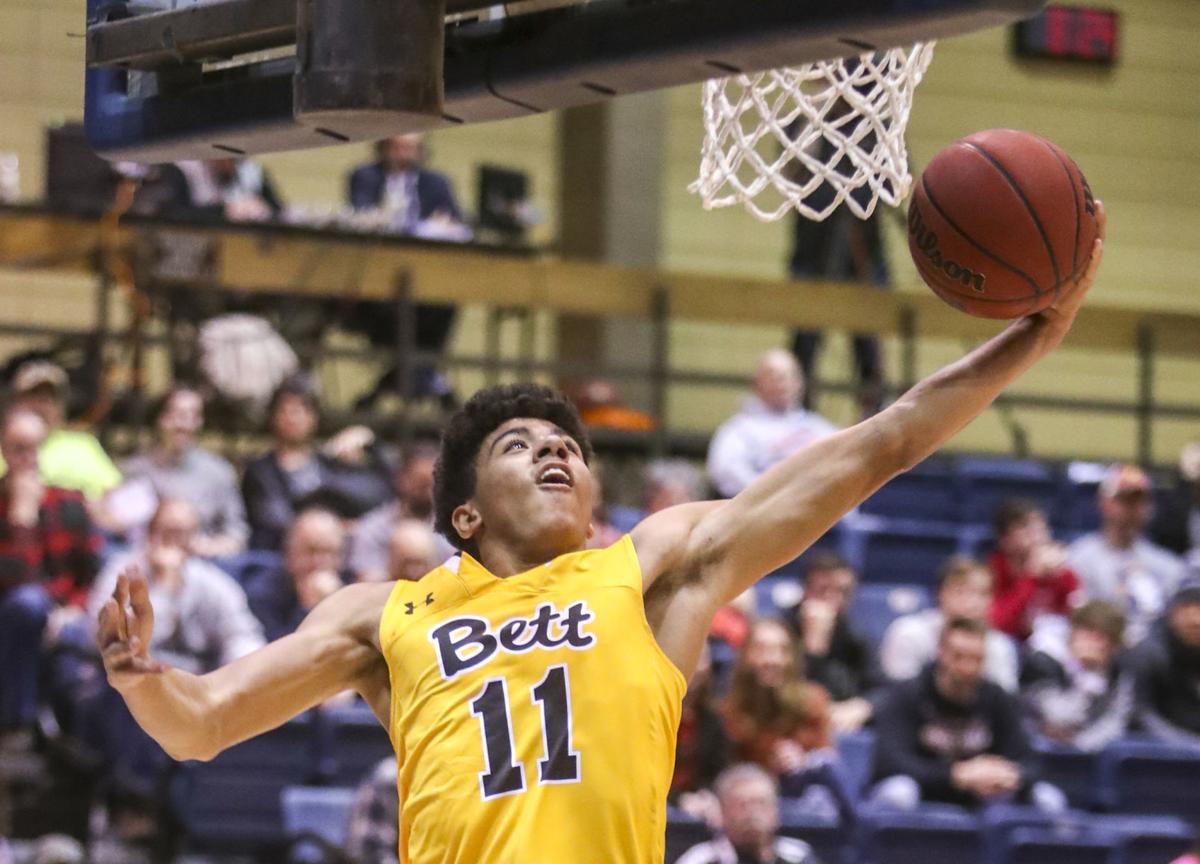 Stats/honors
After serving more as a role player on Bettendorf's state tournament team as a sophomore, D.J. Carton left his mark on the program the past two seasons.
Carton averaged more than 23 points per game during his junior and senior campaigns. He finished with a school-record 1,198 points along with 372 rebounds and 257 assists. He was a Class 4A first team all-state selection twice, Mississippi Athletic Conference player of the year, co-Mr. Basketball and the Iowa Gatorade Player of the Year.
The Ohio State signee had a career-high 49 points in a win over Davenport West.
"Hopefully, I've inspired some young kids along the way," Carton said. "I dream the same things other kids do. I want kids in this program to beat those records because I want this program to succeed and grow."
Season highlights
Bettendorf finished the year with a 21-2 record, won a share of the MAC title and held a No. 1 state ranking at the end of the regular season.
Carton said the win over North Scott late in the regular season was especially memorable. Besides a win over what was then the No. 1 team in the state, the Bulldogs prevailed in thrilling fashion. Carton had the assist on the game-winning basket to close friend Trevor Feller in the final 10 seconds.
The Bulldogs more than doubled their win total from Carton's junior season.
"A lot of people on our team, I never had a relationship with before this," Carton said, "and now I can call some of them good friends. We proved a lot of people wrong, and a lot of people slept on us. We proved we can compete with about any team in the state."
'Hard to flush'
Even with the success of the season, Carton said the ending still hurts. The Bulldogs lost to eventual state runner-up Dubuque Senior in a substate final at the U.S. Cellular Center in Cedar Rapids, 64-55.
Carton had 27 points in his finale, but Dubuque Senior's Noah Carter had 22 of his game-high 30 points in the opening half.
"That's still hard to flush," Carton said. "I truly felt we were the best team in the state, but they outplayed us that day. You tip your hat to them."
Carton said he didn't watch any of the state tournament games.
"I was too emotional," he said. "I really wanted us to get there my senior year, so I couldn't watch it."
Gearing up for college
Carton begins individual workouts this week, in preparation for the next phase of his career. He'll participate in the Iverson Classic in Philadelphia in late April before heading to Columbus, Ohio, in early June.
Carton said a significant amount of time will be devoted to shooting off the dribble and improving his mid-range game.
"I'm not going to be able to finish as easily in the paint with the size I'll go up against next year," he said.
When Carton watches the Buckeyes, he sees they are missing a point guard. He anticipates contributing immediately for Ohio State and coach Chris Holtmann's program.
"I'm definitely ready to go in there and make an impact right away," Carton said. "I want to lead the team. I understand it gets way harder, but I was raised for this. I'm ready for these challenges.
"I don't want to just hang with them on the court. I want to excel over them and prove my worth."