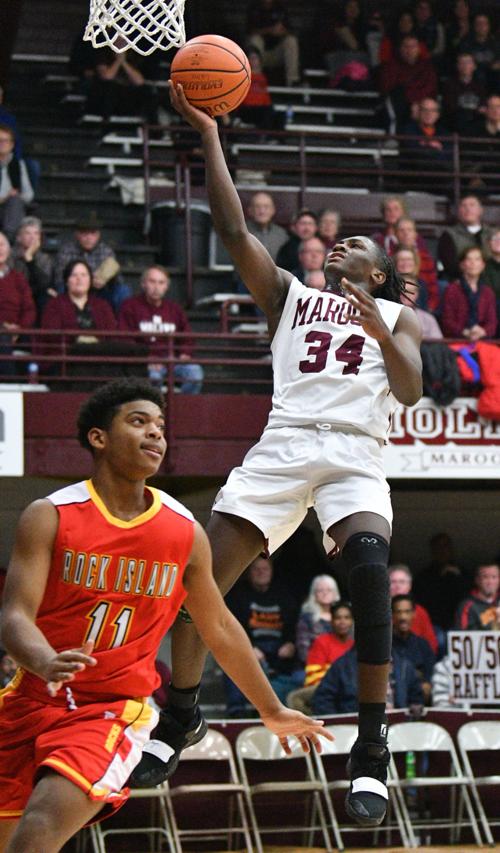 A player who played anywhere on the court for the Moline Maroons, Deonte Billups found the perfect place to continue his college career.
The senior swingman committed to Purdue-Fort Wayne this weekend, joining a program that allows its players to do a little bit of everything.
"They play kind of a four-guard offense and it will allow me to play anywhere from the 1 to 4," Billups said. "The coaches said I need to get stronger to play the 4 and work on my ball handling to play the 1."
While many around him have spent the recent months wringing their hands over the recruiting process, or lack thereof, Billups was never stressed about it.
"It is a big decision and I am glad to have it off my back," Billups said, "but I was just enjoying the process. My thoughts were just finding the right place to play.
"When I got to Fort Wayne I felt like it was the place for me. "The coaching staff and players were great. I was treated really well and the campus was nice. I made a trip to Northern Illinois (last week) just to compare and I really liked it there as well. It just came down to how comfortable (I was) there at Fort Wayne."
You have free articles remaining.
Billups finished this past season as the school's all-time leading scorer and also Moline's single-season scoring leader. He admits his versatility comes from playing both for AAU Quad-City Elite coach Logan Wynn and Moline's Sean Taylor.
"In high school everything is more organized and more disciplined," he said. "Coach Taylor really helped my game a lot by allowing me to handle the ball more. In AAU, it is more freelancing but there is more competition. I am grateful to have played both."
He is also happy about leaving the Mac Irvin Fire AAU team to return to the QC Elite.
"I think that was the best decision I have ever made," Billups said. "I just was never happy there and coming back gave me the chemistry I like with my teammates. Then, we wound up going to a high-level tournament in Las Vegas and got all the way to the championship game."
The UPFW Mastadons finished this past season 18-15, 9-7 in the Summit League. They averaged 82.7 points per game this past season.
Now, Billups will get ready to join that team.
"I believe I can get into the rotation next season," Billups said. "It won't be easy but I think I will get some minutes. I just need to do what the coaches told me to do — get stronger and work on my ball handling. It starts right now, working to be better."