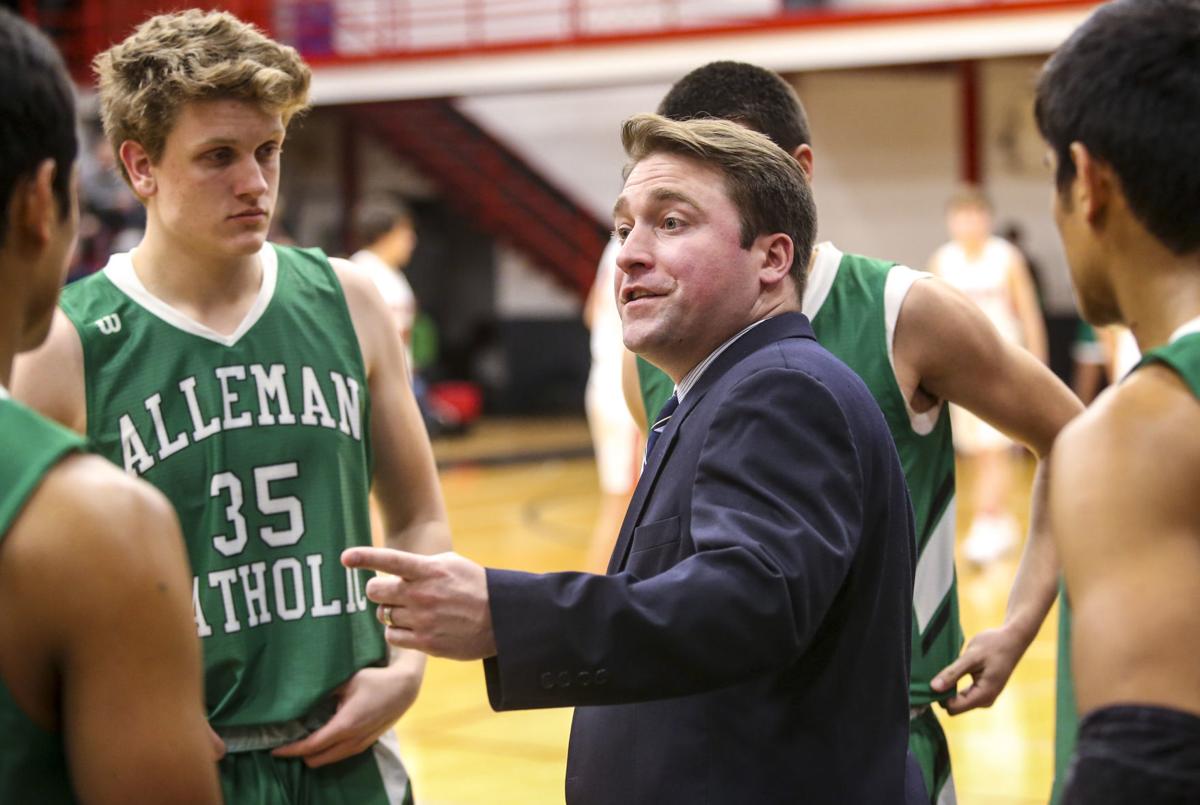 Kyle Murray did not see this coming.
"I got called into a meeting (Friday) and thought they were maybe giving me a medal of honor," Murray said. "They gave me a pink slip. I was a little shocked."
The 36-year-old Murray was dismissed as Alleman's boys basketball coach after three seasons Friday morning. The Pioneers won a regional championship in his first year but were 12-47 the past two seasons.
Murray said wins and losses weren't brought up when Alleman principal Sara Stroud informed him of the decision.
"I was told the decision was based on relationships with players and families," Murray said. "Again, I was surprised by that.
"When I was in there and she said I was being relieved of my duties, honestly, I thought she was talking about somebody else. I looked around and I was the only guy in there. I said the only person relieved is my wife Natalie."
Murray was a four-sport standout and is in the Hall of Fame at Muscatine. He helped Muscatine end a 48-year drought by leading them to the state tournament in 2002.
He spent 11 seasons as an assistant coach for Ray Shovlain at St. Ambrose before replacing Patrick Rangel at Alleman in the spring of 2017.
The Pioneers had success in his first year, finishing with a winning record and advancing to the sectional semifinals. He felt Alleman could build on that.
You have free articles remaining.
"I saw what we had and we had very good talent at those lower levels," Murray said. "I sped the process up by moving some kids up to get them acclimated to the varsity level and getting them some experience.
"Honestly, they could have some success in the very near future. The cupboard is full for the next coach."
Despite a 4-28 mark this past season, Alleman showed growth. It was competitive with several Western Big 6 Conference schools for a half in the latter part of the season. It beat Sherrard in the Class 2A Mercer County Regional opener and held a lead at halftime against state-ranked Rockridge in the regional semifinal before losing by seven points.
"If you saw us play at the end of the year, we were playing as well as any team in our regional," Murray said. "It is a credit to our kids and how hard they fought and battled. They were tremendous.
"I had more fun this year than any of my other years in coaching. The expectations for this group of guys were really low and they came in and battled, never quit. I can work with guys like that."
A contract specialist for the U.S. Army, Murray said he was appreciative of the opportunity former Alleman activities director Joe Conklin gave him three years ago to lead the Pioneers.
"Being able to coach with my dad (Hank) was extremely enjoyable and the relationships I developed with the kids on the team and our assistant coaches," Murray said. "I'm really upset for the kids."
While Murray wants to return to coaching at some point, he'll focus his immediate attention on his young family. He has two children under the age of 4.
"Coaching definitely is in my blood," Murray said. "I love it."
This move leaves Alleman with head coach openings for both its girls and boys basketball programs. Megan Delp resigned in late February.
Get in the game with our Prep Sports Newsletter
Sent weekly directly to your inbox!