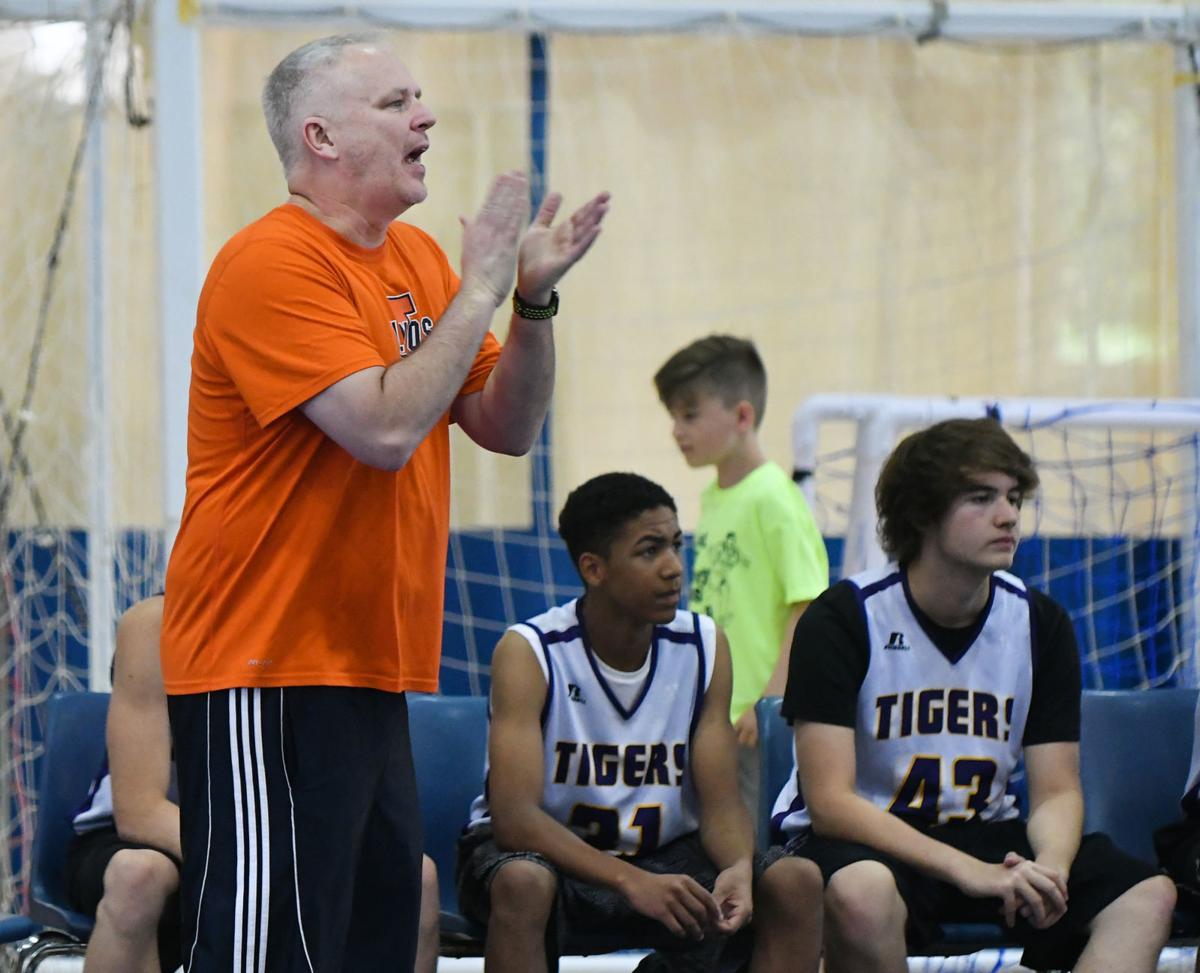 SHERRARD — For 35 years, the opening night of the high school boys' basketball season has been a date circled on Brian Hutton's calendar.
When the 2021-22 campaign opens Monday evening, it will be — to paraphrase the longtime Sherrard boys' basketball coach — his last first game.
Set to retire from his teaching post at the end of the school year, the 58-year-old Hutton will likewise step away from his coaching role after spending more than half of his life on the bench.
In addition to his 35 years as an assistant and then head coach at Sherrard and Mercer County, Hutton had also served as the Tigers' head girls' golf coach in addition to teaching social studies and media production classes.
"It's been kind of weird, because I've already gone through a couple of those `last first-time things,'" he said. "There was the last first day of school, the last first girls' golf meet, and now this."
The latter of those "last first-time" events is the Tigers' season opener this evening at Orion's 10 & 32 Tip-Off Classic.
"I still have moments when I think, `next year we need to do this,'" Hutton continued. "Then it's like, hold on, next year is not happening for me. So, it still hasn't sunk in yet."
Now living in Galesburg with his wife Becky, a former volleyball, basketball and softball coach at Sherrard and now principal at Galesburg's Lombard Middle School, and their two-year-old daughter Aliyah, Hutton feels that with his impending retirement from teaching and tending to his young daughter, the time is right to step away.
"It's been a long run, and I'm set to retire from teaching, so it's time to hang it up," he said. "I still enjoy coaching, but one of the things I considered in whether or not to continue was being out of the building, which makes it harder to stay connected with the kids.
"Doing this a long time, I've had to miss out on a lot of family commitments over the years. With a two-year-old daughter at home, I feel like it's time to commit more to family."
A former prep standout at Maquoketa under legendary coach Bill Fleming, Hutton's own coaching odyssey began in 1987, when he joined Gary Flecker's staff at Sherrard.
During a seven-year stint working with Flecker, he got to be part of back-to-back Class A regional-title teams in 1991 and '92, with the latter squad reaching the IHSA state quarterfinals. More importantly, Hutton learned a lot about his trade.
"I learned a lot from Coach Fleming, and when I came to Sherrard to work with Gary, I learned a different brand and style of basketball," he said. "I had a good run with Gary and I learned a lot that was beneficial to me.
"Gary was the kind of coach who would listen a lot to his assistants. I got to grow, and I learned a lot about running a program from him."
Taking the head-coaching reins from Flecker in 1994, Hutton guided the Tigers to six Class A regional championships in 14 seasons, highlighted by his 1996 squad that finished 23-7 and won the program's last sectional title to date.
After taking a year off from coaching, he returned in 2009 as the Mercer County High School head coach, winning 108 games in eight seasons before returning to the Sherrard bench in '17.
"Each group I've coached has been a special one," said Hutton. "You remember the great teams, the impact they made in terms of success on the basketball court, but I don't know if any one team stands out for me."
For now, thoughts of impending retirement are on the back burner for Hutton as he prepares the Tigers for the upcoming season, one he hopes will be a memorable one for his players after a 2-9 finish in a shortened 2020-21 campaign.
"To me, it's the kids coming first," he stated. "I'm a little disappointed as a coach that we haven't gotten things rolling since I came back. I want our seniors to have a successful last year."