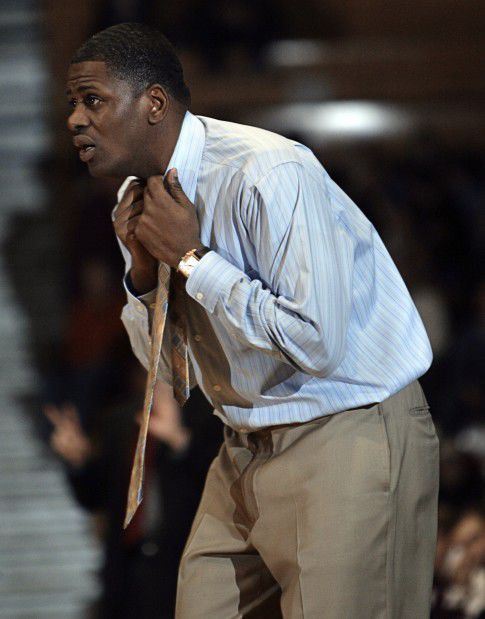 Marc Polite had an opportunity a couple of years ago to see the Davenport North boys basketball program up close as an assistant coach.
It left a favorable impression.
"It was a job that kind of stuck in the back of my mind," Polite said. "It is a position that always intrigued me."
The program is now his own.
Polite, four years removed from a seven-year tenure at United Township, has been appointed as the Wildcats' new coach. He takes over for Joe Ewen, who resigned this past spring to spend more time with his wife and five children.
"There has been a desire to be a head coach again, but I wanted to be real selective," Polite said. "My thing was more about fit than anything.
"There is a ton of potential in the city of Davenport, the type of kids they have are the type of kids I coach well. There are a lot of good pieces to build around."
North won 15 games two seasons ago and was 10-13 this past year. It returns two of its top three scorers this winter in Quincy Wiseman (10.4 ppg.) and Jayden Houston (10.0 ppg.)
"We don't have a ton of senior leadership, but there is definitely a ton of potential," Polite said. "That's what excites me."
In addition to working a season on North's staff, Polite assisted Black Hawk College coach Darren Bizarri's program last season. He also has done work with the Fellowship of Christian Athletes in the Quad-Cities.
Polite will teach full-time at North, working with at-risk children.
"It was important for me to be in the building to establish those relationships and have conversations with the guys," Polite said. "I want to be more than X's and O's. I want to be in their lives and help shape them into good young men."
That is an area that excites North activities director Jeremy Mosier.
"He holds great experience as a player and a coach," Mosier said. "Marc is passionate about basketball as well as helping young people succeed. His leadership in our building will be a great addition."
Polite admits his team will be a work in progress this upcoming season, especially given the timing of the hire.
North was without a coach during the summer months, the period when many programs establish roles and install offensive and defense sets.
"Usually, the first two weeks of (summer) camp set the tone and kids get to taste the flavor," Polite said. "We didn't have that luxury, so we'll have to be creative with our fall and hit the ground running on the first day of practice."
Polite, who plans to implement a style similar to the one he used at UT, believes his system isn't complex for players to pick up.
"We want to keep playing fast and aggressive," he said. "I don't want to paralyze them with overthinking things. I want to give them some lanes to play and confine it into a solid structure on both ends."
Polite had a meeting last week with his team. On just a day's notice, he had more than 30 student-athletes attend.
"The interest is really strong, and that's a credit to what coach Ewen did here," Polite said. "The kids are interested, and the kids are there. I'm really excited about this opportunity."