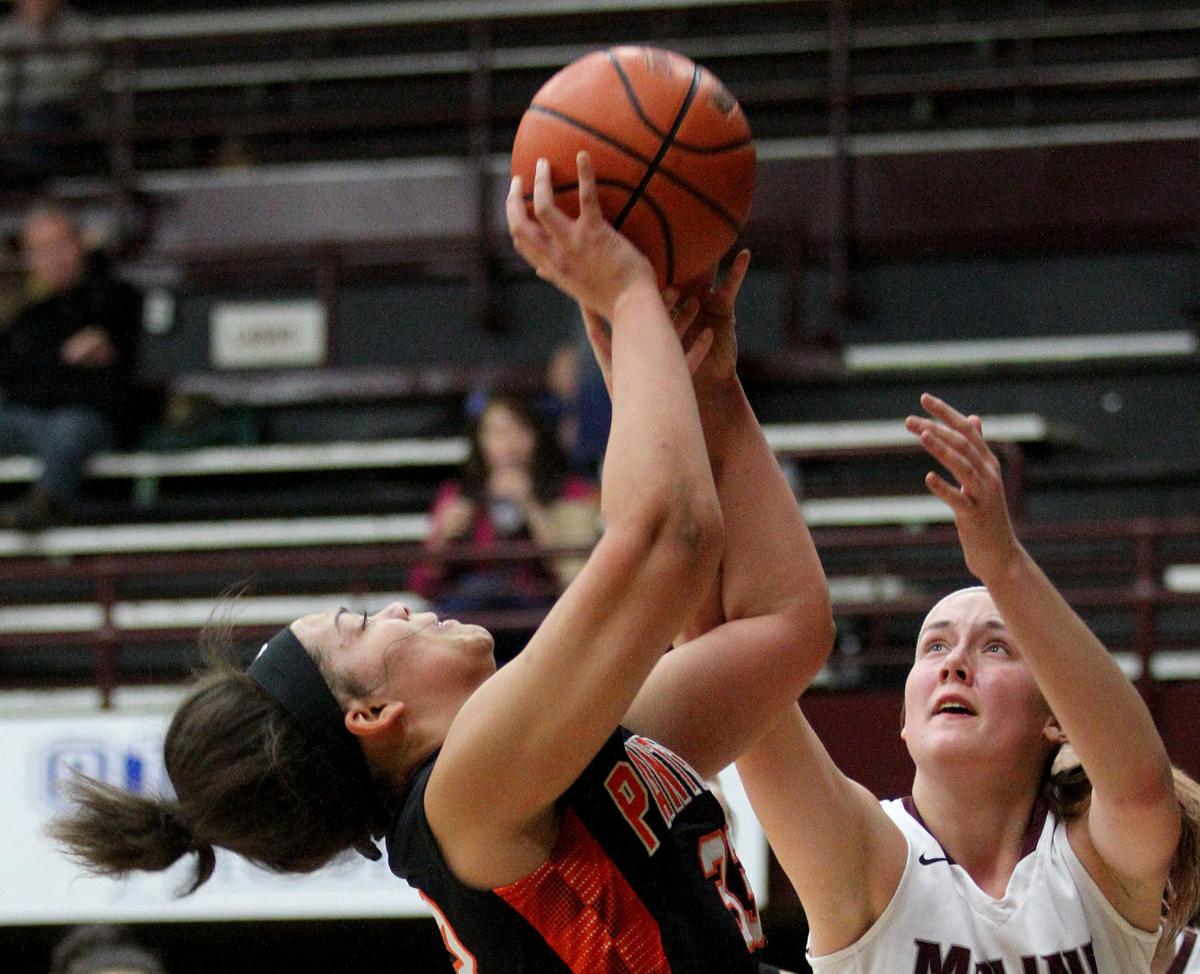 Here are six things that have caught my attention so far in the Western Big Six girls basketball season. Below that are short previews of matchups for this week's league games. I plan on doing this each week through the rest of the conference season.
1. Rocky's 'D': Losing to Chicago Marshall must have stoked a fire inside the Rocks. Since Nov. 20, they've held their last five opponents to an average of 27.6 points per game. That's outstanding. For the season they're holding opponents to 32.9 ppg, over 12 ppg better than the next-best team in the league. Coach Thad Hoover was concerned it may take a little while for his players to adjust to a new system that involved the team switching from its full-court zone defense that involved tons of traps to a man-to-man defense that still includes strong pressure. The Rocks seem to have it down pretty well already.
2. Gerard's jump: Moline seemed to be developing its own version of the twin towers two years ago when then-sophomore Lexie Gerard was pounding the boards with all-conference forward Hailey Cook. But a shoulder injury kept Gerard on the sidelines last year and the tandem didn't get to realize its full potential. Back healthy for her senior year, Gerard is making up for lost time. Last week against UT, the 6-foot-2 Gerard had one of her top efforts during a strong start to the season with 23 points and 12 rebounds. Galesburg's Shayli Florine was about the only proven post in the league entering the season, but Gerard is quickly showing she can be a force as well.
3. Streaks offer double trouble: It's no surprise to see the names Shayli Florine, Raina Gully and Lexie Daniels scattered in Galesburg's write-ups after games. All double-digit scorers last year, they were expected to be key contributors this year, and they are. But two players who have joined the fray to add even more depth and balance to the Silver Streaks' attack are 5-6 junior twin sisters Kylee and Kaylah Townsell. Kaylah averaged 1.1 ppg last year. Kylee averaged 0.5 ppg. In Galesburg's latest game on Saturday, the twins' progress was on full display in a 60-57 win over Dunlap. Kaylah scored a game-high 19 points with five rebounds, five assists and five steals. Kylee posted an 11-point, 14-rebound double-double. Looks like Big Six teams will need to add two more names to the scouting report.
4. UT still figuring it out: With the graduation of four of five starters from last year's team, including their starting backcourt, it's been taking some time for the Panthers to find the right mix early in the season. Through nine games last year the team was 9-0. Through nine games this year: 2-7. Throw in a new coach (Carie Walker) and learning a new system and it's understandable that it's been a slow go. The Panthers have been knocking on the door their past two games, rallying from a double-digit deficit to tie Moline last week before eventually fading late and then falling to Limestone in a tight 42-39 game Tuesday. UT's got talented players with Jada Harris, Davi Buchanan and Taylor May, along with some nice complementary pieces, and I'd expect the Panthers to start stringing together some wins fairly soon.
5. Tough road for Pioneers: Alleman has been trying to regain the form that got it off to a 3-1 start, but it's been hard with its schedule of late. The Pioneers have lost four in a row, starting with a 49-35 loss to a Springfield team receiving votes in Class 3A. The two most recent losses are to Galesburg (No. 6 in 3A) and Sherrard (No. 5 in 2A). Up next is Rock Island, the No. 8 team in 4A. Ranked No. 6 in 2A in the initial AP poll, the Pioneers' 40-38 last-second loss to Sherrard on Saturday shows they're comparable to ranked foes in their own class. Alleman's next three games come against unranked teams -- Wethersfield (Saturday), Moline (Dec. 17) and United Township (Dec. 21). All are at home.
6. Quincy making strides: Like past years, the Blue Devils are still struggling to score, but they're doing a better job of making their opponents work to score. Quincy allowed 50.0 ppg last year, the worst in the league. This year's team is averaging a league-low 37.0 ppg but is second in the Big in points allowed at 45.5 ppg. Last week, the Blue Devils held Rock Island nearly six points below its season average, albeit in a 56-27 loss.
Thursday's games
Alleman (3-5, 1-1) at Rock Island (7-1, 2-0)
You have free articles remaining.
Points per game: Alleman 46.4    Rock Island 61.8
Opponents' ppg: Alleman 48.3     Rock Island 32.9
With four straight losses, the Pioneers don't seem poised for an upset win here but they did surprise the Rocks last season at Rock Island, 64-57, so the Rocky won't take them lightly. The Rocks are coming off their lowest scoring output of the season last Saturday in a 41-36 win over a solid Evanston team, but their defense has been nearly impenetrable during a five-game win streak. Last year the Pioneers had veteran guard Izzy Anderson to help navigate Rocky's tenacious defense. A key for the Pioneers will be if they can keep control of the ball and get into their offense when the Rocks' turn up the defensive pressure.
Galesburg (8-0, 2-0) at Moline (6-2, 1-1)
Points per game: Galesburg 66.3    Moline 51.6
Opponents' ppg: Galesburg 45.5     Moline 51.3
Moline has plenty of size it can throw at Galesburg all-conference post Shayli Florine with 6-2 Lexie Gerard, 5-11 Letecia Billups and 5-10 Alannah Crompton. If they can neutralize Florine, the Maroons still have to match the Silver Streaks talented backcourt led by point guard Raina Gully. Senior guard Katie Stewart has been fairly consistent for the Maroons thus far but the team will likely need more from some of its other perimeter players to knock off the Streaks, who average nearly 15 ppg more than Moline.
Quincy (2-6, 0-2) at United Township (2-7, 0-2)
Points per game: Quincy 37.0    UT 49.1
Opponents' ppg: Quincy 45.4     UT 51.6
Both teams are seeking their first Big Six win and, technically, the Panthers are looking up at Quincy in the standings with one more loss in their overall record. The Blue Devils are hungry for a conference win — they haven't gotten one in a couple of years — but this is a game that UT should take. With all-conference senior Jada Harris, junior guard Davi Buchanan and senior Taylor May, the Panthers have more offensive firepower than the young Blue Devils.