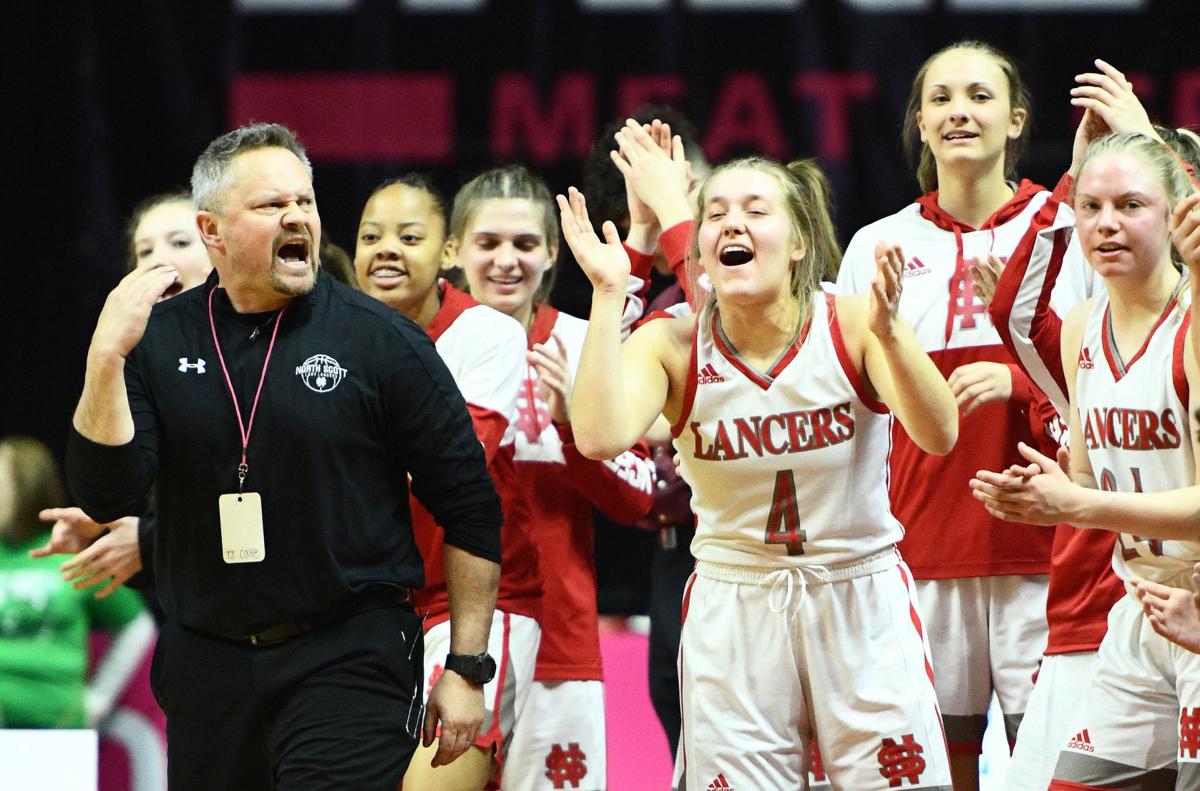 DES MOINES — With 33 seconds left, Presley Case left the court at Wells Fargo Arena for the final time.
She went over and hugged her father and coach, TJ, then went to the stands to hug her mother Tara and sister Maddie, before finally hugging her grandfather, Scott.
A long history went into those final 33 seconds — miles put on cars, hours put in gyms, and three state championships won, the final one coming with Saturday's 49-35 win over Lewis Central.
"Without any of my family, I wouldn't be anywhere that I am," Presley said. "I couldn't imagine it going any better. ...  It's insane."
Presley has seen her role for the Lancers change over the years, but her standout career began with a promise to her father.
"I remember when I was in (sixth) grade, I saw his team go to state (in 2014) and lose in the first round, and he was really bummed out about it," Presley said. "I remember telling him, 'Dad, when our group gets up there, we're going to get up to state and we're going to win it.'"
She made good on that promise as a freshman, scoring six points per game to help the Lancers win their first state title.
Her sophomore year, Presley scored 12 points per game, shot 32.2 percent from 3 and averaged 4.2 assists, though the Lancers missed the state tournament.
Things changed her junior year. She made a change to her shot in the offseason and her shooting percentage dropped, including to 27.6 from 3-point range.
That, coupled with the growing emergence of Grace Boffeli, led to another role change.
You have free articles remaining.
"We went through some woes in her junior year early on, trying to put up points, 3s that went down as a sophomore that didn't go down as a junior," coach Case said. "She had to go to more of an assist girl and passer. ... Presley is always dialed into what's best for the team, focused on the 'W' and making our program what it is."
Presley embraced the new role, dishing out 19 assists in last year's state tournament to help the Lancers win title No. 2.
This year, Case has thrived on finding her teammates, finishing the year second in the state regardless of class with 177 assists. She leaves with a school-record 453 assists, averaging 4.5 in her career.
"I think when I was younger, I felt like I had to prove myself, and then I tried to force a bunch of stuff and it just didn't work," Presley said. "I kind of figured it out a little later than I wished. If I had just facilitated more, it would have worked out better, but we figured it out and it obviously worked."
Saturday, Case capped her career by doing a little bit of everything. She had 14 points — a career high in Des Moines — five rebounds, four steals and three assists. In three tournament games this week, Case averaged 12 points, 3.7 rebounds, three assists, three steals. She shot 7 of 19 (36.8%) from 3.
"As a dad, I couldn't be more proud," coach Case said. "As a coach, I'm just proud she listened and she's always done it together. She just took what they gave her and on a big stage, she was able to get it done."
A little bit of everything also defines Case's career. Along with her assists, she recorded 928 points, 381 rebounds and 257 steals. She also made sure the program would be in good hands moving forward.
"The other night, her and I were talking, before we started the tournament trail. She turned to me and said, 'Dad, we have to get back,' and I said why?" coach Case said. "She said, 'We have to get back for (freshman Hattie Hagedorn).'
"As a father, what do you say to that? She wanted the younger girls to feel the feeling down here. If that doesn't say everything right there, it's not about the points or the wins or the assists, she gets it. She's ready to hand the keys over to someone else."
Presley will play for a new coach next year as she heads to St. Ambrose and the tutelage of Krista Van Hauen, but she'll always appreciate the ride she enjoyed with her father.
"It's hard being the coach's daughter, it really is because you feel like you have to prove yourself to everybody," Presley said. "There's times when basketball brings us together and there's times basketball really brings us apart and it's really hard sometimes but I wouldn't want to change it any other way.
"I'm glad I played for him these last four years."
Get in the game with our Prep Sports Newsletter
Sent weekly directly to your inbox!