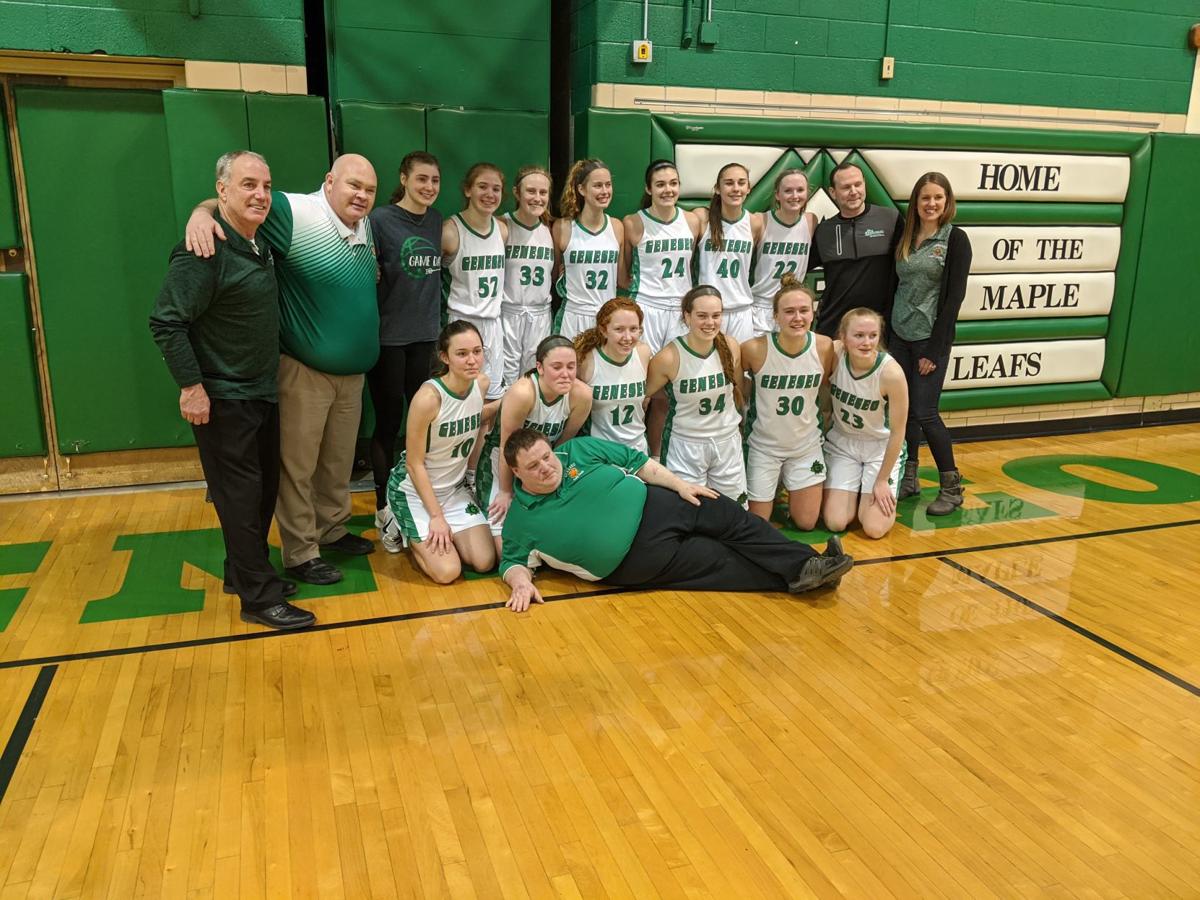 GENESEO — With losses in their previous two games, the Geneseo Maple Leafs girls basketball team was starting to feel a little heat in its attempt to clinch a share of the Western Big 6 Conference title. It got hotter on Saturday when the Leafs let a 12-point lead in the third quarter get away against Moline.
That's when the team's lone senior and a freshman reserve made what might be the biggest plays of the season to beat Moline 62-56. The win not only clinched the WB6 title tie for Geneseo (23-5, 11-2), but a Rock Island loss at Quincy made it a solo league championship in the school's first season in the WB6.
"Yeah, we started to feel a little pressure after these last two losses," senior guard Keeli Frerichs said. "We just believed in each other. It feels so great to win the the Big 6 in our first year. It means so much to us and sets the standard high for teams in the future."
Added Geneseo coach Scott Hardison, "What we did after the (United Township) loss was decide to stop talking about it. We were starting to talk about games instead of possessions. We talked about just playing basketball."
And when Moline (19-10, 8-5) made its run to tie the game, it came down to playing basketball.
First, it was freshman Danielle Beach who stepped up and buried a 3-pointer to break that tie. Then, after Moline tied the game again, Frerichs took the ball into traffic and made a layup that put Geneseo ahead for good. Finally, Beach blocked a Moline shot and grabbed the rebound to secure the victory.
"On the shot, it was just a case of us all doing our part because we win as a team," said Beach, who scored 11 points. "I wasn't sure it was going in, but I was hoping."
Added Frerichs, "I know it was pretty physical all day in the paint, but I saw an opening and took it."
None of those happenings were a surprise to Hardison.
"We have been telling Danielle to be more selfish and look to score," he said. "Keeli is a senior leader. She is not our scoring leader, rebound leader, assists leader or steals leader. She is our senior leader and she wanted to finish."
The Frerichs layup was the biggest dagger for the Maroons.
"That was a tough situation," Moline assistant coach Russ Kooken said. Moline head coach Tracey Sant Amour had to leave right after the game to take her daughter to a game in Bettendorf. "We had all the momentum and they go right back down and score.
"Overall, this was a real positive game for us. These girls showed again that whether we are up by 20 points or down by 20 they will give us the same effort."
Two who gave huge efforts were Cierra McNamee, who scored 23 points and grabbed 16 rebounds despite being hounded everywhere she went in the lane, and Kelsi Curtis (17 points and six rebounds), who made three 3-pointers during the fourth-quarter rally.
"Give Moline credit, they made us earn every second of that second half," Hardison said. "Curtis was unconscious in that fourth quarter with her 3s. Thank goodness Abbi Barickman (11 rebounds) held McNamee down a little in the first half because she is so good."
Kammie Ludwig led Geneseo with 21 points and Maddi Barickman matched Beach with 11.
Get in the game with our Prep Sports Newsletter
Sent weekly directly to your inbox!