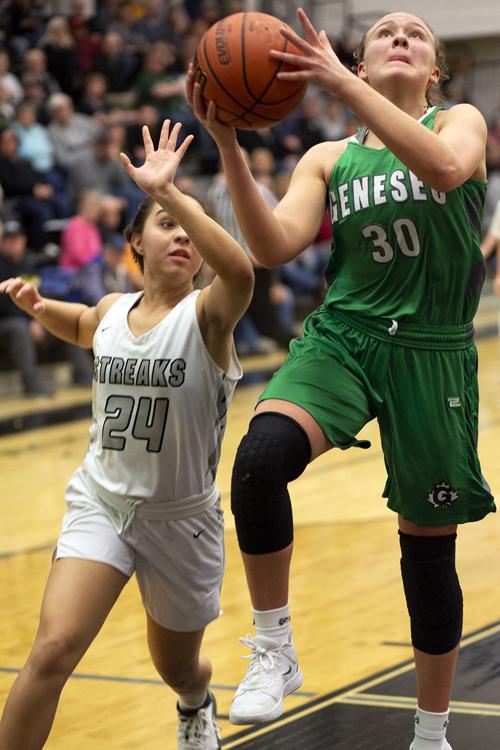 GALESBURG — The records don't always count, sometimes it is the mystique that means a whole lot more. That is what the Geneseo girls basketball team took into Wednesday's game against Galesburg.
The Silver Streaks had been a problem for the Maple Leafs when they made their way to the John Thiel Gymnasium. That came to and end in a big way with a 67-43 win in a Western Big 6 Conference battle.
"This one of those things we put on our checklist at the start of the season, beating Galesburg in Galesburg," Geneseo coach Scott Hardison said. "You walk in and see all the banners they have on the walls and they have a coach who has won 900-some games, it's not easy.
"We had to come ready to play. I thought we came in and did everything we wanted to do, especially the way we took the game over in the second half."
The Leafs (16-2, 8-0 Western Big 6) took an early lead and never let it go, but the Silver Streaks (13-8, 3-5) stayed within range and trailed 33-25 at halftime. Galesburg cut the lead to 35-29 early in the third before Geneseo outscored its opponents 17-7 to end the quarter and kept building on the lead.
"That was definitely the best half of defense we have played all season in that second half," Hardison said. "I thought our sophomore, Ali Rapps, and our freshman, Annie Wirth, did a great job shutting down a really good point guard (Riley Jenkins).
"They are both side fast and really bother guards with that speed. Then, Kammie (Ludwig) and Maddi Barickman got it going on the boards and getting some easy baskets."
You have free articles remaining.
Wirth was well worth her minutes on the floor in this one. She did a little of everything, making 7 of 8 shots and scoring 17 points, grabbing nine rebounds and picking up four steals.
"The points are not that important to me," Wirth said. "I just want to play my best, and I love the fact that that coach Hardison trusted me to defend (Jenkins). I like taking someone on one-on-one, I guess because I have so much energy."
Wirth, who didn't even start playing basketball until she was in fifth or sixth grade, has progressed quickly for the Maple Leafs.
"I give credit to my coaches for getting me to this spot," she said. "I didn't think I would be playing varsity basketball this soon but my teammates have been so nice to me and made me feel so comfortable. That means a lot to me and we really have a lot of fun playing together."
Added Hardison, "We saw glimpses of her during the summer and we knew she might help us. She is like a sponge and just picks up everything we give her. I think you're going to hear a lot about her for us and in track for a while. She is just an unbelievable athlete."
Ludwig wound up with 15 points and Barickman added 14. Another freshman, Danielle Beach, had nine points, all in the first half. All three had five rebounds.
"We don't have a big stud, so we have to team rebound," Hardison said. "We need everyone blocking out and everyone going to the ball."
Lauren Livingston led Galesburg with 16 points and eight rebounds before fouling out.