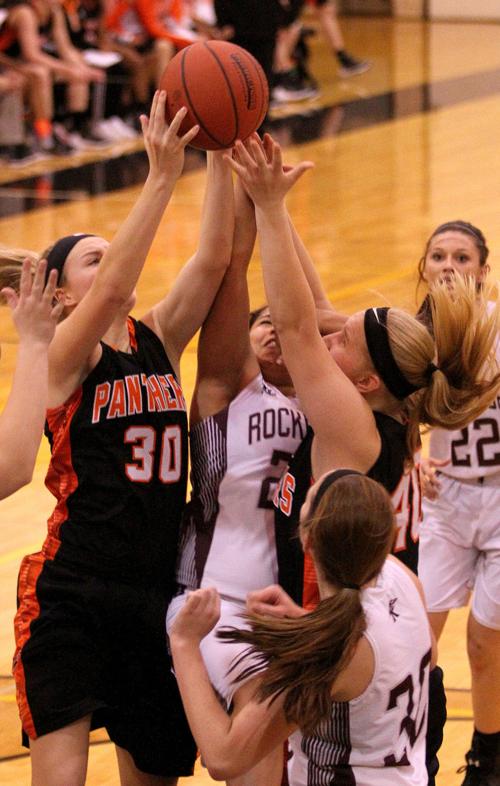 Here's an observation on each girls basketball team in the Western Big Six heading into Thursday night's slate of league games. 
Rocks get fuel from loss: Rock Island seemed to have its first State Farm Holiday Classic title in hand on Dec. 31 in the championship game against Chicago North Lawndale, but let leads of 16-3 and 32-25 slip away in a 42-39 loss. The Rocks' response since that disappointing defeat has been forceful, and it's come against two state-ranked teams. Rocky took over the league lead last week by handing Class 3A No. 2 Galesburg its first loss of the season, 53-36. It was the Silver Streaks' lowest point total of the season by 12 points and 26 points below their season average. Two days, later the Rocks clobbered Class 2A No. 9 Sherrard 65-23.
Streaks stumped by Rocky's 'D': Galesburg has statistically had the best offense in the conference throughout the season, averaging over 62 points per game, but the Streaks were knocked off their game by a defense unlike any they've seen in last week's 53-36 loss to the Rocks. Rocky's defensive pressure is something that can't be simulated in practice and it got the best of Galesburg. The Streaks shot 36 percent from the field and had 20 turnovers. Now that they've experienced the Rocks' defense, they should be more prepared for the pressure and intensity when they see Rock Island on their home court on Feb. 11 in the regular season finale for both teams.
Panthers playing up to potential: Twelve games into their season, United Township's 3-9 record was a bit puzzling when considering the talent the Panthers can put out on the court. Seven games and seven wins later, it seems it just took some time for the players to find their chemistry. It makes sense, considering UT has a new coach and four new starters, and now the Jada Harris, Taylor May, Maddie Tague, Ryliegh O'Brien and Co. seem to be firing on all cylinders. Over their last seven games, the Panthers are scoring 57.6 ppg and allowing 41.9 ppg. That's a strong improvement on both ends after their first 12 games when they scored 48.8 ppg and were giving up 52.6 ppg.
Maroons' sophomore duo has bright future: It's been a struggle for Moline since losing leading scorer and rebounder Lexie Gerard to an ankle injury, as the Maroons have gone 1-4 over their last five games including a disappointing 45-34 loss to Quincy last week. A positive to take out of the stretch has been the play of sophomore forwards Alannah Crompton and Letecia Billups. The duo nearly fueled shorthanded Moline to a comeback win against a good Pekin team Saturday as Crompton had a career-high 25 points and 12 boards and Billups added nine points and 13 boards. Coach Steve Ford said after the game that when Gerard returns, the team could be even stronger than before she left with other players used to making bigger contributions.
Bergman, Blue Devils get big win: Brad Bergman knew he had a monumental task ahead of him two years ago when he took over a Quincy team that went 0-26 the season before he arrived. His team won two games in his first year, and last week Quincy snapped a string of 26 consecutive Big Six losses with a 45-34 win over Moline. The win was a big step in the right direction after the program had been getting throttled nearly every night of league play in recent years. Bergman has put in the work to help build the program from the bottom up, starting at the lower levels, and now his team is starting to taste some success and will become hungry for more. Quincy still has a long way to go to be a conference contender, but the Blue Devils are trending upward with a dedicated coach and players. Here's a good Q&A with Bergman from the Quincy Herald-Whig from Sunday.
Prince powers Pioneers: Playing two games in one day Saturday, the Alleman Pioneers picked up a pair of wins to snap a two-game slide. With a 47-37 win over Orion in the Dearrel Bates Shootout and a 43-28 home victory over St. Bede later that night, Alleman earned consecutive victories for the first time since their first two games of the season. Kennedy Prince helped lead the charge, scoring 19 points against Orion and 15 against St. Bede. Alleman can struggle at times offensively, so having consistent scoring from a senior leader is certainly beneficial.
Thursday's games
Galesburg (18-1, 4-1) at United Township (10-9, 3-3)
You have free articles remaining.
Points per game: Galesburg 62.1       UT 52.0
Opponents' ppg: Galesburg 40.7        UT 48.6
This has the potential to be the top game of the night if UT can continue to show the progress it's made during its seven-game win streak. The first meeting was no contest, with Galesburg winning 77-44 on Nov. 24. The Panthers will need to be more disciplined defensively this time. They got into foul trouble trying to guard senior post Shayli Florine and fell behind early. Florine finished with 25 points.
Rock Island (16-2, 5-0) at Moline (14-9, 2-3)
Points per game: Rock Island 58.8       Moline 47.8
Opponents' ppg: Rock Island 33.3        Moline 45.6
Rock Island's closest game in the Big Six this season is last week's 17-point win over Galesburg. The Rocks crushed Moline 56-28 in their Nov. 24 league opener. The Maroons have struggled with Lexie Gerard out with an injury but have shown they can be competitive against good teams with Saturday's close loss to Pekin. Still, they'll need to do much better taking care of and shooting the ball than in the last meeting when they turned it over 25 times and shot 15.8 percent from the field.
Alleman (8-12, 1-5) at Quincy (4-12, 1-4)
Points per game: Alleman 44.0       Quincy 37.9
Opponents' ppg: Alleman 46.1        Quincy 47.6
The Pioneers are looking to snap a five-game league losing streak while the Blue Devils are hoping to build on the momentum gained from their first conference win in a long, long time. Quincy gave Alleman a tough fight in the first half of their Nov. 24 matchup but the Pioneers pulled away in the second half for a 70-51 win. Both teams have had their struggles scoring, so whichever side can find a rhythm should have the edge.