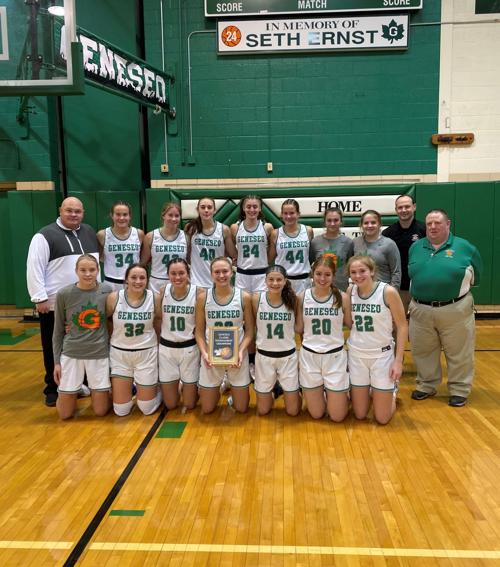 The recipe for success for Geneseo High School girls basketball is defense and the fast break, and that was no different Saturday. 
The Maple Leafs ran away in the second quarter to defeat Sherrard 58-35 to win its home Thanksgiving Tournament.
Senior guard Kammie Ludwig led the way with 16 points, but had 14 at half before slowing down in the second half. A majority of those points came in the second quarter, when the Maple Leafs (3-0) effectively put the game out of reach, outscoring Sherrard 19-2. It was a major change from a first quarter that ended with a 14-13 lead for Sherrard.
"We decided to play defense," Geneseo coach Scott Hardison said. "That's really been our bug at the beginning. Our half-court defense has not been there. We started with a press and give them credit, they broke it and we weren't really rotating well in the back. (Sherrard) did a really nice job so we pulled it off and said 'Fine, we are going to get our stops and run out of half-court defense.' The team bought in and locked in. We can score, but we need to have that defense be a part of what we are doing."
The biggest change was the fast break. The Maple Leafs had problems turning it over in the first quarter when trying to go up-tempo, a pace Geneseo wants to be in for most of the game.
"Doug Swanson is a heck of a coach," Hardison said. "He had a really nice game plan against us and he was not letting us get out in transition, and that's where we are good. We made a couple of adjustments on how we were going to push the ball and I think getting out of our press and locking down on defense allowed us to run our lanes in transition in the second quarter."
And when the Maple Leafs were able to run, did they ever. Ludwig had eight points in a two minute span to spark Geneseo's 16-0 second quarter scoring run.
"Coming off of the defensive stops we were able to push the ball really well and I think we did a nice job spacing out," Ludwig said. "We know what we need to do. I have teammates that are great passers. Ali (Rapps) was making some clutch passes tonight. She did so good. We just find each other on the court because we are so close off of it. That really helps."
In the second half, Geneseo made it look surgical. The Tigers couldn't keep up with the Maple Leafs' pace and the lead swelled to as big as 45-20 in the third quarter.
"We are a very conditioned team, so we know one of our strengths is pushing the ball and getting other teams tired," Ludwig said. "I think that we realized we needed to put our foot down and push through if we want to get that big lead."
The second half was also where junior Danielle Beach showed off. She ended with 15 points after aggressive drives to the basket and draining a couple shots from outside.
"Danielle has been on varsity for two years and she's got to become that person when Kammie is gone," Hardison said. That's what we are trying to do. We don't want to rebuild, we want to reload. We want to make sure we have those pieces there."
All three victories in route to the tournament championship came by at least 23 points. It's the start Hardison wanted, but he knows bigger challenges lay ahead.
"It's good to check off the first goal," Hardison said. "The first one on the list was to win our home tournament. We accomplished that. It's nice to check off a goal, but again, we don't want this to be the peak of the season. We have to build and get better."
Geneseo returns to the court at 7 p.m. Tuesday in its conference opener against Quincy at home.