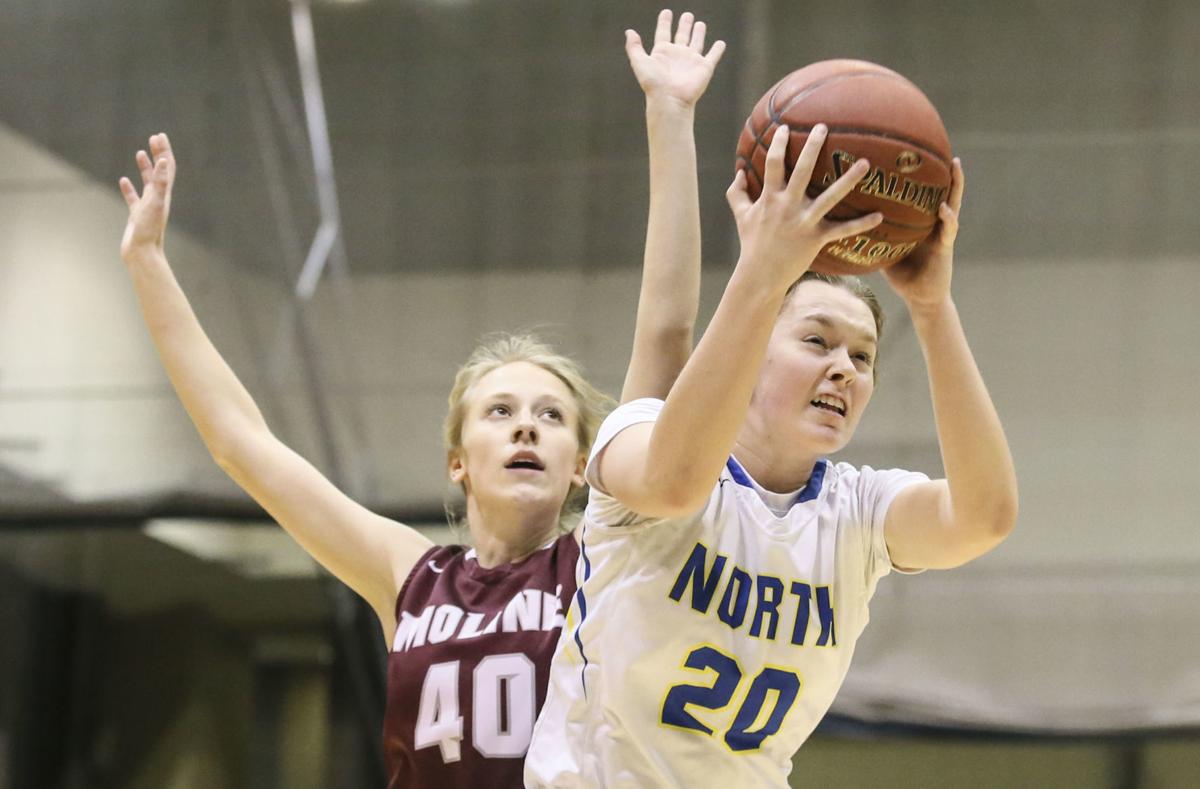 Under Gary Thrapp's guidance, the IHMVCU Shootout has turned into a bi-state event girls basketball followers in the Quad-Cities get excited about each year.
It has become such a hit that the day-long extravaganza is expanding after just four seasons.
Thrapp said the 2021 edition, scheduled for Saturday, Jan. 9, will feature nine games (up from the previous seven) and be played in two venues — Augustana College's Carver Center and Moline's Wharton Field House.
"You want to get a good feel, making sure teams are taken care of properly and are enjoying it," said Thrapp, the tournament director. "From the feedback we've gotten from coaches and players, they really enjoy it and look forward to playing in this event.
"Our goal is to help promote girls basketball in the Quad-Cities area. Why not get more teams involved? If you have teams wanting to play, we'll do whatever we can to make it work."
Central DeWitt, slated to join the Mississippi Athletic Conference in August, and Wilton are the Iowa additions to the field for next year. They join Assumption, Bettendorf, Davenport Central, Davenport North, Davenport West, North Scott and Pleasant Valley.
Riverdale and Rockridge are the newcomers on the Illinois side. Western Big 6 programs Alleman, Geneseo, Moline, Rock Island and United Township are returning along with Annawan and Sherrard.
"Over the last couple of years, we've had calls from different teams around the area showing some interest, but the timing wasn't right," Thrapp said.
Central DeWitt, coming off an 18-4 season, returns its top two scorers next season in Taylor Veach and Allie Meadows. Wilton has four starters back.
Riverdale, meanwhile, is coming off a fourth-place finish at the Class 2A state tournament.
"Each of those programs have awesome followings," Thrapp said. "It isn't only about the kids, but it is about their communities and for them to have another cool event to look forward to and generate enthusiasm."
The Carver Center has been the primary host for the event. The IHMVCU Shootout was staged at Wharton Field House in 2018. In that season, the finale between Rock Island and Pleasant Valley drew more than 2,500 spectators.
Weather forced this past year's event to be played in three locations on three different dates — Carver Center, Assumption High School and Beyond the Baseline.
Thrapp said the plan is to hold three games at Wharton and six at the Carver Center, with the nightcap contest still taking place at Augustana.
"What this does is it allows us to avoid having that 10 a.m. game, especially for the Iowa side which plays on Friday nights," Thrapp said. "We'll start a little later, finish up at Wharton in the mid-afternoon and then filter everything over to Carver for the final games."
A time schedule of games has not been finalized. Thrapp said the intention is to have each of the schools play at both locations at some point over a three-year period.
"The Iowa schools don't get a lot of opportunities to be in Wharton and Carver," Thrapp said. "Those are real cool places, so other than the (marquee game), it won't necessarily be the most competitive games in one place."
Thrapp hasn't ruled out the possibility of adding a 10th game in 2022. The long-term vision is 11 games.
"Why not continue to reach out and make it work for as many as we can locally," Thrapp said. "As we go, we wouldn't mind packing both places."
Get in the game with our Prep Sports Newsletter
Sent weekly directly to your inbox!