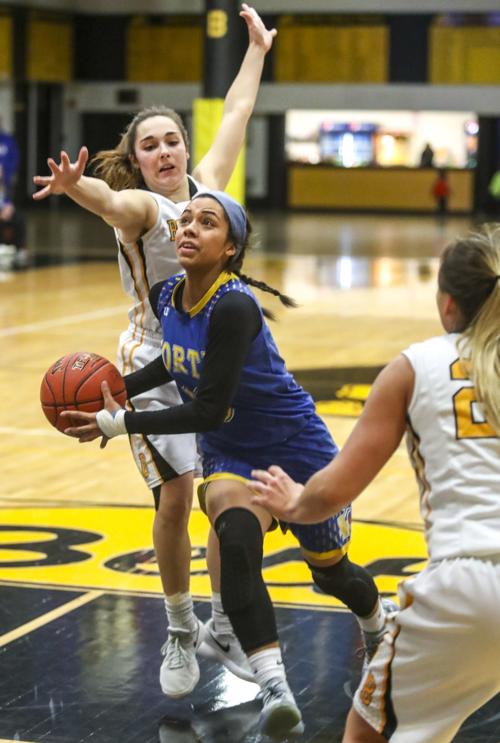 Bettendorf
Coach: Brian Tritt, fourth season
Last year: 16-7, 12-6 (3rd)
Impact players: Maggie Erpelding, 5-6, sr. (7.1 ppg., 34.2 3-point percentage); Ashley Fountain, 5-7, jr. (9.9 ppg., 2.8 rpg.)
Fresh faces: Chloe Lewandowski, 6-2, jr.; Kate Schermerhorn, 5-6, jr.
Skinny: Unlike last year, the Bulldogs return five key contributors from last year's team. That's allowed for some competitive early practices and a 45-34 opening-season win over Linn-Mar in which nine different players scored.
From the coach: "Things are off to a great start. We have some great senior leadership here ... we have a nice mix of upperclassmen, some juniors and some sophomores mixed in there."
Clinton
Coach: Cathy Marx, first season
Last year: 8-11, 6-10 (7th)
Impact players: Elle Davis, 5-6, jr. (3-4. ppg., 2.4 rpg.); Molly Shannon, 5-10, jr. (5.1 ppg., 4.2 rpg.)
Fresh faces: Rylie Mussman, 5-5, jr.; Michelle Powell, 6-0, jr.
Skinny: Marx is the third coach for Clinton in the last three years and she inherits a very young roster with just one senior on the team. Marx has spent much of the summer working to build up Clinton's youth program to build some success for the future.
From the coach: "I am fully aware that I have lost 74 percent of my scoring from last year ... I'm looking to freshmen to come up and play some at the varsity level. It's good, I'm learning their names and what their strengths are ... I'm excited to be in the MAC."
Davenport Assumption
Coach: Katelyn McNamara, fourth season
Last year: 12-10, 9-7 (5th)
Impact players: Katie Anderson, 5-5, jr. (7.5 ppg., 2.6 apg., 2.4 spg.); Corey Whitlock, 6-1, sr. (7.1 ppg., 5.5 rpg.); Anna Wohlers, 5-11, jr. (7.9 ppg., 4.2 rpg.)
Fresh faces: Dawsen Dorsey, 5-10, so.; Maddie Loken, 5-9, so.; Natalie Moore, 5-10, sr.
Skinny: With just one returning senior starter, Assumption might be flying under the radar a bit to start the season. But after beating Class 4A No. 5 Cedar Rapids Xavier 52-51 and Keokuk 54-46, the Knights have shown they're a team that has plenty of potential this season.
From the coach: "Last year to this year, there's been so much progress that's been made. ... I don't mind starting under the radar at all and I don't blame anybody for starting us under the radar. We've got kids that are starting to fill their roles in that capacity and in some ways last year we struggled with that."
Davenport Central
Coach: Rita Jett, fifth season
Last year: 4-17, 4-13 (8th)
Impact players: Acorionna Lard, 5-8, jr. (5.7 ppg., 3.7 rpg.); Kariana Lohf, 5-5, sr. (7.9 ppg., 1.6 spg.); Adriauna Mayfield, 5-7, so. (7.4 ppg., 3.4 apg.)
Fresh faces: Aniah Smith, 5-2, so.; Anyiah Wilson, 5-9, fr.
Skinny: The Blue Devils have plenty of youth with just one senior. However, that doesn't mean there isn't experience. Central returns four of its top five scorers. Smith is averaging 15.5 points per game so far this season.
From the coach: "The good thing about our program is we're building it, very slowly, but it's coming along. I'm very proud of the progress that we've made. ... Each year we've gotten better and I'm excited about the competition."
Davenport North
Coach: Paul Rucker, first season
Last year: 13-9, 11-6 (4th)
You have free articles remaining.
Impact players: Anne Awour, 6-5, sr. (8.0 ppg., 7.0 rpg.); Camry Dillie, 5-7, sr. (9.5 ppg., 71.9 FT percentage); Bella Sims, 5-4, jr. (11.1 ppg., 4.4 rpg., 3.7 apg., 3.0 spg.)
Fresh faces: Me'Kiyah Harris, 5-4, jr.; Mariah Thompson, 5-3, fr.
Skinny: There's plenty of talent for Rucker in his first season as North lost just one senior from last year's team. Rucker likes his team's athleticism and size, which could help the team acclimate to a new system. Early returns are good as North beat No. 13 Cedar Rapids Washington 61-60 in the opener.
From the coach: "We're going to play extremely hard. I want us to have fun because sometimes when you get into competitive sports you forget it is a game. We're here to win, but the thing is, you've got to enjoy what you're doing or it becomes hard ... and then be a great teammate. Be someone that is hard to play against but you really want to play with. If we do those three things, I think we're going to have great success."
Davenport West
Coach: Pat Finn, second season
Last year: 0-22, 0-18 (10th)
Impact players: Kylee Devore, 6-3, so. (2.1 ppg., 5.0 rpg.); Kaitlynn Powell, 5-10, so. (4.9 ppg., 4.3 rpg.)
Fresh face: Grace Schneiderman, 5-4, so.
Skinny: It's been a trying few years for the Falcons, currently mired in a 48-game conference losing streak. Still, the team took visible steps forward in Finn's first year and hopes to continue the progress this year. Finn likes his team's quickness and rebounding but knows the offense is still something that needs work.
From the coach: "They say you learn more from a loss than a win, well we've suffered at West ... we're well-educated. I think we may have a few kids going into this year that have had enough of it and they want to cut the gaps on some of our losses. ... We're a bit better in a lot of areas, a bit deeper, a bit more athletic, a bit longer, a bit more coachable. We're a lot of bits so I hope that means a bit more success, in the end."
Muscatine
Coach: Susan Orvis, 11th season
Last year: 8-13, 8-9 (6th)
Impact players: Zoey Long 5-5, jr. (9.6 ppg., 33.3 3-point percentage); Rylie Moss, 5-6, jr. (1.4 ppg., defensive stopper with 23 steals); Emily Woepking, 5-6, sr. (4.8 ppg., 1.7 spg.) 
Fresh faces: Rylee Blake, 5-3, sr.; Grace Bode, 5-7, so.; Olivia Harmon, 5-6, jr.
Skinny: The Muskies were dealt a blow in the offseason when UNI commit Alicia Garcia had knee surgery, which will keep her out for the year. However, the Muskies still have solid pieces and will see contributions from a sophomore class that went 15-2 last year.
From the coach: "We are seeing the team step up and make adjustments. We are hoping that each of them can adapt quickly to an uptick in each of their roles. It may take a little time for them to all settle in and we'll be patient with that."
North Scott
Coach: TJ Case, seventh season
Last year: 22-3, 15-2 (2nd)
Impact players: Grace Boffeli, 6-1, sr. (18.0 ppg., 10.9 rpg., 65.4 FG percentage); Presley Case, 5-2, sr. (10.4 ppg., 5.0 apg., 4.0 rpg.); Sam Scott, 5-9, jr. (6.3 ppg., 50.0 3-point percentage)
Fresh faces: Hattie Hagedorn, 5-6, fr.; Sydney Happel, 6-0, sr.
Skinny: With Boffeli, the reigning MAC player of the year returning, there's a lot of expectations on the Lancers following their second state championship in the last three season. A preseason conference and state favorite, the Lancers will try to avoid the pressures of repeating as they learned two seasons ago when they fell a game short of reaching the state tournament.
From the coach: "The biggest thing is we want to play as loose as we can. When we won it in '17 and came back in '18, we didn't know how to handle it, me included. So we talked a lot about staying loose and we're going to enjoy this. It's a very talented group, but everything has to fall into place and there has to be a little luck along the way."
Pleasant Valley
Coach: Jennifer Goetz, ninth season
Last year: 21-1, 17-0 (1st)
Impact players: Regan Denny, 5-6, sr. (2.3 ppg., 41.7 3-point percentage); Ilah Perez-Johnson, 5-8, sr. (2.9 ppg., 4.1 rpg)
Fresh faces: Addie Kerkhoff, 5-8, so.; Riley Vice, 6-1, jr.
Skinny: The Spartans graduated all five starters from a 21-1 team, but PV has shown in years past it can reload quickly under Goetz. The PV coach likes her team's work ethic and depth, but realizes the lack of experience could cause some early season hurdles.
From the coach: "We are very young, we are really inexperienced ... we have outstanding young ladies who work hard, are coachable and have bought into our program. We just talk every day, can we get a little better every single day?"