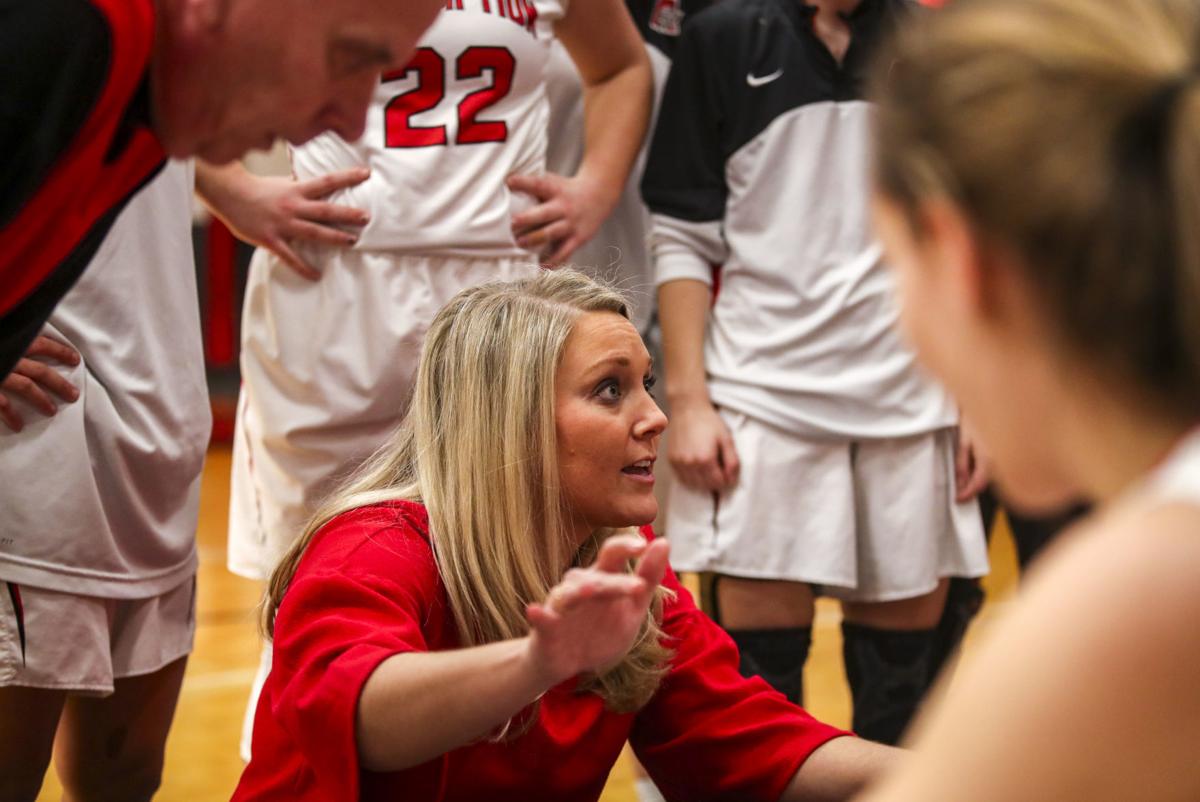 In her professional life, Katelyn McNamara doesn't know anywhere else but Assumption High School.
Hired to teach sophomore English right after graduating from St. Ambrose University, McNamara has spent the last nine years at Assumption, the last four as head coach of the girls basketball program.
But it's now time for something different, as McNamara officially stepped down Wednesday to take a teaching position at Edwardsville High School in Illinois. She also plans to be an assistant basketball coach for the Tigers, pending board approval.
"It's bittersweet to leave Assumption," McNamara said. "I'm excited about the next chapter in my life and I feel, personally, this is the move for me and I'm really looking forward to the future."
McNamara said the reason for the move is to join her boyfriend, who was relocated to St. Louis last fall for his job with ADM.
She informed her team through a Zoom meeting Wednesday afternoon.
"There were a lot of tears and I'm really going to miss the program, I'm going to miss being around the girls every day," she said. "It's not just leaving the girls but everybody at Assumption, the whole community, my students. Especially at this time, I haven't seen them in a couple months and to not have that closure is going to be tough."
McNamara began as an assistant coach under Mallory Bernhard (née Youngblut) and also served as an assistant under Rachael Milliman before being promoted to head coach in 2016.
In four seasons at Assumption, McNamara was 60-35 and reached the state tournament three times, including this past season.
"We're sorry to lose her but we understand young coaches have to do what they have to do," Assumption athletic director Wade King said. "She's done a great job of keeping the program relevant. In some years, there were different challenges that came up that she was able to overcome. To be a three-time state qualifier in four years is pretty impressive."
McNamara credits her staff, especially Mike Thissen, for helping her grow as a coach over the years.
"When I look back to the very early days, before I was varsity head coach, all the kids I've come across and been able to coach have really made an impact on me," McNamara said. "If you want to say the program's been successful based on us making it to the state tournament, that's something I'm really proud of but I think I'm more proud to see what these kids have done for me and my life and just hearing some stories about how they look at our program and our staff, that's what makes me feel as though we were really successful."
McNamara is joining one of the top programs in Illinois in Edwardsville, but one that is also going through some transition. Lori Blade stepped down as basketball coach in April, leaving behind a 510-65 record in 18 seasons with the Tigers.
McNamara is excited for the new opportunity.
"I know their program has great roots and success and I look forward to being a part of that," she said. "As an assistant, I know first-hand how valuable assistants can be so I look forward to that and whatever capacity their new head coach needs from me, I'm willing to fill that role. Coaching is something I cherish and hopefully I can continue to do it for years."
King said the Knights plan to announce a replacement "in the near future."
The Knights went 16-8 last season, falling to Clear Lake in the Class 3A quarterfinals. They graduated just four seniors from that team and return A.J. Schubert, who led Assumption in points and rebounds in her freshman season.
McNamara thinks whoever takes the reins has a great opportunity ahead of them.
"The work ethic of these kids, and their spirit as a whole is really going to take them far," she said. "Whoever gets a hold of the program is going to realize very quickly how lucky they are to be surrounded by those kids, their families and the community. I have no doubt there's a state championship in the near future for the Lady Knights."
Get in the game with our Prep Sports Newsletter
Sent weekly directly to your inbox!