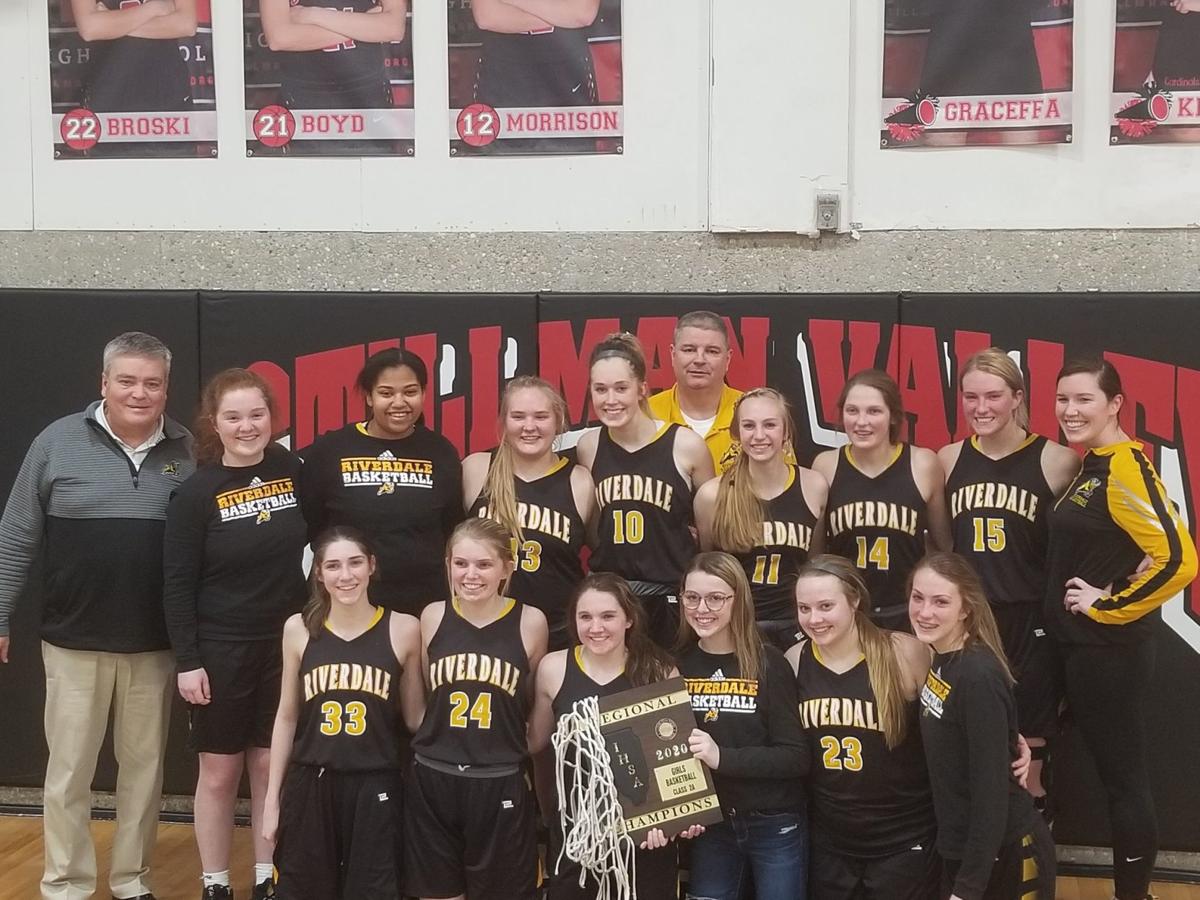 STILLMAN VALLEY — Clutching to a three-point lead on the road late in a battle of state-ranked teams, the Riverdale girls would not be denied their first regional title since 2013.
The Rams closed the game on a 10-3 run to defeat Stillman Valley 45-35 on Thursday night and win the Class 2A Stillman Valley Regional title.
Riverdale (25-3), seeded third and ranked fourth in Class 2A, also avenged last month's 42-39 OT loss to the Cardinals (22-9), seeded second and ranked ninth.
The Rams will next play tonight's winner of fourth-seeded Marian Central Catholic and top-seeded Marengo on Tuesday in the Mendota Sectional semifinals.
Riverdale senior Sidney Garrett finished with a game-high 21 points and 13 rebounds despite sitting out the second quarter after getting two early fouls.
The game plan was not drastically different this time around, the Rams simply played better, rebounded, and took advantage of early Cardinals turnovers and missed shots. Riverdale held Stillman Valley to 14 of 55 from the field and 0-11 from deep in the loss.
Defense and rebounding continues to be key for Riverdale, which is undefeated when allowing fewer than 42 points.
"We came here to compete and do what we know we can do," said Garrett. "We just wanted to come out and play like us and be ourselves and not let the nerves get to us."
Riverdale led 20-16 at halftime before Garrett poured in 12 of the Rams' 15 points in the third quarter. The Rams led 35-26 after three quarters, but the Cardinals used a 6-0 run to start the fourth to make it a three-point game after trailing by 13 at one point.
But some key rebounds by Riverdale guard Molly Sharp (10 points) and a first basket from Lauren Lodico (three assists) all helped secure the win late. Shae Hanrahan and Katelyn Oleson added five points each for the Rams.
Stillman Valley had a number of good looks outside, yet went 0-5 from deep in the fourth quarter.
You have free articles remaining.
Riverdale coach Jay Hatch said it helped having played in this gym in the earlier loss.
"I thought we played pretty solid defense most of the night," said Hatch, who coached to his first regional title since 2013 with Alleman. "We rebounded much better than we did the first time. And didn't put them on the line as much."
Free-throw shooting was not a strength for either team in the game. Riverdale left some tense openings late by going 0-5 at the line in the fourth, finishing 5-14 in the game. Stillman Valley was 7-15 at the line.
"When you're getting stops, it turned out OK," Hatch said.
Stillman Valley coach Bobby Mellon said Riverdale's triples especially hurt as his team could not make one fall.
"Especially in those moments when we were cutting into their lead and had some momentum … none of them fell," Mellon said. "And in the first half, it was rough, some of the real easy shots in the paint that we missed."
Kayla Boyd (12 points) was the only Cardinal in double figures.
Riverdale was 18 of 53 from the field and 4 of 14 from deep.
Hatch said it was a blessing in disguise when Garrett sat the second quarter, making her fresh for the second half. Hatch said she sat for "maybe 10 seconds" in the second half.
A regional title was the reward for Garrett and her teammates.
"It's definitely a special experience since I'm a senior," Garrett said. "Being hurt last year, I just wanted to come out and do my best and not have this be my last game."
Shae Hanrahan also dealt with foul trouble, but the Rams weathered the stormt. Senior Hope Jackson had two points and four rebounds.
"It takes a team to win something like this, and I feel like our team is pretty solid," Hatch said. "We didn't really talk about last year at all, because that's ancient history. Different team, different players … we're still hoping to keep going and keep improving and earn more days to be together."