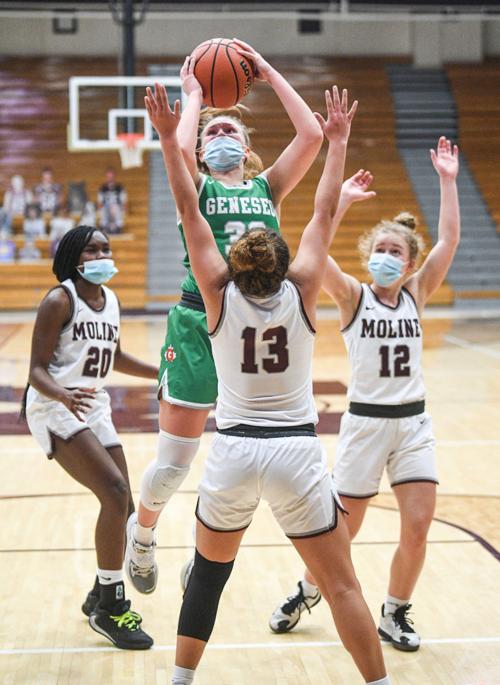 After officially winning the Western Big 6 in 2019-20, and unofficially in the spring, the Geneseo high school girls basketball program will be looking for its third straight conference title since joining the league in 2019.
Fans will return to the stands after a limited amount of attendees last season, but other teams in the WB6 will be disappointed to learn that the only Division I commit in the league, Kammie Ludwig, will also be returning for Geneseo. The 5-foot-10 senior point guard averaged 21 points a game in the spring to lead the Maple Leafs to a 13-2 record. 
"I mean, she's committed to play at Providence so that in and of itself tells you what type of kid she is," Geneseo coach Scott Hardison said. "She just has a motor and a knack to find the basketball. She can rain it in from the 3-point line, but she can also finish around the hoop. She just understands the game. And she works her tail off 12 months a year."
And although Ludwig says winning conference again is definitely a priority, there is another goal she wants to accomplish before playing at the next level.
"Obviously, one of our main goals is to win conference again and we know we will have some tough games against Rocky and Moline — those are always nail-biters," Ludwig said. "But each year we have a dinner and write down our goals. We've lost in the regional championship the past few years and I know our goal this year was to win regionals and then just keep going as far as we can."
Geneseo returns three starters from last season: Ludwig, senior guard Ali Rapps and junior forward Annie Wirth. They were the Leafs' top three scorers last season.
"Our starting five have played together for two years now," Hardison said. "They weren't all starters for the last two years, but they've been in our rotation. So those five know what to expect and give us good leadership. I've noticed that on the floor in our first two games that they're helping the younger kids on varsity understand what our expectations are, and what our culture is."
Geneseo defeated St. Bede 61-17 in its opener before defeating Annawan 68-45 on Wednesday. The Maple Leafs' up-tempo offense averaged 68 points last season, and they are on a similar pace thus far. Geneseo will need to keep that up if it wants to repeat as champions, an accomplishment the team believes is more than possible.
"We talk all the time about how we respect everyone, but fear no one," Hardison said. "And that's really the motto we have. We're going to come out and give every team our best game. These girls have established a winning culture and they expect to win and compete. That is one of the biggest hurdles to get over when building a program."
The three-peat bid has already started, but conference play will begin as early as next week for some teams. Read for a breakdown of each team in the conference.
Alleman
Impact players: Averi Rangel, sr., G; Clair Hulke, so., F; Audrey Erickson, so., G; Tyla Thomas, jr. G; Annie Rouse, jr., G; Katie Brewer, sr., F
Fresh faces: Skyler Thorpe, sr., F; Annie VanDeHeede, sr., F; Noalani Mendoza, jr., G
Outlook: The Pioneers have only played two games, but already have more wins than last year's shortened COVID season. Alleman defeated Illinois Bluffs 35-28 in the season opener and then narrowly defeated Pleasant Plains 30-28 with a last-second layup by Averi Rangel. The Pioneers are a young team, but coach Ford believes they will be constantly improving throughout the season.
Galesburg
Impact players: Grace Nelson, sr., G; Kadynce Lydic, sr., G; Abby Davidson, sr., F
Fresh faces: Lily Clark, jr., G; Kayla Pendergast, jr., F; Juniper Schwartzman, jr., F
Outlook: The Silver Streaks graduated four seniors that are now playing basketball at the collegiate level but are returning three senior captains that started on last year's squad (Nelson, Lydic and Davidson). Coach Massey returns for his 44th season at Galesburg after a third place finish in the spring. The Silver Streaks are one of the most storied programs in the conference and will be one of the favorites to contend Geneseo for the conference title. Galesburg won 18 regionals from 1989-2007 but hasn't won one since 2017.
Geneseo
Head coach: Scott Hardison
2021 spring record: 13-2 (unofficial Western Big 6 champs)
Impact players: Kammie Ludwig, sr., G; Annie Wirth, sr., G; Ali Rapps, sr., G; Danielle Beach, jr., G; Jordan Porter, sr., G
Fresh faces: Allison Griffin, jr., G; Addison Smith, jr., G/F, Taylor Krueger, jr., G/F; Sierra Kruger, jr., G/F; Johnna Fulcher, jr., G
Moline
Head coach: Adrian Ritchie
2021 spring record: 13-11
Impact players: Kadence Tatum, sr., G; Caroline Hazen, sr., G; Bella Smith, sr., G; Samantha Veto, jr., F
Fresh faces: Tahlea Tirrell, fr., G; Jada Tatum, fr., G
Outlook: It will be the first season for Coach Ritchie as the lead man at Moline. The Maroons will be led by senior guard Kadence Tatum who recently signed to play locally at Augustana next year. Caroline Hazen, who was first team special teams for football and recently signed to play soccer at Northern Iowa, will also play a major role in the Moline's game plan. The Maroons have gone 141-97 over the past eight seasons, all of which were above .500, and should compete for a top-half spot in the conference. Moline lost its season opener to Lincoln-Way West 80-65, but bounced back Friday night with a 71-29 win over Joliet Central.
Quincy
Impact players: Asia Seangnamy, jr., G; Taylor Fohey, so., G
Fresh faces: Leah Chevalier, so., G; Sydney Welsh, fr., G; Jazmyn Lewis, so., F
Outlook: Quincy is another young team in the WB6, with only two seniors on the entire roster. Coach Brad Dance, who was hired in 2019, has had a winning record in his first two seasons. The Blue Devils will try to mimic that success this season. Quincy began the season with a 49-19 victory over Jacksonville on Tuesday. Fohey and Seangnamy combined for 31 points.
Rock Island
Impact players: Imari McDuffy, sr., PG; Emily Allison, sr., G; Bri Stewart, sr., F; Kaniya Davis, sr.,; Erriea Bea, jr., G; Danee' Robinson, jr., F;
Fresh faces: Ammareah Trevino, sr., G; Kayla Rice, jr., G; Mariyah McQueen, jr., G; Tamiah Jamison, jr., G; Mackenzie Meirhaeghe, jr., F; Ayen Malual, jr., G/F;
Outlook: Rock Island was one of the best squads in the WB6 during the spring season, and its upperclassman experience should solidify the Rocks as one of the top teams in the conference once again. The entire roster is filled with juniors (10) and seniors (5). Imari McDuffy was an honorable mention in the spring's all-conference teams and will be leading a talented group of seniors. The Rocks have a difficult nonconference schedule, but coach Hall believes it will prepares the team for a tough conference slate. Rock Island lost its season opener 57-42 to Peoria.
Sterling
Head coach: Taylor Jackson
Impact players: Baylee Adami, sr., G
Fresh faces: Kathryn Rowzee, jr., C, Olivia Turner, jr. C, Addie McCombs, jr., PG
Outlook: The Golden Warriors are young and inexperienced at the varsity level according to coach Jackson, but she believes Sterling can still be in for a positive year. The Borum twins have graduated, leaving some holes in the Golden Warrior roster, but Jackson believes Adami will be the senior leader the team needs to stay competitive.
United Township
Impact players: Kaylie Pena, so, PG; Lorena Awou, so., C; Tia Lewis, so., G; Karina Castaneda, jr., C
Fresh faces: Ciara Hull, so., G; Zainab Mayaki, sr., F; Mackenzie Iams, jr., G
Outlook: United Township heads into the 2021 fall season with a lot of uncertainty. The Panthers are one of the youngest teams in the conference, but will have to mature quickly in a competitive WB6. The Panthers lost their season opener to Peoria Notre Dame 69-21 after turning the ball over 33 times. Coach Walker anticipates her team playing better basketball as the season goes on.