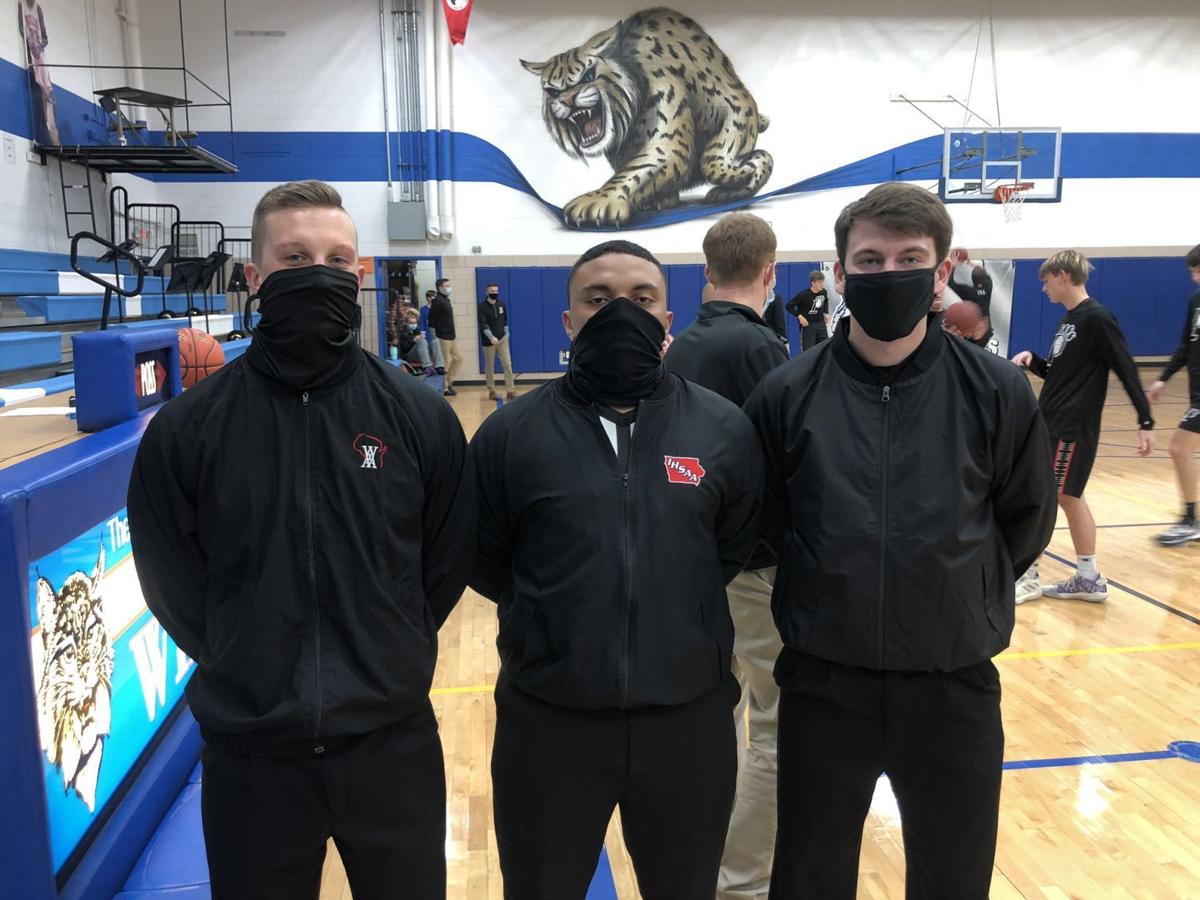 It's no secret that the number of referees at the high school level is diminishing.
In a 17,000-person survey put together last year by the National Association of Sports Officials (NASO), 502 of the participants were from the state of Iowa. More than 40% were between the ages of 45-65 and only 38 individuals were between the ages of 20-25.
The profession hasn't been able to lure in the younger generation into gyms, stadiums and diamonds.
Three students at the University of Iowa are hoping to buck that trend.
When Thomas Mills, Tanner Natzke and Colton Spaur took the court as the three-man crew in Thursday night's varsity boys basketball game between Pekin and Columbus Community, their combined age of 63 made them the youngest crew in the history of Iowa high school sports.
"It was a pretty cool feeling," Spaur said. "Fans have said how we look young, but everything has been positive."
All have very similar traits. The majors — Sports and Recreation Management — and the path to officiating was through intramurals at Iowa are identical.
Those times blowing whistles in a gym with peers around them helped shape how they act in a varsity setting.
"These are college athletes, some are football players, some are grad students," Natzke said. "The game moves quicker, people have bigger heads and can get in fights quickly."
Mills received his certification to become an Iowa high school official in December 2018. About a year later, Spaur was able to put on the black and white striped jersey at the high school level.
Natzke is the elder statesman. He started officiating middle school games while in junior high in his hometown of Green Bay, Wis., then moved up to junior varsity games while in high school.
He was certified in 2017 as an official in Wisconsin and was re-certified in Iowa two years ago. He has helped Mills and Spaur become better officials.
"I feel like I have a lot of leadership skills on the court," Natzke said. "Thomas is a little trigger-happy. Colton has really liked to ask questions to get better. Some calls you're going to get right, some calls you're going to get wrong."
The first time they officiated a game together was a year ago in a junior varsity basketball game at Iowa City Liberty.
"We literally love working together," Mills said. "We instantly fell in love with how each of us officiate games, carried ourselves and how much we enjoy doing it."
Natzke describes himself as the game manager. Mills loves, in a good way, being in control and Spaur is a patient ref.
There has not been many times of disagreement or one person taking over. Through the ebbs and flows of a game, all of them have made adjustments on the fly.
"We all have a very similar referee style," Natzke said. "We do a really good job of verbal and non-verbal communication. We come together at half court, away from the coaches and players, and talk just the three of us."
Spaur and Natzke are just beginning their final semester at Iowa, with expected graduation this May. They met as freshmen and developed a bond instantly.
Spaur, a 21-year old from Bussey, Iowa, has spent the past four years working with Nantzke.
"Ever since then, we've been pretty good friends," Spaur said. "We're pretty close."
Mills, a sophomore at Iowa, connected with his crew at different times. He met Spaur from intramural officiating and was partnered with Natzke through working a club basketball game.
Eventually, the 20-year old from Chicago began teaming with the two older officials on a regular basis.
The ability to give back to athletics is what drove the three of them to become officials.
"I think that going into the officiating route helped me stay close to the sport I loved," Mills said.
The picture of the three of them masked up prior to tip-off last week went viral on Twitter. They received texts and congratulatory messages from more senior officials that have stayed in the industry.
"I definitely didn't think it would blow up like it did," Spaur said.
The next day, they were the referees for the girls and boys varsity doubleheader between Louisa-Muscatine and Lone Tree. Multiple people walked up to Mills and offered more words of encouragement.
One of the main drawbacks to officiating sports on the prep scene is the parents shouting from the stands. It has caused some long-time refs to leave the job altogether.
And while COVID-19 restrictions have limited the crowd sizes, the parents still play a role in trying to disrupt the action. It hasn't hindered the all-college crew.
"Those parents are always going to be those parents," Mills said. "For me, it's very easy to ignore them. I'm here for the coaches and the players."
Spaur will enter graduate school in the fall with the ambition to recruit and teach officials at the intramural level. Natzke has a job offer as a sales associate from the Miami Dolphins, but also runs his own business.
Mills is thinking big picture with a dream to be a college and professional official.
"Those are my goals," Mills said. "I just need to keep working hard in every game I do. I need to continue to go to clinics, get advice and perfect my craft and execution."
For Natzke, Mills and Spaur, the chance to show people as young as they are that becoming an official is realistic and achievable, is one of the reasons they enjoy it.
"You learn that there are so many great people officiating," Spaur said. "Just the connections with other officials are great. People are so willing to teach you, share information with you to get better.
"From the outside, it looks hard and it is hard. One of the best parts about it is meeting new people."