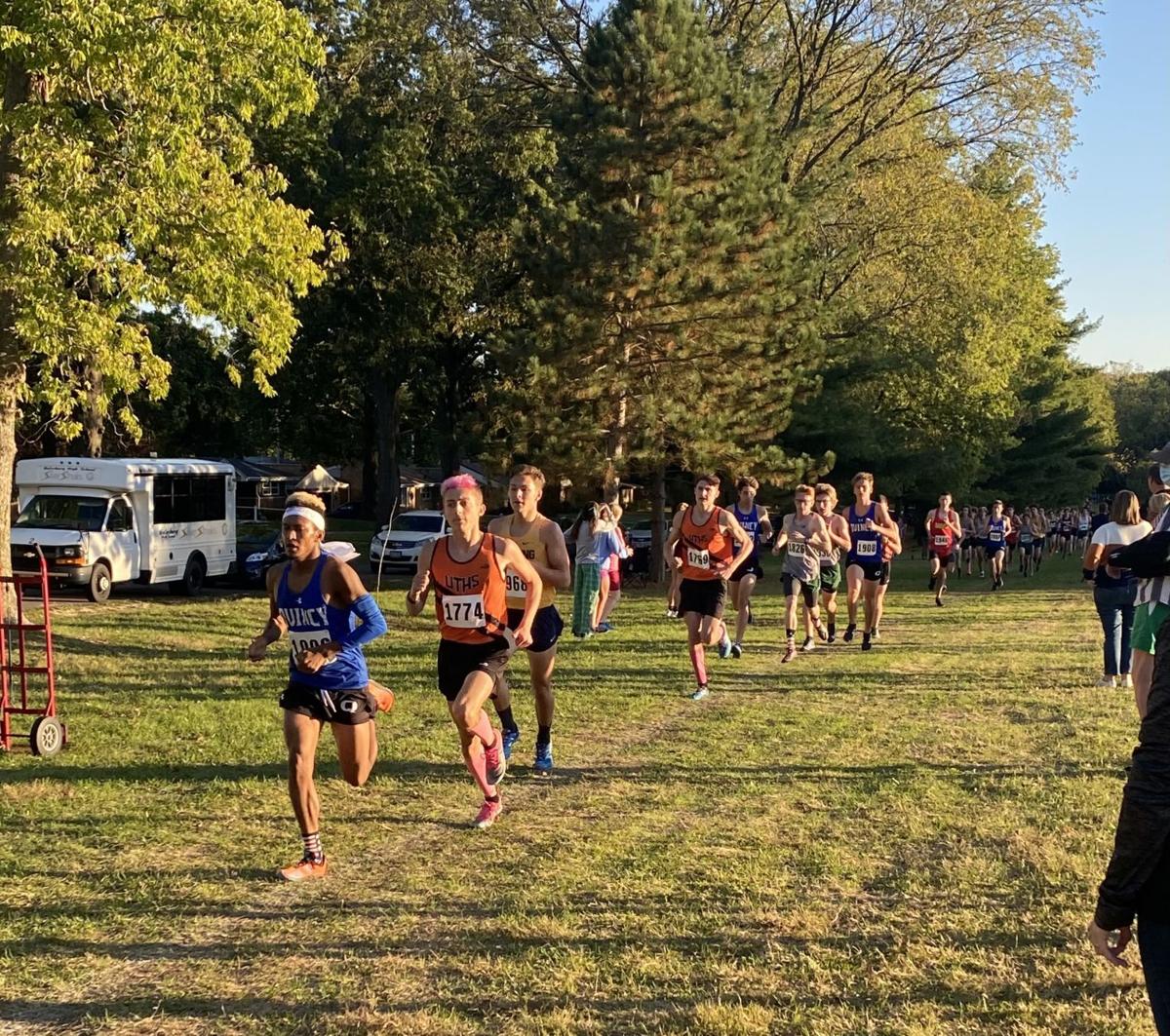 STERLING — Quincy quite literally ran away with the Western Big 6 cross country conference championships at Hoover Park in Sterling on Thursday.
But Geneseo and United Township made the Blue Devils work for it.
The girls' conference championship race was first, and the Panthers' Maddie Miller, who has already won four races this fall, was the field's best shot at taking down defending champion from Quincy, Anna Schuering.
And out of the gate, it was close as Miller and Schuering separated themselves from the pack quickly. However, Schuering started to break away around the two-mile mark and never let up.
Miller finished second at 19:04.2, well behind Schuering's top time of 18:42.1, but 21 seconds ahead of third place.
"It's amazing to place second, it's a great feeling," Miller said. "Anna is great runner. I saw her up there, so I didn't slow down and I just tried to keep my eyes up on her. She pulled me through it. I'm happy with my place. There is nothing to be upset about in my opinion. It's great because I wanted to finish top three and I did. There is nothing else I could have asked for."
It was Miller's sixth top three finish this season. She set a new PR back on Aug. 11, with a time of 18:21.8, and is well in line to have a chance to advance in the postseason.
"This year we got a new coach and I began to trust his training and I did everything I had to do to get better," Miller said. "I put in the miles. I did the workouts. I showed up to practice and I prayed to God it would be a great season and it paid off. All those early mornings and late nights definitely worked."
The boys race came down to a competition between Quincy's Fiker Rosen and Sterling's Dale Johnson, with Rosen's kick at the end earning him his third win of the season and a conference championship at 15:18. Johnson came in right behind at 15:21.2.
The top metro runner was again from UT. The Panthers' Logan Veloz placed third with a time of 16:07.9. It was his fourth top three finish this season.
"It's a really rewarding finish because it's always been a goal of mine to be top five, and to get a podium finish is really, really cool," Veloz said. "I knew those two guys were really good; they are studs. I was just trying to keep pace with them as long as I could. I knew they would outlast me, but if I could try to stick with them for as long as I could, I knew they would pull me along to a good finish."
UT's Kade Rodgers (16:42.5) and Noah Van Damme (16:46.6) also finished inside the top 10 to earn all-conference recognition. 
But as a team, it was Geneseo that shined. The Maple Leafs had three top 10 finishers in the boys' race with Justin Johnson (16:31.7) placing fifth, Gavin Allison (16:34.8) in sixth and Tyler Gehl (16:49.2) earning ninth.
Those three performances, however, weren't quite enough to propel the Leafs (49) past Quincy (43) for the team conference championship. UT finished third.
"We had a great race today, but Quincy was awesome," Geneseo coach Todd Ehlert said. "They did a great job running. Our guys ran really well, we had a lot of personal bests and season bests, so I'm not disappointed in anyone's effort. Quincy just stepped up."
Quincy also swept the individual and team wins in the girls race. The Blue Devils finished with 28 points, 49 less than second place Geneseo (77). Moline (92) took third, followed by Alleman (104), Sterling (118), Rock Island (138) and United Township (146).
"Getting second in both races is awesome," Ehlert said. "We have had a great year so far, and it's going to continue next week hopefully. This should really help out. Regionals are tough, but hopefully we do really well down there and move on. That's always been the goal."
Other metro girls who earned all-conference for top 10 finishes include Moline's Alexis Havercamp (19:53.3) and Abby Debieck (20:07.1), Alleman's Clarissa Ostrowski (20:09.7) and Geneseo's Jaide Flowers (20:19.9).
At the end of the awards ceremony, it was announced that the coaches had voted Schuering and Ficker as the girls and boys WB6 Player of the Year.