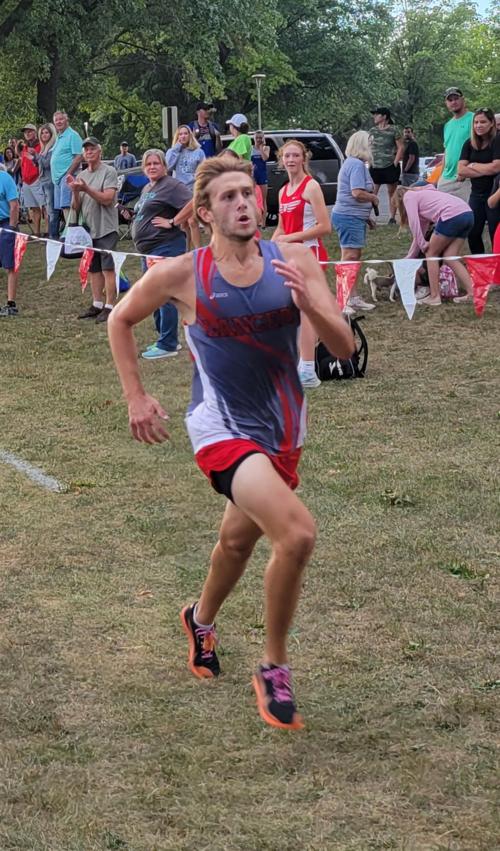 ELDRIDGE — Luke Crawford did not get an opportunity to run in his home invitational last year because he was sidelined with the coronavirus.
The North Scott High School cross country runner had a golden moment on his home course Tuesday evening.
Crawford posted the fastest 5,000-meter time in school history at Scott County Park in 16 minutes, 55 seconds to collect the victory and power North Scott to a convincing win in the nine-team field.
"That was pretty cool," said Crawford, who ran a second faster than what North Scott graduate Owen West did a year ago on this course. "That was my first varsity race on this course."
North Scott had five of the top eight finishers to conclude with 23 points, 41 clear of runner-up Davenport Central. Bettendorf's Ethan Cole was the individual runner-up in 17:28.
The Lancers' Nikolas Davis took third place and Logan Soedt was fifth for the Lancers.
"(Luke) has really turned it on this year," North Scott coach Amy Knoche said. "This group of kids has waited and waited and waited for their turn from what we lost last year. They've watched and learned, and now it is their time to shine."
Crawford said North Scott's plan was to stay in a tight pack for the first mile or two.
"After that, everyone runs their own race," said Crawford, who picked up his second individual win of the season. "We have a lot of potential, even more than what we showed today."
The separation between North Scott's second and fifth runners was only 21 seconds.
Knoche attributes much of it to the team's camaraderie, which she labels as off the charts. The Lancers have four seniors and two juniors among their top seven.
"They genuinely care about each other and want to see each other to do well," Knoche said. "I don't think they've truly tapped (their potential) yet."
North Scott edged Bettendorf for the title on the girls' side, 47-51.
Davenport Central's Hannah Ford continued her stellar fall with a win in 19:06. North Scott's Faith Nead and Bailey Boddicker finished second and third, respectively. The Lancers had all seven of their runners in the top 20.
Nead, who crossed in 19:21, just moved into North Scott's school district this year after running at Johnston a year ago. She was the fifth runner on the Dragons' state championship team last fall.
"I've been at a big school for a long time, so in my last year I wanted something a little bit calmer," Nead said. "So we moved here.
"It has been super easy fitting in with this team. Everyone is so sweet."
Nead has given the Lancers a frontrunner. She stayed with Ford for most of the race.
"Having an elite runner move into our district and running with them, it just kind of raises the bar for everybody," Knoche said.
It was Ford's second win of the season and her fourth top 10 in as many races.
"I don't think I could be any happier with how I'm doing right now," Ford said. "I'm definitely a lot further along than I was last season. Seeing these good times, it encourages me more each meet because my confidence is growing."
Ford admitted she was a little hesitant about Tuesday's race after walking the course and running on much tougher terrain than what she experienced last week in Cedar Rapids.
She adjusted well. She snatched the lead early in the third mile and padded it in the closing stretch.
"I'm still in shock," Ford said. "I don't think I've fully accepted that some people beat me by a good two minutes last year and now I'm beating them. It hasn't sunk in yet."