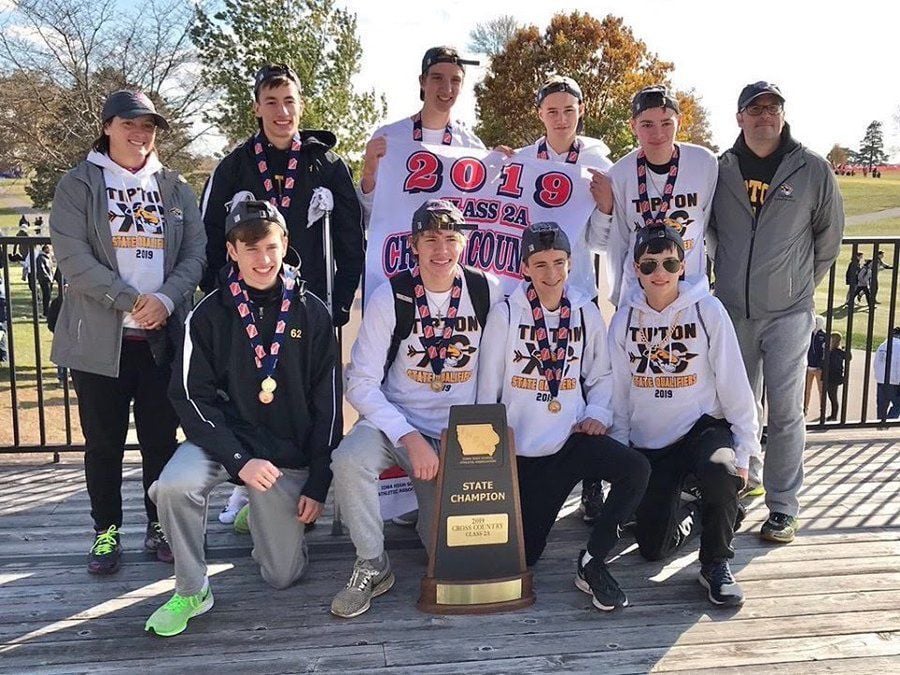 Tipton captured its first boys' state cross country title in 43 years two years ago. With five of the seven runners on that team returning along with a key move-in, the Tigers came into last fall with an enormous bull's-eye.
"They handled the success really well from 2018," head coach Eric Walsh said. "It didn't prevent them from doing a lot of hard work in the offseason. They came hungry and ready to win again."
For the first time in program history, Tipton won back-to-back Iowa Class 2A state titles. Even with some adversity late in the season, the Tigers staved off Des Moines Christian by four points for the championship at Fort Dodge's Lakeside Municipal Golf Course.
Tipton has been selected as the Quad-City Times Salute to Sports boys team of the year. The school will receive $250 from Jeff's Car Corner, a sponsor of Salute to Sports, to use for its athletic department.
"At the end of the season, one of our team leaders had an injury and the team came together and rallied around him," Walsh said.
Senior Trent Pelzer, the team's No. 2 runner, suffered a leg injury and was the team's No. 7 finisher at state. Andrew Olseen, who contemplated quitting cross country during the middle of the season, passed two Des Moines Christian runners in the final 200 meters to help secure the championship.
Caleb Shumaker led Tipton with a third-place finish overall and Jackson Edens, who ran at Green Mountain-Garwin the season before, was 14th.
Tipton had four seniors among its top seven in Edens, Olseen, Pelzer and Landan Hill, all which plan to run at Iowa colleges this fall.
"The group of seniors we had, we're going to miss them dearly," Walsh said. "They've been running together since middle school and kept pushing each other. It was neat to see them grow up, to see them get faster and to leave their high school careers like that."
Tipton was ranked No. 1 all season. With the exception of a second-place finish to Class 4A Iowa City Liberty at a meet early in the season, the Tigers won every competition. In addition to the River Valley Conference title, Tipton had six of the top nine finishers at the district meet to prevail by 90 points.
"Looking back, we felt dominant, but in the heat of the battle, we always went against strong competition," Walsh said. "We were going against a lot of 3A and 4A schools and never felt superior to them. We just raised our game and gauged ourselves more on the 3A and 4A schools than people (in our class)."
Led by Shumaker, AJ Thumma and Cody Bohlmann, Walsh believes Tipton has the ingredients to remain competitive and among the state's best this fall.
"Guys like Shumaker and Bohlmann, all they know is winning state," Walsh said. "Our younger underclassmen have had some good role models to follow.
Get in the game with our Prep Sports Newsletter
Sent weekly directly to your inbox!