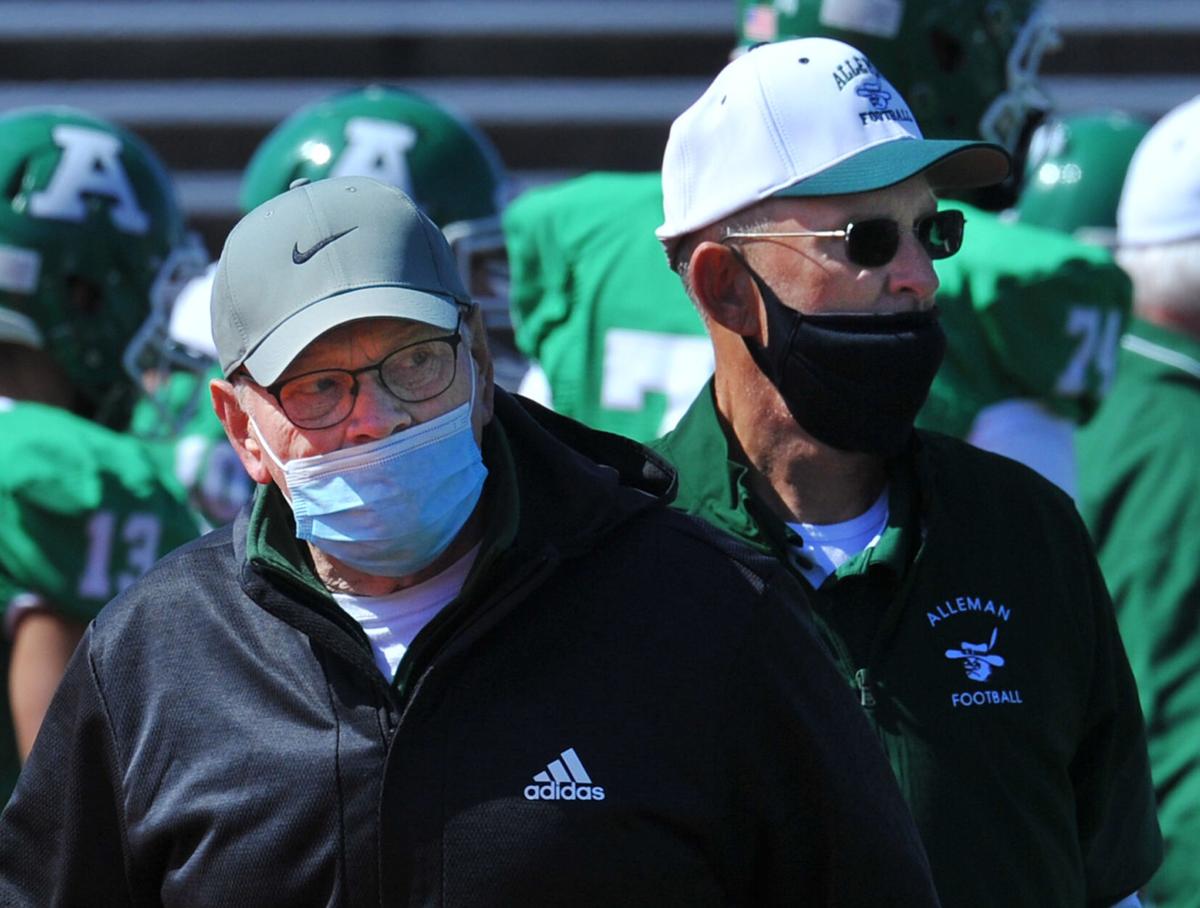 To say that the Alleman High School football program has the most experienced coaching staff in the area might be an understatement.
Let's just say that head coach Todd DePoorter has been on staff at Alleman for 32 years, now in his sixth year as head coach. And he isn't the most veteran coach on staff anymore.
To fill a need when long-time varsity assistant and sophomore head coach Mike Ebner stepped aside to focus on basketball and softball coaching responsibilities, a very familiar face stepped in.
Mike Tracey, who was head coach at Alleman from 1981 through 1992, is back in the fold, serving as offensive coordinator and being the team's eye in the sky from the press box on game day along with Dave DeJaegher.
"Of course I missed the game," said Tracey, whose last head coaching stint was at Moline for the 2015 and 2016 seasons. "I had offers from a couple of other schools to coach there. At one place it was going to be too much responsibility and at another it wasn't going to be enough."
At Alleman, he thought his role could be just right.
"I knew the lay of the land at Alleman," said Tracey, joking he couldn't find stable work after filling in as athletic director at both United Township and Alleman in the last few years. "I could see from being inside the school that they were having a numbers crunch in terms of coaches, so I'm just trying to help out the best I could."
Also on the sidelines is long-time defensive coordinator Steve Ebner, who started at Alleman before spending a number of years across town at Rock Island, where he also coached softball. He serves as DePoorter's right hand man. Ebner has been back on staff for four seasons now, coming back to coach with his brother.
The band that helped guide the Pioneers through some of their glory years is back together, and it seems to be working well.
"I think it's been great," said DePoorter of being surrounded by such experienced coaches. "Steve and Dave both were Mike's assistants way back when and then Dave became the head coach for a number of years."
Tracey initially hired DePoorter into the Alleman football program back in 1988. DePoorter said he was "fortunate to be hired by him back then" and that this situation with them all together again "is a pretty cool deal."
And for another twist to this staff? Tracey, DeJaegher and Ebner — now all assistants — are also members of the Illinois Football Coaches Association Hall of Fame.
"We all listen to each other, and we are all working for the same goals," DePoorter said. "We're all on that page together."
Tracey, who turns 69 in August, jokes that while he is back in coaching, he has yet to add any more losses to his 141-75 career record. But those numbers are really the furthest thing from his mind as gets a feel for his new job.
"One thing I've had to do is I have no problem stepping back and letting Todd take care of a lot of the dirty work. I do enjoy that part of it," Tracey said. "When we are having our staff meetings, I do have to pick my spots when to say things because it's not my overriding decision.
"It's strange because Don Morris taught me this a hundred years ago the difference between becoming the head coach and an assistant coach is what used to be suggestions are now decisions. I have to remember that as Todd is going through and deciding things. I don't want to put him in a bind by saying things."
The Pioneers are running a totally different offense under Tracey's guidance, and it has challenged him to see the game from a new perspective.
"We think that we have some kids that are very intelligent football players and they can do some different things that other teams and players couldn't do as well, in my opinion," Tracey said. "It's opened up a whole new game for me and I'm trying to look at things in a different way.
"It's like anything — there are pluses and minuses to it. There are certain tenets of the game that don't change for me, but it has been interesting."
DePoorter calls Tracey very "detail oriented," which serves the offense well.
"He knows more about football than I'll ever know," DePoorter said.
Tracey is thankful to have this next chapter in his coaching career.
"I have nothing but respect for Todd and the way he has allowed me to do what I am trying to do," Tracey said. "That's very much appreciated."
DePoorter understands that there could have been an elephant in the room with all the former head coaches on staff. But he said that was worked out early in the process and now it's just one staff trying to make the players better in hopes of winning games.
"We all trust each other," DePoorter said. "We're all just trying to do whatever needs to be done to help the kids succeed."