There has been a lot of chatter about Harrison Bey-Buie moving across the river this summer and joining Bettendorf's football program.
It didn't deter Bey-Buie. 
In his Bulldog debut, the senior tailback displayed the same burst, power and shiftiness Moline fans were accustomed to seeing last fall.
Bey-Buie rushed for a game-high 122 yards and scored three touchdowns to help Bettendorf knock off Pleasant Valley 20-6 Friday night in the season opener at Spartan Stadium.
"I knew there was a lot of pressure on me coming into this, but I train for this," Bey-Buie said. "I was ready for this moment."
Bey-Buie said family was the reason for his decision to relocate from Moline to Bettendorf.
"To me, it wasn't about winning, but I wanted to feel like I fit in as a player with the team," he said.
The Bulldogs wasted no time utilizing him.
Bey-Buie carried the ball eight times on the Bulldogs' opening 18-play, 68-yard drive that chewed up more than 8 minutes. The 205-pound back capped it with a 5-yard touchdown run.
Later in the opening quarter, after Bey-Buie ripped off an 18-yard run, he scampered 41 yards for a score to make it a 14-0 lead.
"The power, speed, agility, ball-catching, leadership and toughness, he's got it all," Bettendorf quarterback Joe Byrne said of Bey-Buie. "He's the real deal.
"Success always makes you feel more confident. He had a lot early, which built him up and allowed him to put his trust in us. We've been practicing with him for a month, but a game is a whole different thing. It felt right."
Byrne, making his first start under center, carried the ball 11 times for 74 yards. He had runs of 14 and 8 yards, respectively, on third and long situations to extend the first drive.
"Joe made great decisions," Bettendorf coach Aaron Wiley said. "He's shifty and not unathletic. You saw that in the open field what he did."
Byrne admitted there was a different feeling Friday compared to starting 12 games at free safety last year.
"You can hide a little bit at free safety," he said. "Quarterback, the spotlight is on you. I had a great supporting cast around me and guys were confident in me."
Bettendorf was on the verge of going up three scores in the second half, but Byrne was intercepted near the goal line by PV's Brandon DePover. He returned it to the Bulldogs' 37.
The Spartans had success moving the ball throughout the game. They passed for 124 yards, rushed for 100 and recorded 13 first downs, but the offense bogged down once they were inside the Bulldogs' 30.
They had to settle for two Rhys Ward field goals in the second half.
"We shot ourselves in the foot a couple times," PV coach Rusty VanWetzinga said. "Either a missed block, we put the ball on the ground or would have a penalty.
"We have a lot of new guys and they were thrown into the fire against a good team, but I thought our guys battled up and down. Nothing tells me in this game we don't have a good football team."
Ryan Mumey, who won the starting quarterback job in fall camp for the Spartans, completed 15 of 20 throws for 124 yards and didn't have an interception.
"I thought our quarterback did a great job in his first varsity game," VanWetzinga said. "We had guys who haven't played at this level step up. I'm not into moral victories, but that was encouraging to see."
Bey-Buie sealed the deal.
On third and 4 with less than 4 minutes remaining, he darted 20 yards for a touchdown to make it a two-score game.
Dating back to last year, Bey-Buie has been over 100 yards in his last seven outings. 
It was a vast improvement from last year's opener when he had only 56 yards in a win over Geneseo. 
"It took me a while to get used to things," Bey-Buie said. "The coaches told me to slow down, find a gap and I was kind of rushing things at first. I kept believing in my team."
Like most season openers, Wiley had mixed thoughts afterward.
"It was far from perfect," Wiley said, "but you win on the road in Week 1 against a rival and a bunch of new guys playing, we're pleased."
083019-qct-spt-bett-pv-fb-002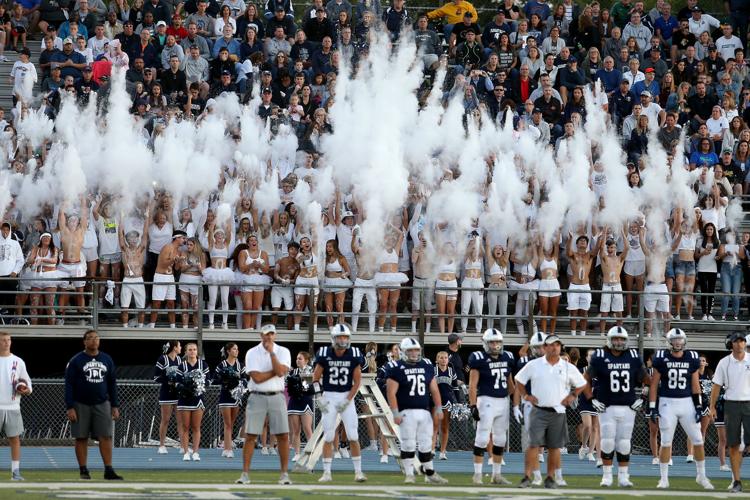 083019-qct-spt-bett-pv-fb-001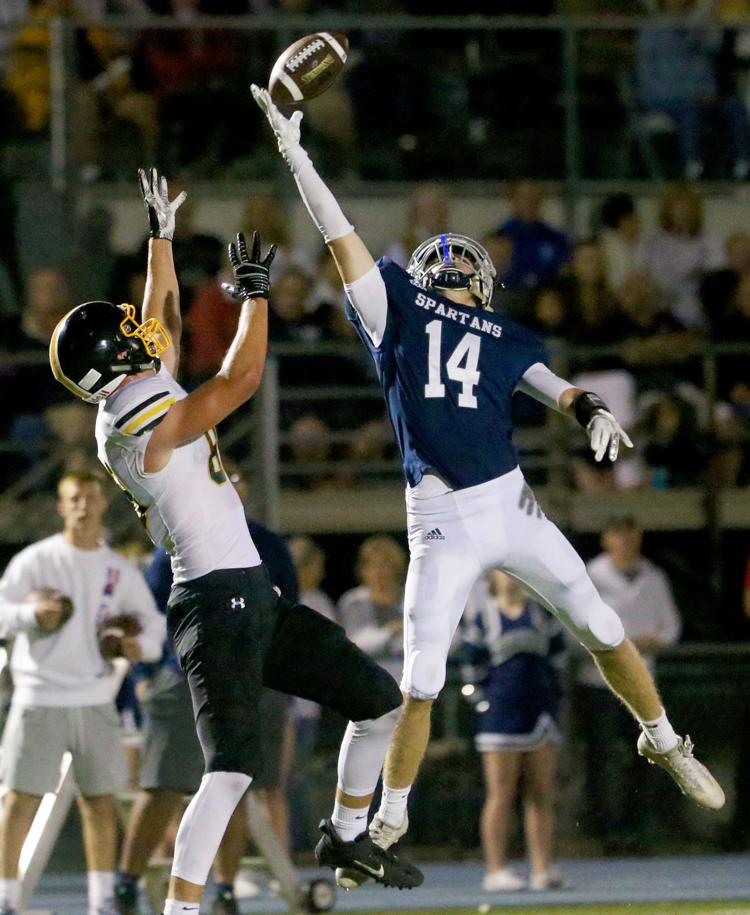 083019-qct-spt-bett-pv-fb-003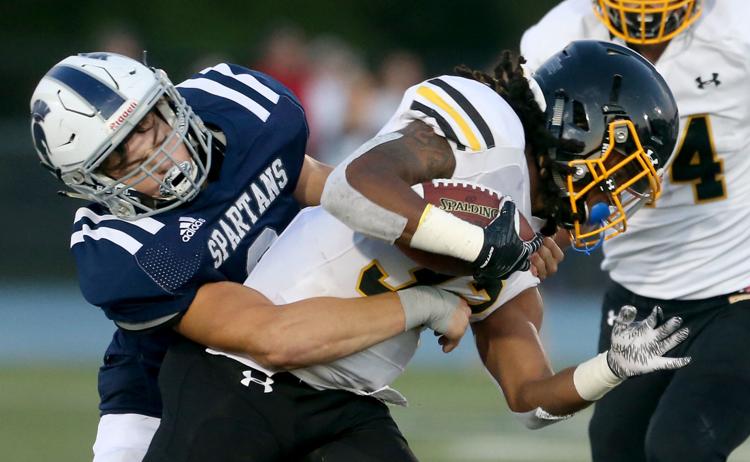 083019-qct-spt-bett-pv-fb-004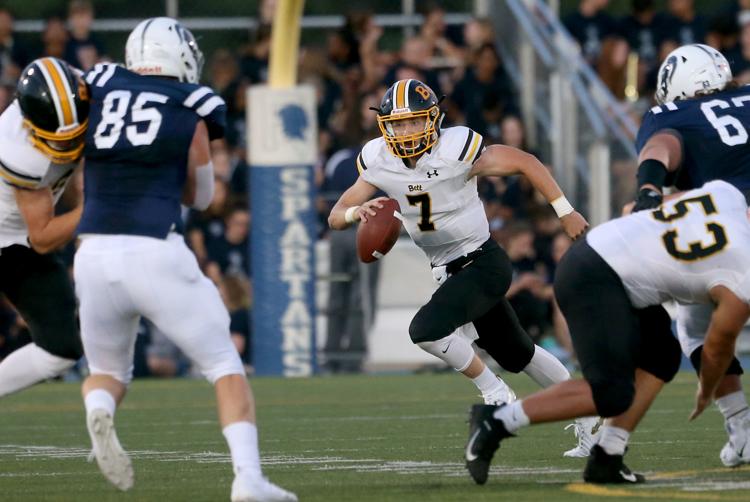 083019-qct-spt-bett-pv-fb-005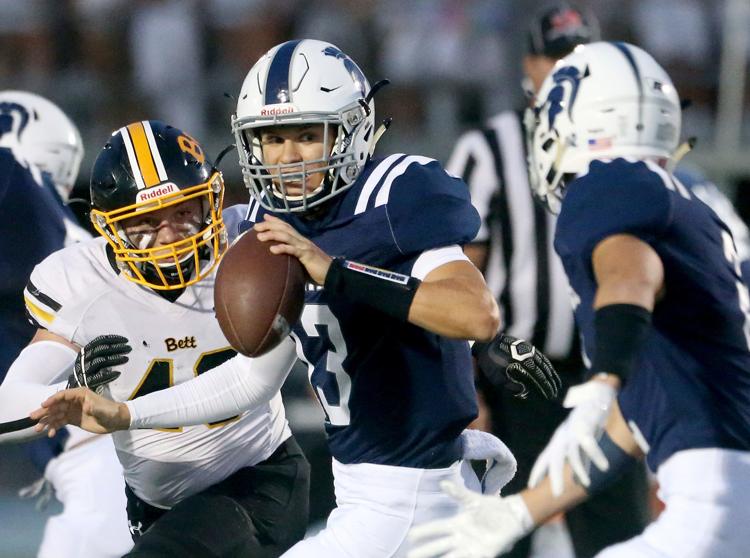 083019-qct-spt-bett-pv-fb-006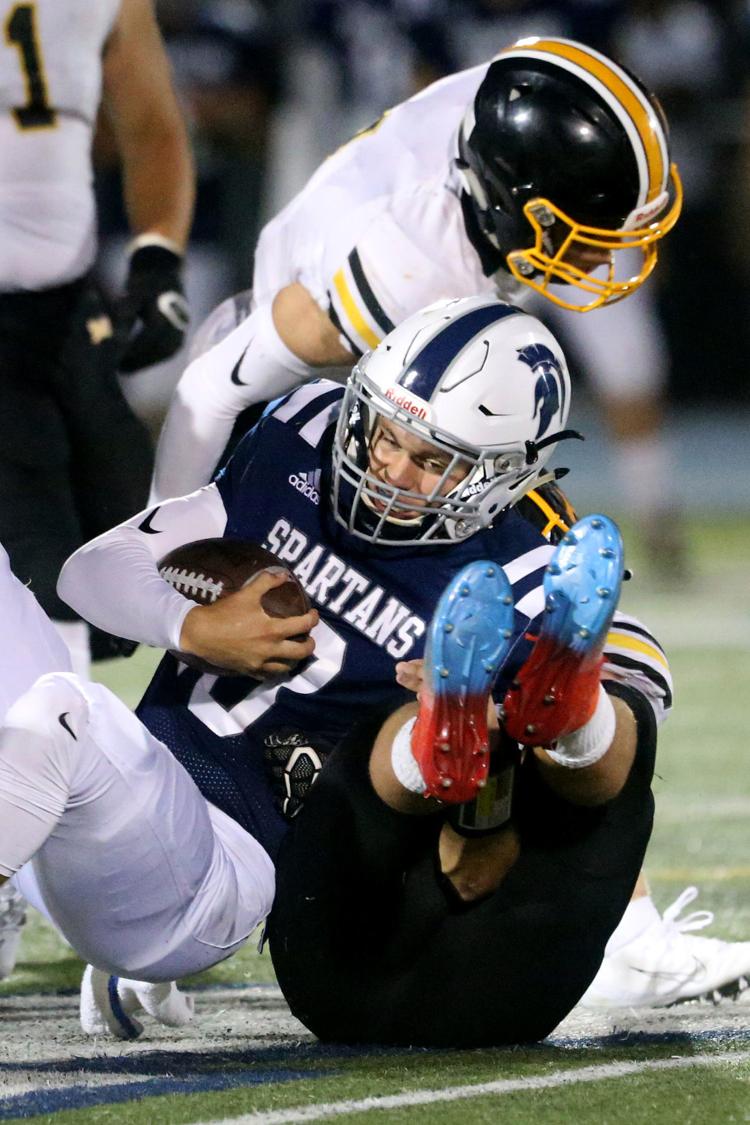 083019-qct-spt-bett-pv-fb-007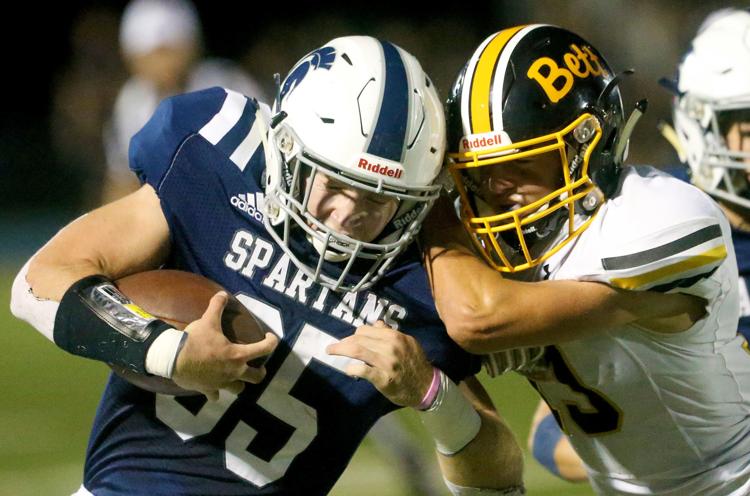 083019-qct-spt-bett-pv-fb-008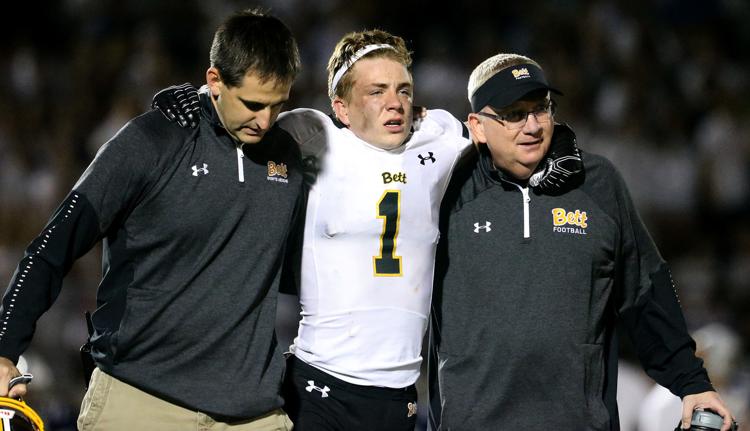 083019-qct-spt-bett-pv-fb-009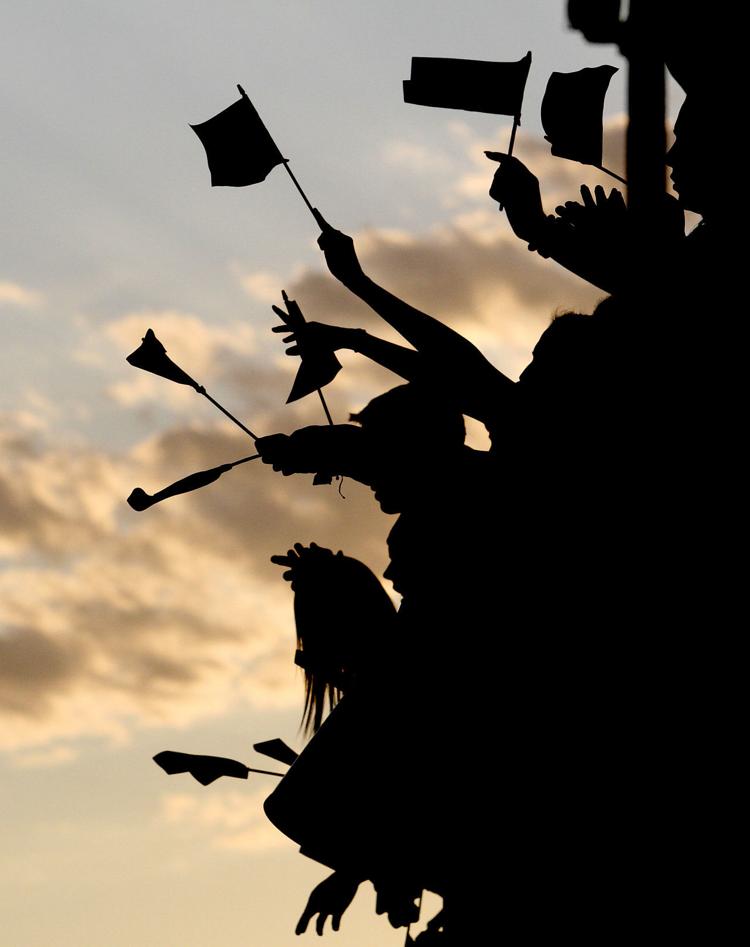 083019-qct-spt-bett-pv-fb-010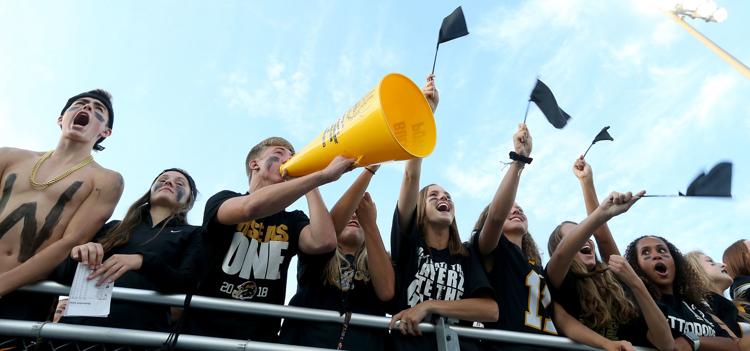 083019-qct-spt-bett-pv-fb-011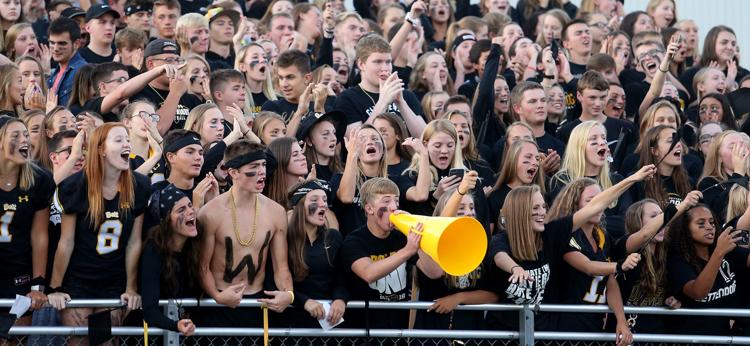 083019-qct-spt-bett-pv-fb-012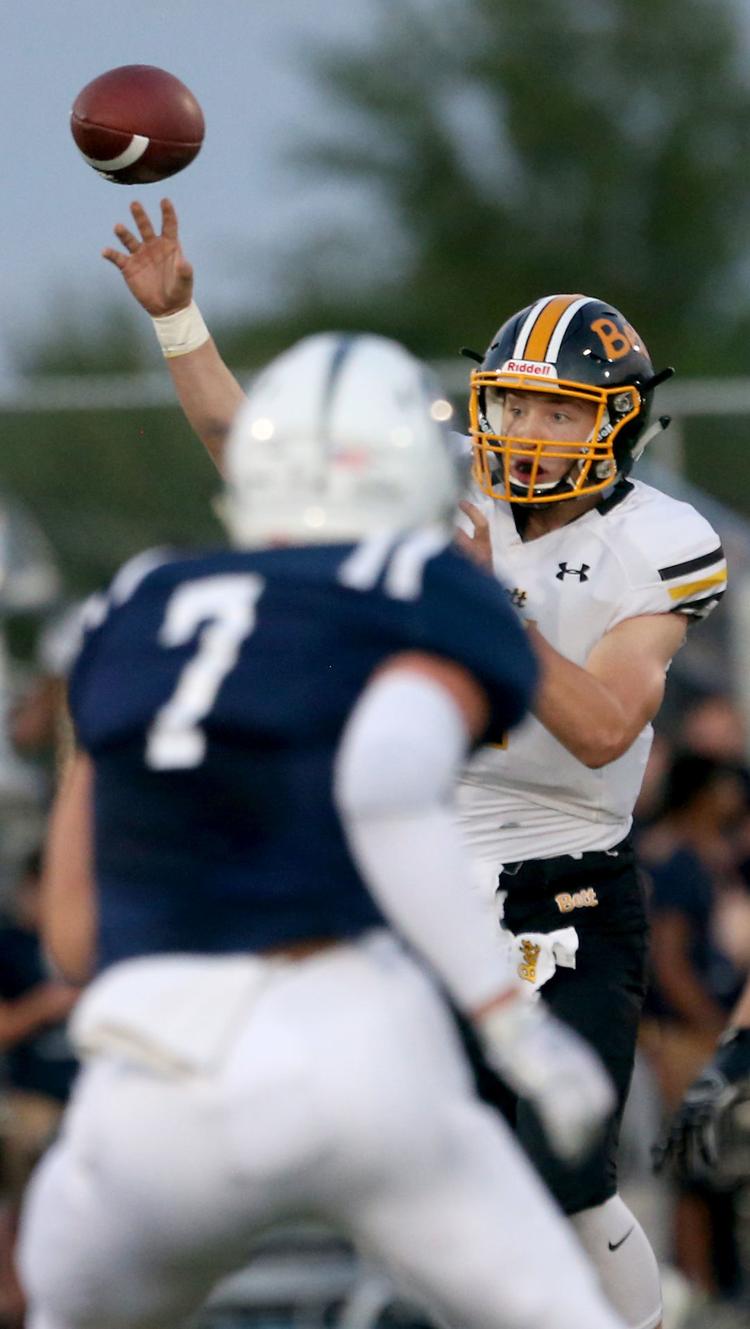 083019-qct-spt-bett-pv-fb-013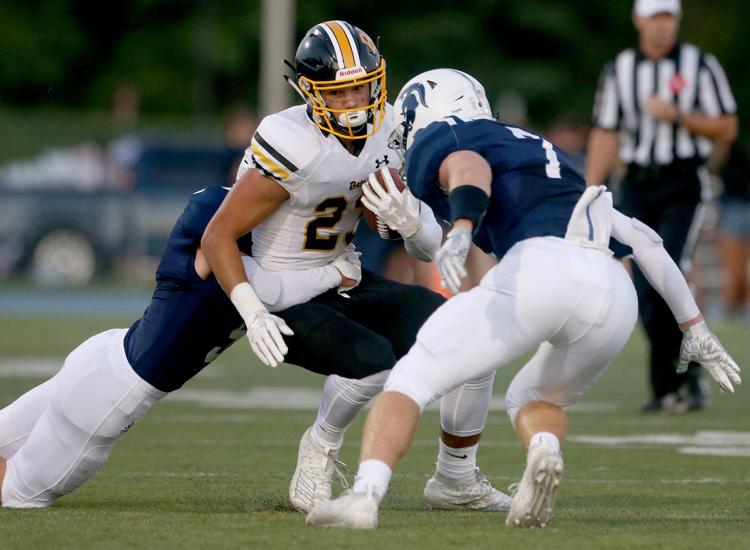 083019-qct-spt-bett-pv-fb-014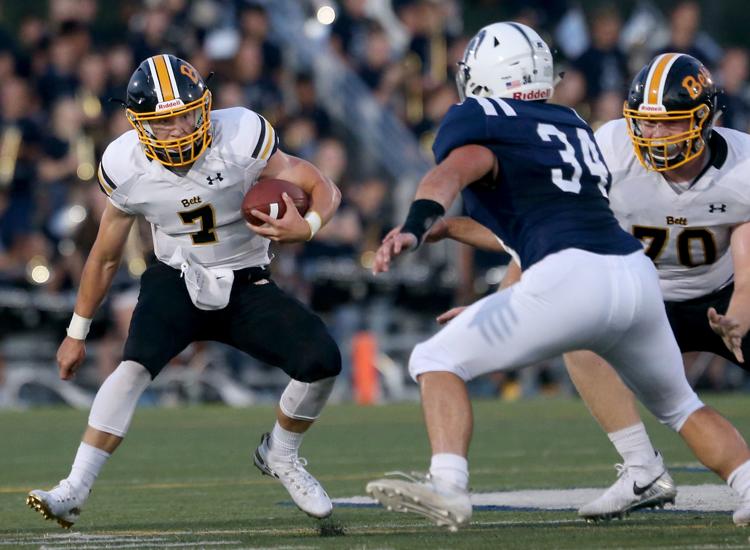 083019-qct-spt-bett-pv-fb-015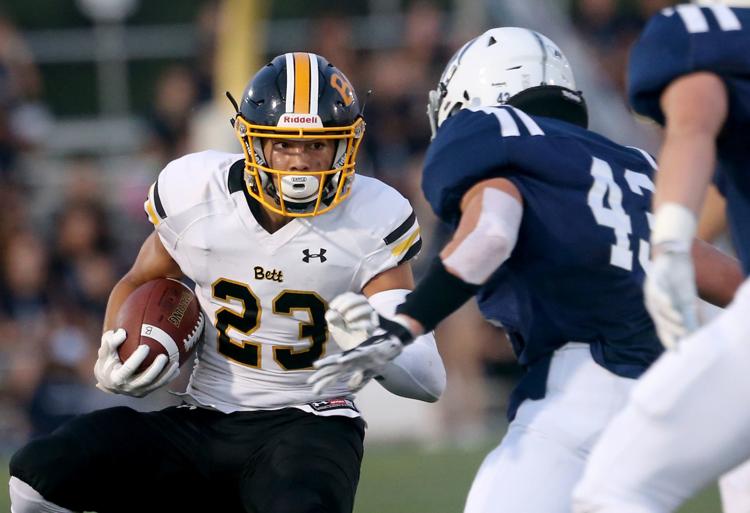 083019-qct-spt-bett-pv-fb-016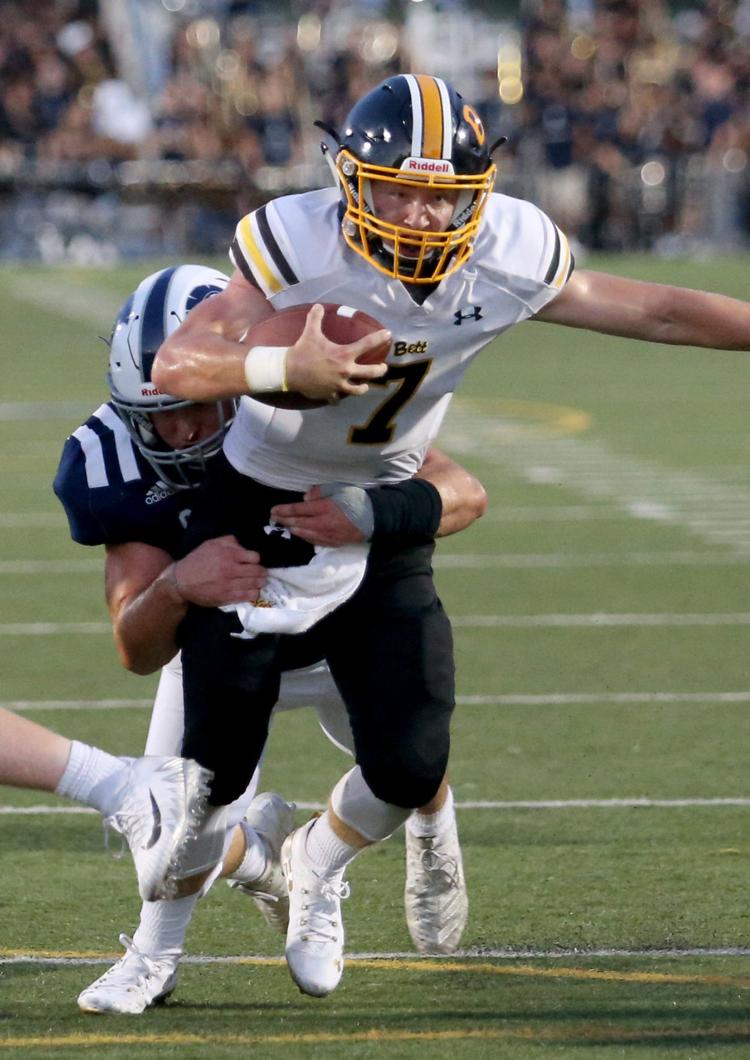 083019-qct-spt-bett-pv-fb-017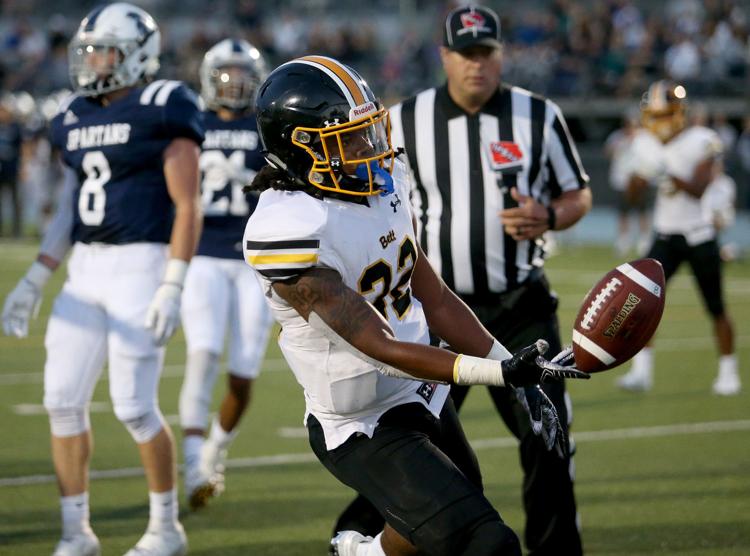 083019-qct-spt-bett-pv-fb-018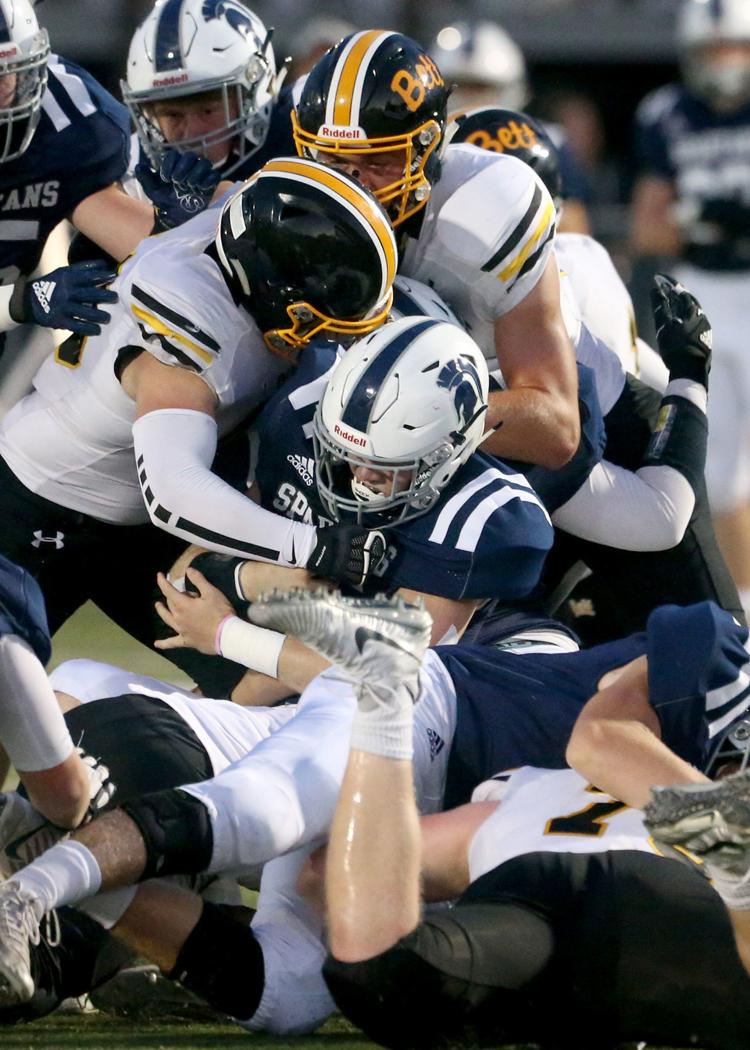 083019-qct-spt-bett-pv-fb-019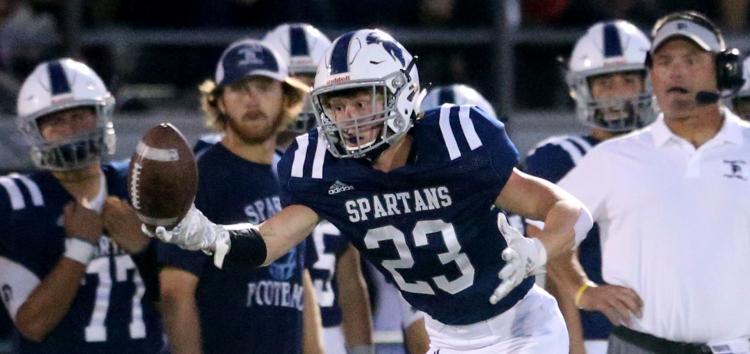 083019-qct-spt-bett-pv-fb-020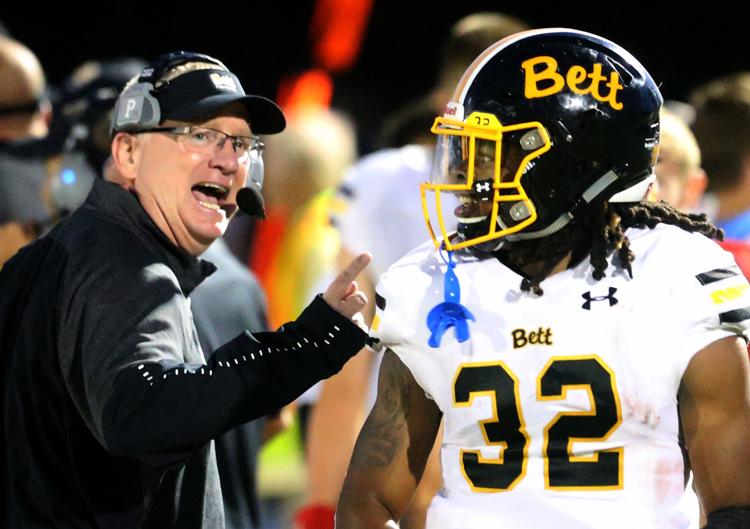 083019-qct-spt-bett-pv-fb-021
083019-qct-spt-bett-pv-fb-022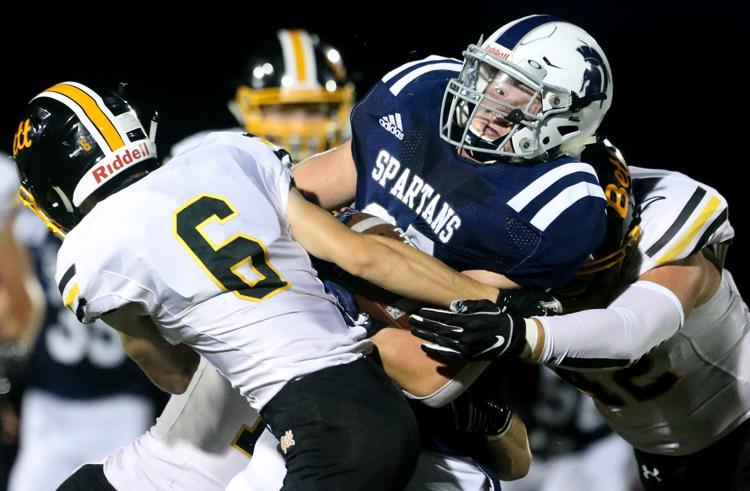 083019-qct-spt-bett-pv-fb-023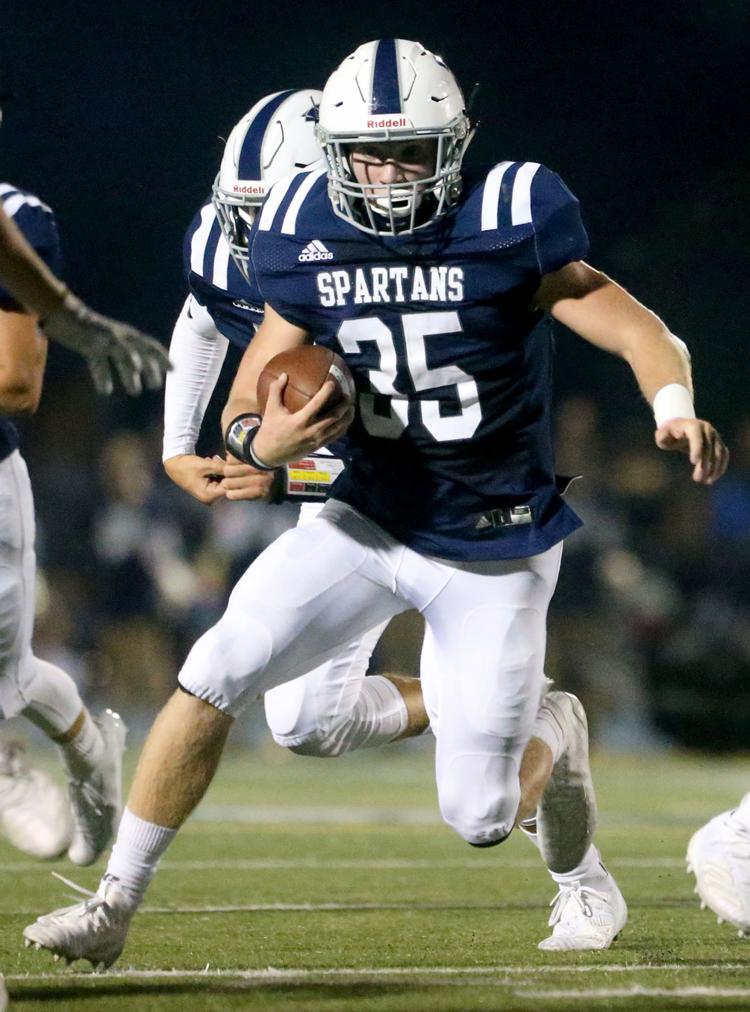 083019-qct-spt-bett-pv-fb-024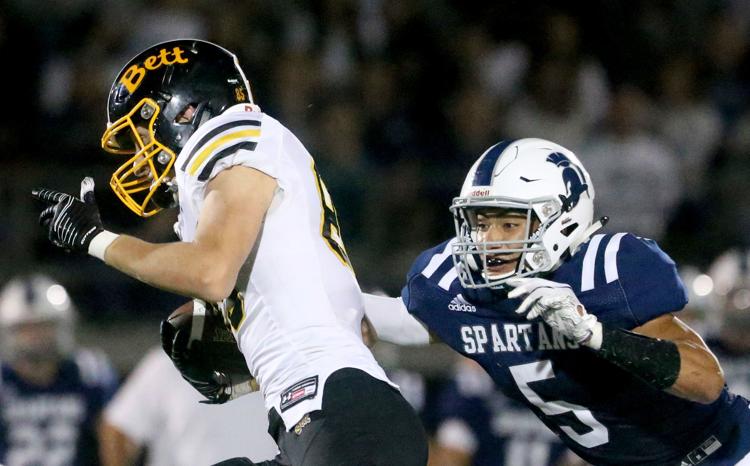 083019-qct-spt-bett-pv-fb-025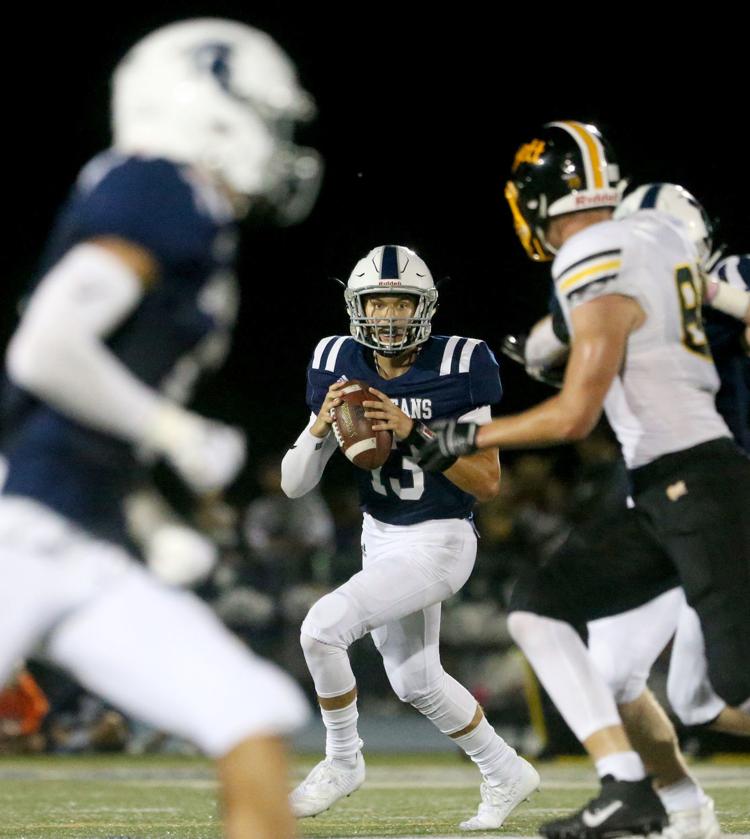 083019-qct-spt-bett-pv-fb-026