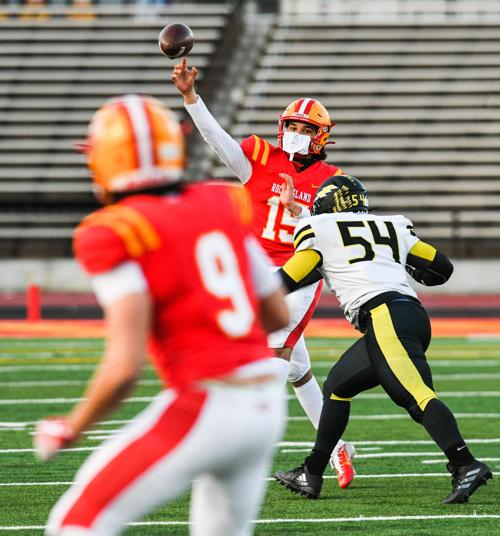 This week's marquee Western Big 6 Conference football showdown could be one for the ages.
Rock Island treks to Sterling to face the hosting Golden Warriors at Roscoe Eads Stadium in what is shaping up to potentially be the de facto title game between the state-ranked powers, who are the two remaining undefeated teams in the league.
The six-game race for the unofficial league crown will probably hinge on the outcome of the 7 p.m. clash.
"I'll tell you what, this is why you play high school football, right?" rhetorically asked Sterling coach Jon Schlemmer.
Friday's game pits two of the top-ranked teams in the state. The Rocks come in slotted at No. 3 in this week's Class 6A poll and Sterling checked in tied for fifth in the Class 5A state-wide poll of reporters and broadcasters.
It is enough to make the shortened spring season worth playing — even if some of the luster may be off the game with both teams playing a bit short-handed in just the second meeting between the two schools in recent history.
In their Big 6 debut season in 2019, the Golden Warriors racked up a 49-26 victory over Rocky, handing the Rocks one of their three losses as they controlled the game on the ground.
The Rocks will look to flip that switch with a simple approach.
"We need to score more points than them," said Rocky coach Ben Hammer. "100% of the time you win if you score at least one more point than the other team."
Hammer said his club will continue to be without a pair of senior standouts in Devin Swift and Ravon Taylor.
Schlemmer reports that his crew will be without "five or six starters" for various reasons.
One of the key losses is starting free safety Michael Hanrahan. According to Schlemmer, the 6-foot-4 senior who patrols the back end of the defense suffered a season-ending elbow injury.
Schlemmer also said that two players have been quarantined this week for contact-tracing purposes as they were near someone not on the team who is being quarantined for potential COVID-19 issues.
Facing one of the most explosive teams in the league is tough. Doing it short-handed can make it even more daunting.
"They're pretty darn good; they've got some dudes on that side," said Schlemmer. "Up front and defensively they are getting better, but, man, are their skill-position kids talented. It's scary when you flip on the film of them. Our kids know what they are up against.
"We've been lucky enough to play in some big games the last couple of years, so I don't think the moment will be too big for our kids. When you play good teams, you have to be pretty darn good, so we know we'll have to be good."
Rock Island junior quarterback Eli Reese has been fantastic since taking over the position solo in Week 2 after Swift was hurt in practice that week. He has completed 77% of his passes (46 of 60) for a league-leading 711 yards. He has thrown eight touchdowns without being picked.
"He can sling it when he gets time," said Schlemmer of Reese. "He'll pick us apart if we let him sit back there. Playing straight man-to-man is going to be tough, though. We're going to have to do some different things and show some different looks to try to get off the field and get the ball back in our hands."
Senior receivers Jakobe Bea (12 catches, 258 yards, two TDs) and Cole Rusk (18 catches, 218 yards, 4 TDs) are among the top five WB6 receivers.
"There's so much talk about the skill positions, but if we can win up front we're going to give ourselves a chance," said Schlemmer. "We need to play keep-away and control the clock."
The Rocks are off to their first 3-0 start since 2013 (when that team was 8-0) and have exploded for the most points (129) in the first three games since 2003 (142 for coach Vic Boblett).
While rebuilding its offensive line, the Golden Warriors have been solid, scoring 90 points while racing to their sixth straight 3-0 start. But the Sterling defense has been even better. It has allowed just 13 points – single TDs to Alleman and Quincy sandwiched around a Week 2 41-0 shutout of Geneseo.