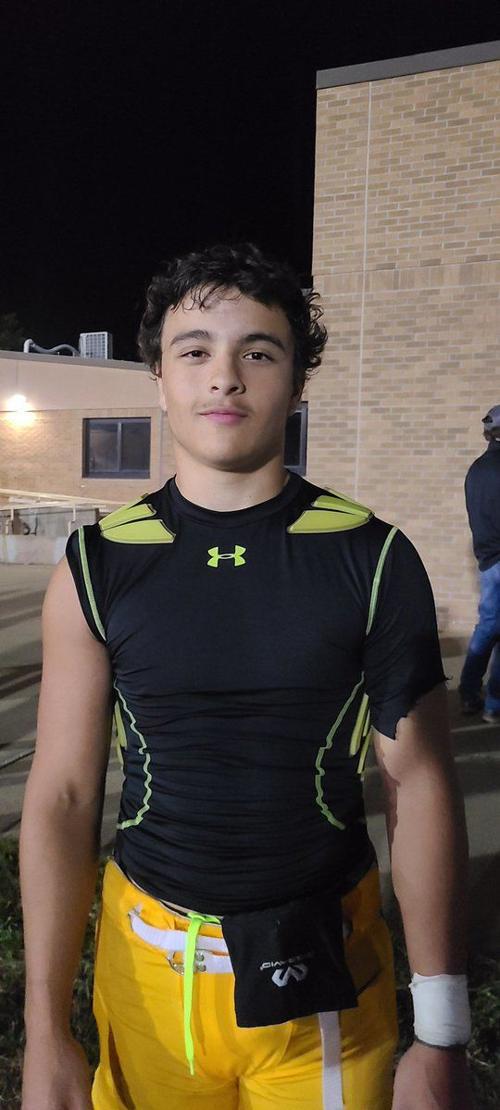 DEWITT — The Central Dewitt football team took advantage of Clinton mistakes in the second half of a 44-28 home win on Friday night.
Tied 22-all at halftime, the Sabers made some big stops, controlled possession and ran the ball effectively after intermission to start 3-0 for the first time since 2008.
The River Kings (0-3) battled against their rivals but ultimately could not keep up in a 24th straight loss.
Sabers tailback Ben Pace ran for 58 yards, scoring three touchdowns and converting on four two-point conversions.
Pace said the team knew it must be more physical after halftime. Clinton tied it up after Jai Jensen found Addison Binnie for a 30-yard passing touchdown on fourth down with five seconds left, taking advantage of a Sabers timeout and facemask penalty.
Pace credited his offensive line and play calling in the second half as the Sabers pulled away. His third rushing score came on fourth and goal from the three and put the Sabers up 30-22 in the third quarter. Clinton fumbled the ensuing kickoff and Tyler Herington recovered. The Sabers took advantage as Lucas Burmeister capped the following drive with an eight-yard touchdown run.
"We just executed. That's what we talked about all week, execute," Pace said. "I thought we did a good job of that."
Paul Kuehn led the Sabers' air attack with 178 yards passing and a touchdown. His primary deep threat, Burmeister, caught a 47-yard touchdown pass and tallied 132 yards on four catches.
Pace exited to have his knee iced in the second half as Lane Gerard kept the ground game rolling. He led the backfield with 62 yards rushing on 13 carries, closing his team's scoring with a three-yard touchdown run with 2:21 to play.
"We've got three, four guys who can just run the ball really well and our offensive line does a good job driving guys," Pace said.
Central DeWitt coach Ryan Streets said his team played well but did not tackle well in the first half. The Sabers did not punt once in the win, but turned it over twice as Clinton's Ajai Russel recovered two fumbles.
He said recovering the Clinton kickoff fumble was a difference-maker in the win. The run game sealed the deal.
"Ben Pace did a nice job and Gerard was the one that really carried us toward the end," Streets said. "He ran hard all game, dragging guys. He did a really nice job."
Clinton's Jensen threw for three touchdowns and ran for another, accounting for 58 yards rushing and 203 passing. Russell had 53 yards rushing, 20 receiving, and had a sack and two fumble recoveries on defense.
Sam Bloom had an interception for the Sabers.
Streets noted the River Kings always seem to play his team tough. His Sabers are still working to find consistency in all phases of the game despite their best start since 2008.
"We've got to make sure we get a full game together where we are playing hard the whole game," he said, "and get things fixed."