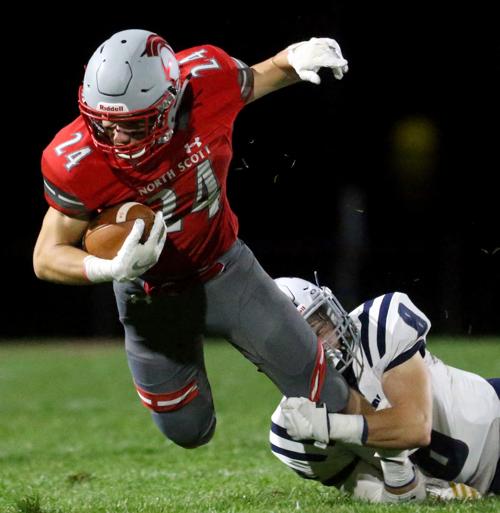 We've witnessed a rapid rise in sports specialization among youth the past couple of decades. 
Jack Young fell into that group the past couple of years.
Since walking away from football following his freshman season, Young immersed himself in baseball.
From participating in fall leagues along with hitting and pitching in the winter and spring months to summers on the diamond with Pleasant Valley, Young's life centered on a bat, ball and glove. 
But when Young came to PV football games and saw his buddies running around making tackles, he felt some emptiness.
Young wanted to do something about it before it was too late.
Two years removed from football, the senior came out this fall and has been one of the Spartans' most consistent performers on the defensive side.
The free safety is second on the team with 22 tackles heading into Friday night's district game at Muscatine.
"I'm definitely having a lot of fun with it," Young said. "I kind of wished I played the last two years because I missed out on a lot of fun.
"I saw my friends playing out here and I knew this was my last chance to ever play, so I wanted to spend it with my buddies on the football field."
Young, in fact, made the decision last fall that he was going to return.
It gave him adequate time to prepare his body.
The 180-pound Young hit the weight room hard, adding 25 pounds to his frame to be ready for the physical challenges. 
"He's done a real nice job for us," PV coach Rusty VanWetzinga said. "I think Jack had some regret not playing the past couple of years, but he's come in, worked hard and is a very heady player."
Young said the coaching staff has put in extra work with him to get him up to speed. 
After playing quarterback in sixth, seventh and eighth grades, Young transitioned to safety midway through his freshman year.
But after a two-year absence, there was a learning curve. 
"I found a little enjoyment in football but I was mainly out for the social aspect as a freshman," Young said. 
Baseball remains his passion. 
He has developed into a Class 4A all-state performer and will continue his career at Parkland College in Champaign next fall. 
The right-handed pitcher and third baseman propelled the Spartans to the state tournament this past summer, the program's first trip in 16 years. The co-Mississippi Athletic Conference player of the year batted a team-high .407 while going 7-2 on the mound with a 1.83 ERA. 
"Football, you have to rely on the guy next to you," Young said. "It takes all 11 players on that side of the ball to win a game, no one person can win it. The team bond among everyone is different in football compared to other sports."
Even though he'll put away the helmet and shoulder pads after this fall, Young believes this experience has significant value beyond the season. 
"Our coach tells us all the time he's preparing us to be better men, and I believe that 100%," Young said. "They really do want what is best for us.
"Whether it is running the hill or doing that extra drill, football really makes you mentally tougher. I can take that into baseball and into the rest of my life in whatever I do."
The Spartans (1-4) must win out to have any chance at the playoffs. PV was in the same predicament a year ago and recorded four straight victories.
It starts against Muscatine (1-4), a squad in desperation mode, too. 
"It really motivates us," Young said. "This is a team sport, so you need everyone on board. If someone is lacking, we're always there to pick them up. We all want the season to continue."
Regardless of how it unfolds, Young can leave with no regrets.
"I'm so glad I decided to come back out," he said, "because I love it and I enjoy being with these guys."
Get in the game with our Prep Sports Newsletter
Sent weekly directly to your inbox!