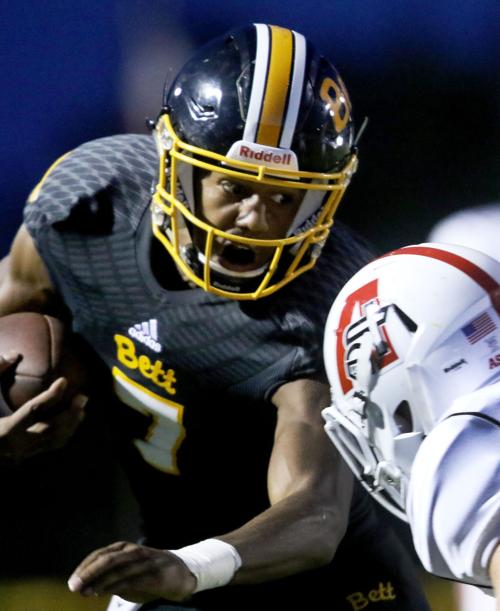 Clinton and Davenport Central are the lone undefeated football teams remaining in the Iowa Quad-Cities metro.
Bettendorf rebounded after a Week 1 shellacking with a blowout of its own. Muscatine and Pleasant Valley dropped nail-biters to ranked Iowa City schools.
As we embark on Week 3, it signals the start of district play for Class 3A schools. Davenport Assumption opens at home against fifth-ranked West Delaware, a state semifinalist last year which has racked up 94 points in two games. 
Davenport North is the Thursday night game at Brady Street Stadium again this week versus 0-2 Dubuque Senior. 
The two marquee matchups Friday: No. 3 Cedar Rapids Washington travels to No. 9 Bettendorf and Pleasant Valley visits Muscatine. 
Elsewhere, Clinton plays host to Cedar Rapids Prairie, Davenport Central heads up to North Scott and Davenport West makes the trek to Burlington
Here is a deeper look at what's on tap ...
Thursday
Dubuque Senior (0-2) at Davenport North (0-2)
When: Approx. 7:15 p.m. kickoff
Where: Brady Street Stadium, Davenport
BCMoore's take: Dubuque Senior by 4
Last season: Did not play
Thoughts: Turnovers have been the culprit of North's struggles in the first two games -- four interceptions in Week 1 and five lost fumbles in Week 2. Tailback and linebacker Collin Glazek did not dress last week after sustaining an injury in the opener. Lineman Josh Hill also was sidelined because of a knee injury. Tailback Zeke Hayslett rushed for more than 130 yards and had almost 100 yards receiving in last week's 36-28 loss to Burlington. After losing to Waterloo West 37-7 in the opener, Senior fell to city rival Wahlert 7-0 last week and didn't record a first down until late in the first half. The Rams have used two quarterbacks in both games -- senior Erik Edminster and junior Chaz Hancock. "Just way too many mistakes on offense," Senior coach Dale Ploessl told the Telegraph-Herald afterward. "Everybody saw it, we got a lot of things we're not doing right right now. ... Kids are playing hard, but playing hard doesn't always win games. You have to execute and right now we're not executing."
Friday
No. 3 C.R. Washington (2-0) at No. 9 Bettendorf (1-1)
Where: TouVelle Stadium, Bettendorf
BCMoore's take: Washington by 5
Last season: Did not meet
Thoughts: This is Bettendorf's second crack at a top-five ranked opponent in three weeks. The Bulldogs overcame a Week 1 drubbing at West Des Moines Valley with a 55-0 rout of Assumption last week. It'll be a good indicator of how much Bettendorf has improved in the past two weeks. Quarterback JMichael Young averaged more than 15 yards per rush and completed 9 of 10 passes for 143 yards last week. Keegan Glaus surpassed the 100-yard mark as Bettendorf's offensive line was much more in sync. Washington's fast, physical defense should pose a stiff test. The Warriors have wins over Cedar Rapids Prairie (27-14) and Cedar Rapids Kennedy (21-0). Coach Paul James' team recorded 10 tackles for loss, two interceptions and allowed fewer than 100 total yards in the victory against the Cougars. O'Rien Vance a 6-foot-3 and 210-pound linebacker, is a returning first team all-stater and an Iowa State recruit. Senior defensive lineman Rane Weiland was a third team all-stater last season.
Pleasant Valley (1-1) at Muscatine (1-1)
Where: Muscatine Community Stadium
Online: qcsn.co/pvspartans
BCMoore's take: Muscatine by 2
Last season: PV 45, Muscatine 14 (playoffs, first round)
Thoughts: Both teams are just outside the Associated Press Top 10 this week in Class 4A after PV dropped a two-point contest to Iowa City High and Muscatine fell by four to Iowa City West. The Spartans have to deal with a Muskie offense fueled by quarterback Luke Wichers, tailback Alphonso Soko and receiver Drew Greenhaw. Wichers has thrown for almost 400 yards, Soko is third in 4A with 315 rushing yards and Greenhaw is second in 4A receptions (17) and third in yards (260). The Muskies had a 20-10 lead at halftime last week, but the Trojans outscored them 21-7 after intermission. Muscatine has its hands full with PV's speed and athleticism in the backfield. The Spartans rushed for more than 345 yards in last year's meeting, including more than 100 yards apiece from Arthur Braden and Terry Saul. It will be imperative for Muscatine to stay disciplined with its assignments and avoid giving up the big play, something that has derailed them in the past.
Davenport Central (2-0) at North Scott (0-2)
Where: Lancer Stadium, Eldridge
BCMoore's take: North Scott by 11
Last season: Did not meet
Thoughts: Central is aiming for its first 3-0 start since 1993. The Blue Devils overcame three fumbles in a Week 1 win at Burlington, 19-14. They survived despite 13 penalties last week against Davenport West, 28-26. Junior Jatoviay Hill and senior Kobe Williams have combined for 472 rushing yards in two games. North Scott, trying to avoid a second consecutive 0-3 start, should get some help this week with the return of two-way lineman Wyatt Wriedt. The Lancers have given up 86 points in two games, including more than 520 yards of offense in last week's loss at Clinton. Offensively, North Scott has rotated quarterbacks the first two weeks in senior Sam Stonskas and sophomore Nile McLaughlin. After going 5-for-22 in the opener, they teamed for 19 completions, 294 yards and three scores last week. The Lancers were undone by three lost fumbles.
Davenport West (0-2) at Burlington (1-1)
Where: Bracewell Stadium, Burlington
BCMoore's take: Burlington by 1
Last season: West 28, Burlington 20
Thoughts: The Grayhounds had their most prolific offensive showing in coach Zach Shay's two-year tenure last week against Davenport North. Quarterback L.T. Beck threw for almost 300 yards and five scores in the 36-28 victory. K.J. Franklin and Spencer Sherwood are Beck's top targets, combining for 19 catches and almost 350 yards in two games. West lost 51-18 to Clinton in Week 1 and stumbled 28-26 to Davenport Central last week. Dot Combs rushed for 250 yards and three touchdowns a week ago, and sophomore Jacob Milem completed 11 of 16 throws for 142 yards. The Falcons were minus-3 in turnover margin and have created only one takeaway so far. Combs rushed for 140 yards and two scores for West in last year's win against Burlington.
Cedar Rapids Prairie (1-1) at Clinton (2-0)
Where: Coan Field, Clinton
BCMoore's take: Prairie by 8
Last season: Did not meet
Thoughts: Well, just how good are these River Kings? This week will give us a better indication after putting up 51 points each of the first two games against Davenport West and North Scott. Johnny Sullivan is among the state's passing leaders (552 yards, 7 TDs, Int) and Gage Harris has been incredible as a receiving weapon (19 rec., 298 yards, 4 scores). The offensive line has performed admirably and the defense has forced four turnovers. Prairie lost a Week 1 opener to No. 3 Cedar Rapids Washington 27-14, but rebounded with a 38-14 thumping of Cedar Rapids Jefferson last week. The Hawks threw only six times in their latest outing, but Joseph Meyer rushed for 169 yards and Zachary Ganske had 123 on the ground. The ground and pound tactic worked well. "When we went to the wildcat package and we kept going on them, they just seemed like they didn't have an answer for it," Meyer told the Gazette after last week's performance against Jefferson.
No. 5 West Delaware (2-0) at Assumption (1-1)
Where: Brady Street Stadium, Davenport
BCMoore's take: West Delaware by 28
Last season: Did not meet
Thoughts: This is the start of district play for both teams, and two squads expected to be near the top of the standings. West Delaware, a state semifinalist last season, rolled past Independence (48-0) and Mount Vernon (46-20) the first two weeks. Senior Tanner Wessels threw for 251 yards last Friday and sophomore back Caleb Kehrli recorded 180 rushing yards and four scores. "They have a good athlete at quarterback, a real good offensive line and a very balanced attack," Assumption coach Wade King said. "We'll have to definitely be at the top of our game to compete." The Knights are trying to eliminate the sour taste of last week's 55-point drubbing to Bettendorf. King said Assumption has had to make some adjustments because of injuries. Jayce Levy will step in at quarterback for the injured Chris Bridges. 
BCMoore's record: Week 2 (3-3); Overall (8-4)
Peeking ahead
Cedar Rapids Prairie at Davenport Central (Thursday)
Assumption at Central DeWitt
Bettendorf at Pleasant Valley
Clinton at Dubuque Senior
Davenport North at Davenport West