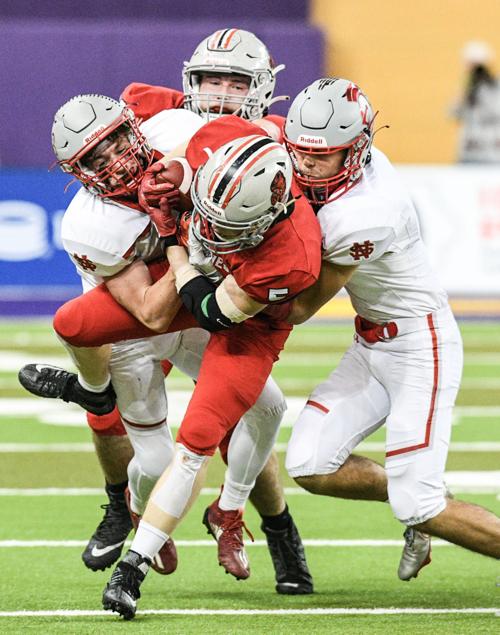 CEDAR FALLS, Iowa — When a team does something as special as what North Scott did Thursday night, individual plays become magnified and immortalized in the lore of the school.
When people recall the Lancers' first state football title 10, 20, 30 years from now, they might remember that it came in the midst of a pandemic or that the Lancers set a state record for interceptions in a game.
But the one play they definitely will remember is The Pick 6.
Junior Oliver Hughes completely, totally, irrevocably altered the course of Thursday's game with one superlative defensive play, returning a third-quarter interception 61 yards for a touchdown, and the Lancers continued on from there to trounce traditional powerhouse Harlan 30-6 in the Class 3A title showdown at the UNI-Dome.
Things really didn't look all that great for North Scott in the first few minutes of the second half. Harlan had finished the first half with a somewhat flukish 58-yard touchdown pass and the Cyclones had all the momentum even though the score was tied 6-6.
North Scott went three-and-out to start the second half and after Hughes launched a 64-yard punt, Harlan began moving as quarterback Teagon Kasperbauer completed a 30-yard pass to Connor Frame to get the ball to midfield.
Then Kasperbauer fired a pass toward the right sideline and he apparently didn't see No. 8 in a white jersey creeping up from his safety position.
"I saw him running an out route and I said 'I've got to get in front of this,'" Hughes said. "I knew it was coming the whole way and I just broke as fast as I could and ripped it out of his hands."
A few seconds later, he was in the end zone and the Lancers had a 13-6 lead and all the momentum.
"That definitely turned the game around," said cornerback Connor Corson, who tied an individual state record by collecting four of the Lancers' state-record seven interceptions in the contest. "We just kept rolling after that."
North Scott coach Kevin Tippet hesitated to single out any one play in a game in which his team produced dozens, but even he admitted, "A pick-6 in a state championship game ... that means a lot of momentum right there."
As they have in other games this season, the Lancers just rolled from there.
"It really lit a spark and then we took it all the way," Hughes said. "We took advantage of all the turnovers that we had and we finished it."
They capitalized on a short punt to score on a 4-yard touchdown pass from Carter Markham to Hughes. Corson's second interception set up a 40-yard field goal by Hughes. Corson's third pick set up a touchdown pass from Markham to Jakob Nelson.
Hughes said he felt vindicated for the way he played in the first two quarters of the game.
"The first half just wasn't my half," he said. "I'm not going to lie, I played horrible. I did my job in the second half."
Among the first-half plays that bothered him was Harlan's only touchdown. Kasperbauer threw a ball up for grabs along the sideline and Aidan Hall made a leaping catch between Hughes and cornerback Hunter Davenport, then dashed to the end zone with one second remaining.
"I just misread it," Hughes said. "I was going up to block it and I totally misread it.
"I had to make up for my faults in the first half," he added.
It all added up to arguably the sweetest state championship in North Scott history.
The school has had more than its share of athletic success through the years. It has won state titles in girls basketball, boys basketball, softball, girls cross country and boys indoor track.
But this was especially special because it came in the most visible sport and occurred in some of the most bizarre and unique circumstances imaginable.
The coronavirus pandemic impacted North Scott more than it did most schools. The Lancers were in quarantine for a few weeks and missed two games in the middle of the season. Markham only played in three games during the regular season and was in street clothes for the Lancers' only loss.
"We never doubted each other, even during the quarantine," Hughes said. "We were all calling each other and texting each other, trying to keep each other up."
When they did win three very close, very tense games in a row to reach the state championship game, they found themselves pitted against a program with more state titles (12) and more playoff victories (93) than any school in any class in the entire state.
But the Lancers, playing in their first title game, simply refused to lose.
Celebrating on the field afterward, Hughes hearkened back to the days when he and Corson were growing up together in the little town of Princeton on the far eastern edge of the North Scott district. Davenport, the other starting cornerback, lived there, too.
"This is a dream come true for me," Hughes said. "I've thought about this ever since I was a little kid playing football in recess down in Princeton, Iowa.
"It was incredible," he added. "It was the best feeling ever knowing that we pushed through everything and did the best we could."
Get in the game with our Prep Sports Newsletter
Sent weekly directly to your inbox!