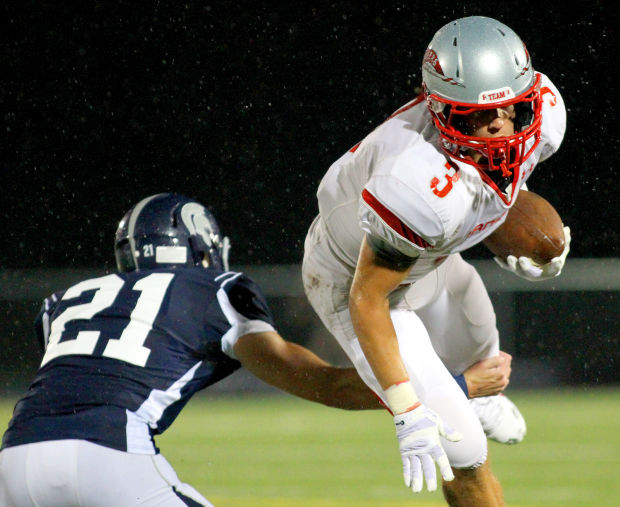 FRIDAY'S GAMES
Muscatine (1-0) at North Scott (1-0)
BASICS: Approx. 7:15 p.m., Lancer Stadium
LAST YEAR: Muscatine 28, North Scott 24
BREAKDOWN: The last three meetings have been decided by one score. Muscatine had 11 tackles for loss and picked off three passes in a 31-16 win at Dubuque Hempstead. North Scott forced three turnovers in a 7-3 victory at Pleasant Valley. Game pits two electric quarterbacks in Muscatine's Matt Wieskamp and North Scott's Matt Sacia. 
Iowa City High (0-1) at Bettendorf (1-0)
BASICS: Approx. 7:15 p.m., TouVelle Stadium
BREAKDOWN: City High handcuffed Cedar Falls to 70 yards of offense in its opener, but it allowed two special teams touchdowns and had three lost fumbles in a 14-0 defeat. It will be first meeting between the schools since Iowa City High beat Bettendorf 21-7 in the 2010 state semifinals. Former greats Tavian Banks and Tim Dwight are the game's honorary captains.
Davenport West (0-1) at Davenport Central (1-0)
BASICS: Approx. 7:15 p.m., Brady Street Stadium
LAST YEAR: Central 42, West 0
BREAKDOWN: Both teams strung together impressive second halves last week. For West, it resulted in a 24-22 loss to North. For Central, it led to a 25-21 comeback win over Burlington. The Falcons are seeking to end a 14-game losing streak. The Blue Devils were efficient running the ball last week but a meager 1-for-12 passing.
Pleasant Valley (0-1) at Linn-Mar (1-0)
BASICS: Approx. 7:15 p.m., Linn-Mar Stadium
BREAKDOWN: Linn-Mar, with 27 seniors on its roster, was a combined 5-13 the past two years and yielded more than 40 points a game last season, but it stymied Cedar Rapids Prairie 35-9 in the opener. PV, victimized by turnovers and penalties in a loss to North Scott, is coming off its lowest offensive output (three points) in four seasons.
Davenport North (1-0) at Clinton (0-1)
BASICS: Approx. 7:15 p.m., Coan Field
LAST YEAR: Clinton 41, North 0
BREAKDOWN: North has not started 2-0 since 1992. For the second straight week, Clinton will face a team which operates out of a double-wing. The River Kings yielded 55 points and 325 yards rushing last week to Central DeWitt. The Wildcats lean on Kevin Murphy and Devyn Sperry, who combined for 46 rushes and 225 yards last week.
You have free articles remaining.
Peoria Richwoods (0-1) at Rock Island (1-0)
BASICS: Approx. 7:30 p.m., Rock Island Public Schools Stadium
LAST YEAR: Rock Island 29, Peoria Richwoods 10
BREAKDOWN: The Rocks move on without the services of top returning rusher Prince Gbeddeh, who dislocated his knee in Rock Island's 19-12 win last week over Manual. Sophomore QB Alek Jacobs had a promising debut with a pair of scores in Week 1. Richwoods was left reeling after losing its opener to Peoria Notre Dame 42-0.
Peoria Manual (0-1) at United Township (0-1)
BASICS: Approx. 7:30 p.m., Soule Bowl
LAST YEAR: United Township 42, Peoria Manual 28
BREAKDOWN: A pair of new coaches vie for their first win tonight at the Soule Bowl. It's the first home game for UT coach Jason Kirby, who has implemented the read option into his squad's offense. Ed Cagle's Rams are in the midst of a 25-game losing streak and haven't had a win since 2011.
Alleman (0-1) at Galesburg (1-0)
BASICS: Approx. 7:30 p.m., Van Dyke Field
LAST YEAR: Alleman 28, Galesburg 7
BREAKDOWN: The Silver Streaks play their first game in their new stadium against a Pioneers squad with something to prove. Alleman was thoroughly dominated last week in a 50-7 loss to Peoria High and will try to avoid its first loss to Galesburg since 2008. 
Moline (0-1) at Peoria High (1-0)
BASICS: Approx. 7:30, Peoria Stadium
LAST YEAR: Peoria High 34, Moline 19
BREAKDOWN: The Maroons face a difficult challenge in trying to keep pace with Peoria High's explosive offense. The Lions piled up 603 yards in their 50-7 win over Alleman last week led by a 232-yard rushing performance by B.J. Harris. Moline must limit its turnovers and sustain its drives to try to limit the Lions offense's time on the field. 
Tipton (1-0) at Durant (1-0)
BASICS: Approx. 7:30 p.m., Durant, Iowa
LAST YEAR: Tipton 28, Durant 14
BREAKDOWN: Durant is greatly improved, especially on defense. It went 0-9 a year ago and allowed 28 or more points in every game, but it opened last week with a 7-6 conquest of perennial playoff contender Mid-Prairie. Tipton got 292 yards of offense from new quarterback Adam Hermsen in a 32-21 victory over West Liberty.
Get in the game with our Prep Sports Newsletter
Sent weekly directly to your inbox!