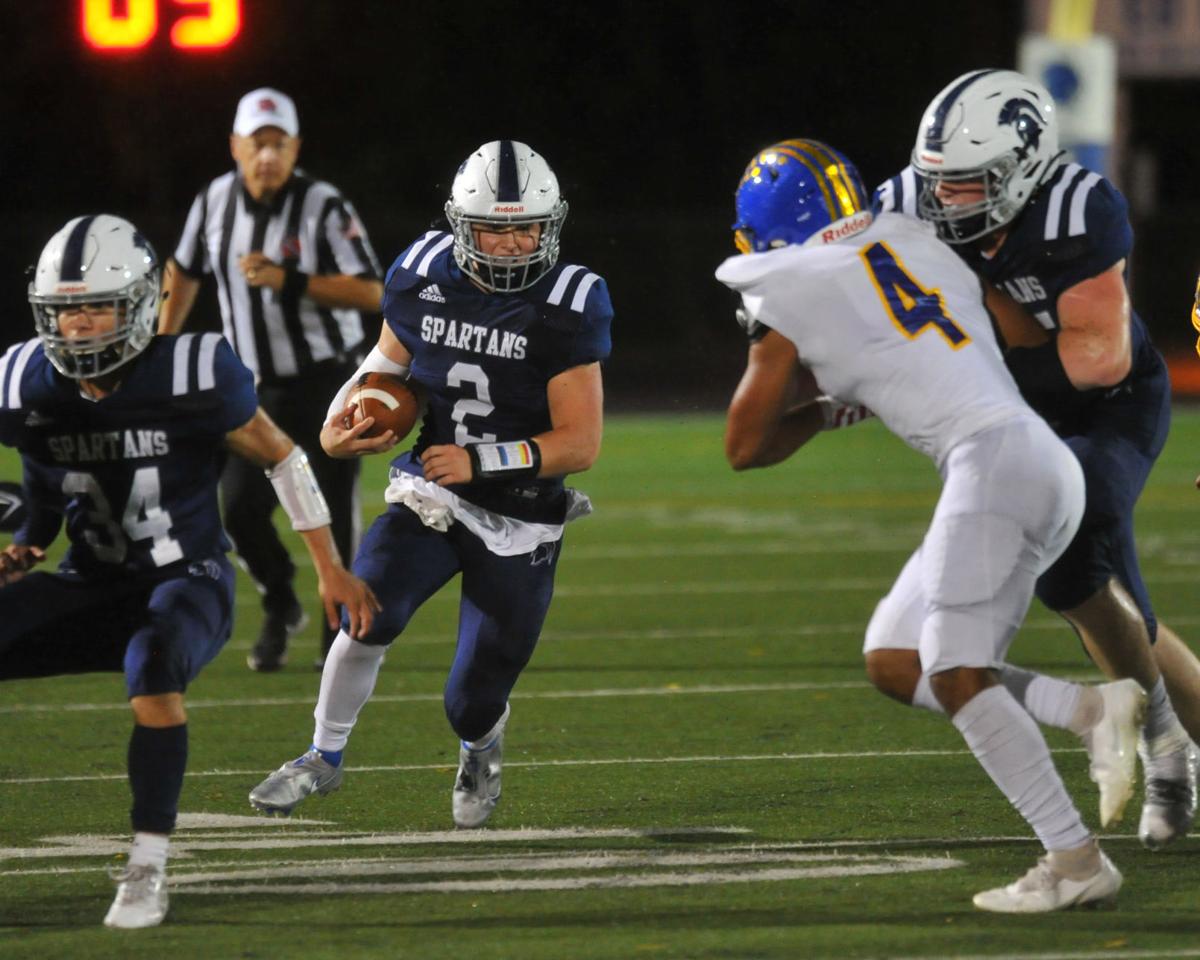 Cedar Falls (5-2) at Bettendorf (3-4)
Basics: Approx. 7:15 p.m., TouVelle Stadium
Last week: Cedar Falls beat Dubuque Hempstead 42-28 in the UNI-Dome. Bettendorf received a 1-0 forfeit win over Iowa City West.
Last meeting: Bettendorf 24, Cedar Falls 14 (2019 playoffs)
Overview: The Bulldogs are 20th in this week's Ratings Percentage Index and need to finish the season with consecutive wins to have a shot at cracking the top 16 and making the playoffs. They play at Davenport North next Friday. Bettendorf hasn't played since a one-point loss to PV two weeks ago after Iowa City West canceled last week because of COVID. Cedar Falls, meanwhile, is down to its third-string QB after starter Hunter Jacobson injured his knee two weeks ago and backup Gavin Steege suffered a leg injury last Friday. Receiver Trey Campbell, a UNI basketball recruit, leads the Tigers with 25 grabs for 389 yards. Cedar Falls is ninth in this week's RPI.
Fort Madison (6-1) at North Scott (7-0)
Basics: Approx. 7:30 p.m., Lancer Stadium
Last week: Fort Madison dropped its first game of the season, a 24-16 decision to Iowa City Liberty. North Scott downed Clinton 41-7.
Overview: Class 4A top-ranked North Scott can secure the district crown with a win in its regular season home finale. The Lancers have won 15 in a row dating back to last year, 11 of those by 12 points or more. Quarterback Grayson Juel has thrown for 1,516 yards and 21 TDs versus two picks. Oliver Hughes and Jakob Nelson have teamed for 85 catches, 1,103 yards and 19 scores. Fort Madison QB Landes Williams has accounted for nearly 2,000 yards (1,500 passing, 466 rushing). Tate Johnson is his primary target with 41 grabs for 583 yards. North Scott has come up with 14 takeaways in seven games.
Linn-Mar (6-1) at Dav. Central (3-4)
Basics: Approx. 7:30 p.m., Brady Street Stadium
Last week: Linn-Mar trounced Ottumwa 56-0 at home. Central dropped its third straight, a 34-19 decision to city rival North.
Last meeting: Linn-Mar 34, Central 14 (2014)
Overview: Nobody in the area has a more challenging closing stretch than Central, which gets No. 6 Linn-Mar on Friday and then hosts No. 7 City High next Thursday. Central has been gashed in the run game the past two weeks, allowing 417 yards to Iowa City West and then 314 to North. Central's Nate Hummel is among the metro's leading rushers with 809 yards and 13 scores. Linn-Mar has limited six of its seven opponents to 15 points or less. The Lions have come up with 26 takeaways (13 fumbles, 13 picks) — the most in 5A. Linn-Mar is tied for sixth in the RPI and would be safely in the playoffs with a seventh win.
Pleasant Valley (5-2) at Dubuque Senior (5-2)
Basics: Approx. 7:30 p.m., Dalzell Field
Last week: PV handed Iowa City High its first loss of the season, 31-14, at Spartan Stadium. Senior clobbered Muscatine 48-6.
Last meeting: PV 49, Senior 17 (2017)
Overview: PV has jumped back into the state rankings this week at No. 9 in Class 5A following its fourth straight victory. The Spartans are 10th in the RPI and can position themselves for a first-round home game with two more wins. Senior QB Barrett Lindmark, out since Week 2 with a collarbone injury, is on target to return either this week or in Week 9 at Iowa City West. PV will give plenty of attention to Senior dual-threat QB Jack Gilligan. He has thrown for 1,615 yards and rushed for 318 while accounting for 20 TDs. The schools haven't met in four years, but PV has won the previous four meetings all by double figures.
Dav. North (3-4) at Muscatine (0-7)
Basics: Approx. 7:30 p.m., Muscatine Community Stadium
Last week: North upended Central 34-19. Muscatine fell on the road to Dubuque Senior 48-6.
Last meeting: Muscatine 25, North 3 (2020)
Overview: North conquered step one last week in its quest to win out. The Wildcats, 21st in this week's RPI, need a victory over the Muskies to potentially set up a big Week 9 tilt with Bettendorf. With Cade Sheedy limited to defense, Giovanni Rivera rushed for a career-best 302 yards last week. The Wildcats, though, have only one win over the Muskies in the last nine meetings. Muscatine will recognize its 2001 squad at halftime Friday, the first to win a playoff game in program history. The Muskies have yet to come within 20 points of any foe this year. Sophomore Ty Cozad has a team-best 376 rushing yards.
Mount Vernon (4-3) at Central DeWitt (5-2)
Basics: Approx. 7:15 p.m., Birney Field in DeWitt
Last week: Mount Vernon rolled past Maquoketa 41-7. Central DeWitt slipped past Vinton-Shellsburg 14-7.
Last meeting: Central DeWitt 36, Mount Vernon 13 (2009)
Overview: This is a pivotal district game for both teams. The Sabers (2-1 in district play) can really put themselves in a favorable spot for a playoff berth with a win. Mount Vernon needs to win out after district stumbles to Benton and Assumption. Central DeWitt is averaging 43 rushing attempts a game the past two weeks, up nearly 10 a contest from the first five games. Senior Owen Brase has thrown for 808 yards and senior Trenton Pitlik has rushed for 581 to lead the Mustangs' offense. It has been 15 years since Mount Vernon beat Central DeWitt on the gridiron.
Dav. West (1-6) at Iowa City High (6-1)
Basics: Approx. 7:15 p.m., Bates Field
Last week: West was blanked by top-ranked Cedar Rapids Kennedy 43-0. City High stubbed its toe on the road to Pleasant Valley 31-14.
Last meeting: None recently
Overview: West has been outscored 60-0 in the first half the past two weeks by 5-2 Dubuque Senior and 7-0 Kennedy. This will be the first of two straight road games to finish the season as the Falcons head to Muscatine in Week 9. After consecutive road trips to the Quad-Cities, City High will look to put last week's setback in the past. With the exception of last Friday, City High has been stout on defense. It has three shutouts and held two other teams to single digits. Iowa recruit Ben Kueter has a team-high 60.5 tackles, 26 for loss.
Clinton (1-6) at Mount Pleasant (1-6)
Basics: Approx. 7:30 p.m., Mapleleaf Athletic Complex
Last week: Clinton hung around for a half before stumbling to 4A top-ranked North Scott 41-7. Mount Pleasant was clobbered by Burlington 56-3.
Last meeting: None recently
Overview: The River Kings make the 112-mile trip to Mount Pleasant looking to snap a three-game losing streak. Clinton senior QB Jai Jensen is closing in on 1,300 passing yards for the season. While the run game remains a work in progress, Clinton has four receivers with double-digit receptions. This will be a chance for the River Kings to collect a district win as Mount Pleasant has dropped all three games in the district by 35 points or more. The Panthers are registering less than 80 rushing yards a game in the district.
Moline (6-1) at Sterling (6-1)
Basics: Approx. 7:30 p.m., Roscoe Eades Stadium, Sterling
Last week: Moline's defense overwhelmed Galesburg in its 27-0 victory. Sterling's run game flew past Rock Island 56-35.
Last meeting: Sterling 36, Moline 34 (spring 2021)
Twitter: @Jackson_Stoneee
Overview: The Maroons and Golden Warriors face off for the conference title in a matchup that features some of the top players in the Western Big 6. And it starts with the ground game. The two leaders in rushing yards and rushing touchdowns thus far in conference play are Sterling's Antonio Tablante and Moline's Riley Fuller. In five games, Tablante has 631 rushing yards and 11 touchdowns. Fuller has 533 rushing yards and six touchdowns. Moline has simply been dominant on defense, allowing just 9 points per game this season and recording four straight shutouts.
United Township (4-3) at Galesburg (2-5)
Basics: 7:30 p.m., VanDyke Field, Galesburg
Last week: UT snapped a three-game losing streak with a 48-7 win over Alleman. Galesburg was held scoreless in a 27-point loss to Moline.
Last meeting: United Township 50, Galesburg 36 (2021 spring)
Overview: United Township secured a needed win Friday over Alleman, but the Panthers are still searching for that elusive fifth win for a chance at the playoffs. After a 3-0 start, UT has gone 1-3 and its once formidable offense has failed to impress. The Panthers' 48 points Friday were the most since UT scored since the 22 against Geneseo on Sept. 10. Senior running back Loren Arrington had a team-high 158 rushing yards and three touchdowns against the Pioneers. UT scored on seven of its final eight possessions. The Silver Streaks were eliminated from playoff contention with last week's setback to Moline.
Rock Island (4-3) at Geneseo (3-4)
Basics: Approx. 7:15 p.m., Bob Reade Field, Geneseo
Last week: Rock Island couldn't keep up with Sterling in its 56-35 loss. Geneseo dropped a heartbreaker to Quincy 23-22.
Last meeting: Geneseo 23, Rock Island 15 (2021 spring)
Overview: If either team wants a shot at making the playoffs, this is a must-win game. The Rocks sit at 4-3, and while a fifth win could get them into the postseason, it's not a guarantee. Rock Island hosts Quincy next week. The Rocks are led by senior quarterback Eli Reese, who leads the conference in passing yards (795) and passing touchdowns (12) in five conference games. The Rocks allowed 401 rushing yards against Sterling, and it won't be any easier this week with Geneseo's Jaden Weinzierl. The junior running back/receiver has accounted for 474 total yards and five touchdowns in conference play.
Alleman (0-7) at Quincy (3-4)
Basics: Approx. 7:15 p.m., Flinn Memorial Stadium, Quincy
Last week: Alleman lost at home to United Township 48-7. Quincy sneaked past Geneseo 23-22.
Last meeting: Alleman 16, Quincy 13 (spring 2021)
Overview: The Pioneers scored their second touchdown of the season against UT, but it wasn't enough in Alleman's 41-point loss. Running back Lincoln Dorsey scored on an 18-yard rush in the final minutes. Alleman has two chances remaining this season to find its first victory, a road trip to Quincy before closing the season out at home against Galesburg. The Pioneers' small roster size has made it difficult for first-year coach Fritz Dieudonne, who looks to avoid leading Alleman to its first winless season since 1993.
— Compiled by Matt Coss, Jackson Stone