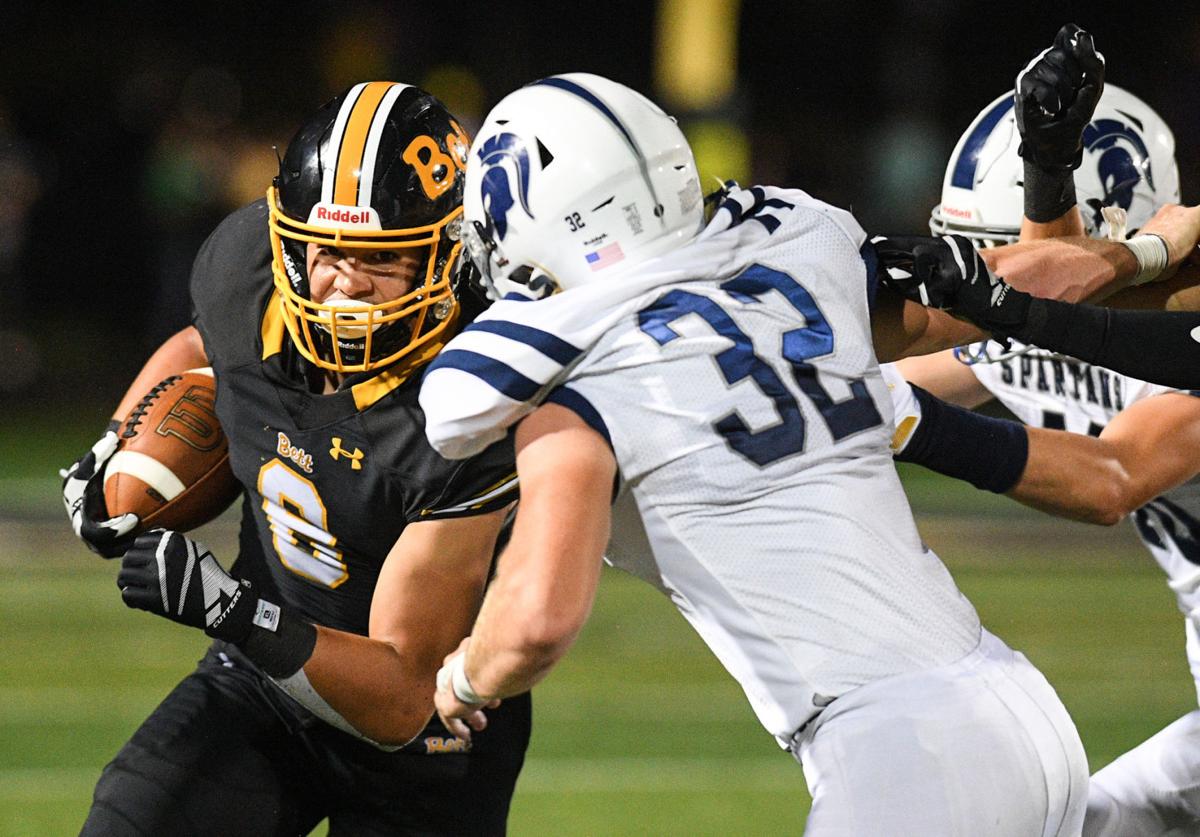 Dav. Central (3-3) at Dav. North (2-4)
Basics: Approx. 7:15 p.m., Brady Street Stadium
Last week: Central stumbled on the road to Iowa City West 36-21. North was drilled by second-ranked Iowa City High 42-0.
Last meeting: North 23, Central 3 (2020)
Overview: Both teams come in on two-game losing streaks and neither can afford another loss to keep their playoff hopes alive. Central has eighth-ranked Linn-Mar and second-ranked City High in the final two weeks. North concludes with winless Muscatine and 2-4 Bettendorf. Central had more than 500 total yards last week, but it yielded 417 on the ground (14.4 per carry) to West. Nate Hummel threw for 255 yards and rushed for 169. North is scoring fewer than 12 points per game and has been held scoreless the past two weeks. This contest serves as North's homecoming game.
Iowa City High (6-0) at Pleasant Valley (4-2)
Basics: Approx. 7:15 p.m., Spartan Stadium
Last week: City High raced past Davenport North 42-0. PV slipped past rival Bettendorf 14-13.
Last meeting: PV 38, City High 14 (2019)
Overview: The Spartans, ninth in this week's Class 5A RPI, can solidify a playoff spot with two wins in their final three games. This is the final regular season home game for PV which closes at Dubuque Senior and Iowa City West. Coach Rusty VanWetzinga's team will have its hands full against a City High defense which has three shutouts and hasn't allowed more than 17 points in a game yet. PV averages almost 260 yards a game on the ground while City High gives up only 76. The Little Hawks' defense is led by Iowa recruit Ben Kueter (23 tackles for loss) and senior safety Gable Mitchell (34 tackles).
Bettendorf (2-4) at Iowa City West (2-4)
Basics: Approx. 7:15 p.m., Trojan Field in Iowa City
Last week: Bettendorf dropped a nail-biter to Pleasant Valley 14-13. West snapped a three-game losing skid with a 36-21 win over Davenport Central.
Last meeting: Bettendorf 42, West 15 (2019)
Overview: If the Bulldogs have any shot at extending their playoff streak to 24 straight years, they need to knock off West, Cedar Falls and Davenport North the next three weeks. Bettendorf's four losses have come against schools that are a combined 20-3. Bettendorf receiver Tynan Numkena has 28 receptions for 371 yards this year, giving him 86 grabs for 1,063 yards for his career. West senior Mason Applegate erupted for a school-record 381 rushing yards and four TDs last week. Applegate, averaging more than 10 yards per carry, is the leading rusher in Class 5A with 960 yards.
North Scott (6-0) at Clinton (1-5)
Basics: Approx. 7:15 p.m., Coan Field in Clinton
Last week: North Scott thwarted Burlington on the road, 42-0. Clinton lost on the road to Fort Madison 58-14.
Last meeting: North Scott 50, Clinton 0 (2020)
Overview: North Scott, the top-ranked team in Class 4A, is working on back-to-back shutouts and has not given up a touchdown in the past three games. The Lancers rank first in 4A in interceptions (11) and third in tackles for loss (57). North Scott has had 10 players either record an interception or recover a fumble this season. Clinton hung around early with Fort Madison last week but has surrendered 113 points in the past two outings. In particular, teams have gouged them for the big play — five TDs covering 30 yards or more the past two games.
Assumption (4-2) at Benton (5-1)
Basics: Approx. 7:15 p.m., Benton Community High School
Last week: Assumption tripped up Mount Vernon 24-12. Benton downed Vinton-Shellsburg 21-7.
Overview: Assumption coach Wade King was a second team all-state tailback for Benton Community in 1980. This will be the first time at Assumption he's matched up against his alma mater in football. The outcome will go a long way in deciding the district champion, with both teams unbeaten in district play. After a three-point loss to Grinnell in Week 1, Benton has won five straight, but none of those wins have been by more than 22 points. Jacob Brecht has 769 rushing yards to lead a ground attack which averages 6.7 yards per carry. Brecht is a big playmaker on defense as well with 50 tackles (nine for loss).
Central DeWitt (4-2) at Vinton-Shellsburg (2-4)
Basics: Approx. 7:30 p.m., Vinton
Last week: Central DeWitt stuffed Maquoketa 26-10. Vinton-Shellsburg lost at home to Benton Community 21-7.
Last meeting: Central DeWitt 28, V-S 7 (2011)
Overview: At 1-1 in district play, the Sabers need a win to remain in the thick of the playoff chase with Mount Vernon and Benton Community lurking in the final two weeks. Central DeWitt threw the ball a season-low nine times last week as it racked up 341 yards on the ground. Ben Pace spearheaded the attack with 203 yards and two scores. Excluding the 24 points it scored in a win over Maquoketa, V-S has averaged only 5.4 points in its other five games. The Vikings register just more than 200 yards of offense per game.
Muscatine (0-6) at Dubuque Senior (4-2)
Basics: Approx. 7:15 p.m., Dalzell Field
Last week: Muscatine lost at Dubuque Hempstead 55-14. Senior rolled past Davenport West 45-7 at Brady Street Stadium.
Last meeting: None recently
Overview: Muscatine is just one of two teams in Class 5A without a win this season along with Cedar Rapids Jefferson. A combination of a grueling schedule and a young squad without a lot of depth has led to a challenging fall for coach D.J. Hawkins. This will be Muscatine's final road game before closing at home against Davenport North and Davenport West. Senior is squarely in the playoff mix behind QB Jack Gilligan, who has thrown for 1,442 yards and a dozen TDs. Landon Sauser is his top target with 26 catches for 427 yards.
Camanche (3-3) at Northeast (4-2)
Basics: Approx. 7 p.m., Northeast High School in Goose Lake
Last week: Camanche was thumped by Monticello 55-13. Northeast staved off West Liberty 20-17.
Last meeting: Camanche 41, Northeast 7 (2019)
Overview: Northeast is atop the district at 3-0 and already has secured a playoff spot. It can claim at least a share of a district crown with a win. Freshman QB Gavin Kramer has keyed the turnaround with nearly 1,600 total yards of offense and 18 TDs. Cade Hughes has 530 receiving yards and 41 tackles on defense. Camanche has won the last three meetings between the schools. The Storm can secure a playoff spot with a victory.
Sterling (5-1) at Rock Island (4-2)
Basics: Approx. 7:30 p.m., Public Schools Stadium
Last week: Rock Island survived a 33-30 overtime thriller against Galesburg. Sterling beat Quincy 50-18.
Last meeting: Sterling 27, Rock Island 18 (spring 2021)
Twitter: @Jackson_Stoneee
Overview: The Rocks have bounced back from a 63-0 loss to Moline with wins over United Township and Galesburg. Coach Ben Hammer's team sits alone in third place in the WB6, a game behind Moline and Sterling. Quarterback Eli Reese threw for five touchdowns against UT, but it was Rock Island's ground game that found the end zone four times last week, with two scores each from Darius Tongo and Xander George. Sterling has allowed only 25 points in its last three games and the highest an opposing team has scored on it is 21. The Golden Warriors will look to keep pace with Moline, which is also 4-0 in league play.
Galesburg (2-4) at Moline (5-1)
Basics: Approx. 7:30 p.m., Browning Field, Moline
Last week: Moline defeated UTHS 41-0 for its third straight defensive shutout. Galesburg lost a 33-30 overtime heartbreaker to Rock Island.
Last meeting: Moline 27, Galesburg 24 (spring 2021)
Overview: Moline is on a record-breaking run right now. The Maroons have shut out their last three opponents and compiled 160 points. Moline's Matthew Bailey and Riley Fuller both had over 100 yards from scrimmage last week against UT. The defense held UT to just 181 total yards. Galesburg started the year with losses to Dunlap and Morton, but has quickly surprised in conference play. The Silver Streaks sit at 2-2, but held leads in the fourth quarter in both of their WB6 losses to Rock Island and Sterling. Galesburg also defeated Quincy by 26 and Geneseo by 21.
United Township (3-3) at Alleman (0-6)
Basics: 7:30 p.m., Lindberg Stadium, Rock Island
Last week: UTHS fell 41-0 to Moline for its third loss in a row. Alleman lost 48-0 to Geneseo.
Last meeting: UTHS 33, Alleman 14 (spring 2021)
Overview: The past three weeks have been a nightmare for UTHS. After starting 3-0 for the first time since 2001, the Panthers have dropped three straight in uncompetitive fashion. UTHS has been outscored 129-20 and the explosive offense revolving around Matthew Kelley, Loren Arrington and Damahz Slater has all but disappeared. The young Panther squad, who had to replace all 11 offensive starters in the summer, will be favored to win against an Alleman team which has been outscored this season 330-7. It has been a tough season for first year coach Fritz Dieudonne, who was left with a depleted roster after being hired in June.
Geneseo (3-3) at Quincy (2-4)
Basics: Approx. 7:15 p.m., Flinn Stadium, Quincy
Last week: Geneseo dominated Alleman 48-0 to snap its losing streak. Quincy fell 50-18 at Sterling.
Last meeting: Geneseo 42, Quincy 7 (spring 2021)
Overview: Geneseo picked up its first Western Big 6 victory by defeating Alleman. The Maple Leafs started the season 2-0, but lost three straight to United Township, Galesburg and Sterling. After being held scoreless against Sterling, the Maple Leafs put up 48 points against the Pioneers with sophomore quarterback A.J. Weller throwing for 96 yards and a touchdown, while also adding a score on the ground. Junior running back Jaden Weinzierl had 108 total yards and two touchdowns. The last time these two teams met, Geneseo forced eight turnovers in its blowout victory.
— Compiled by Matt Coss and Jackson Stone