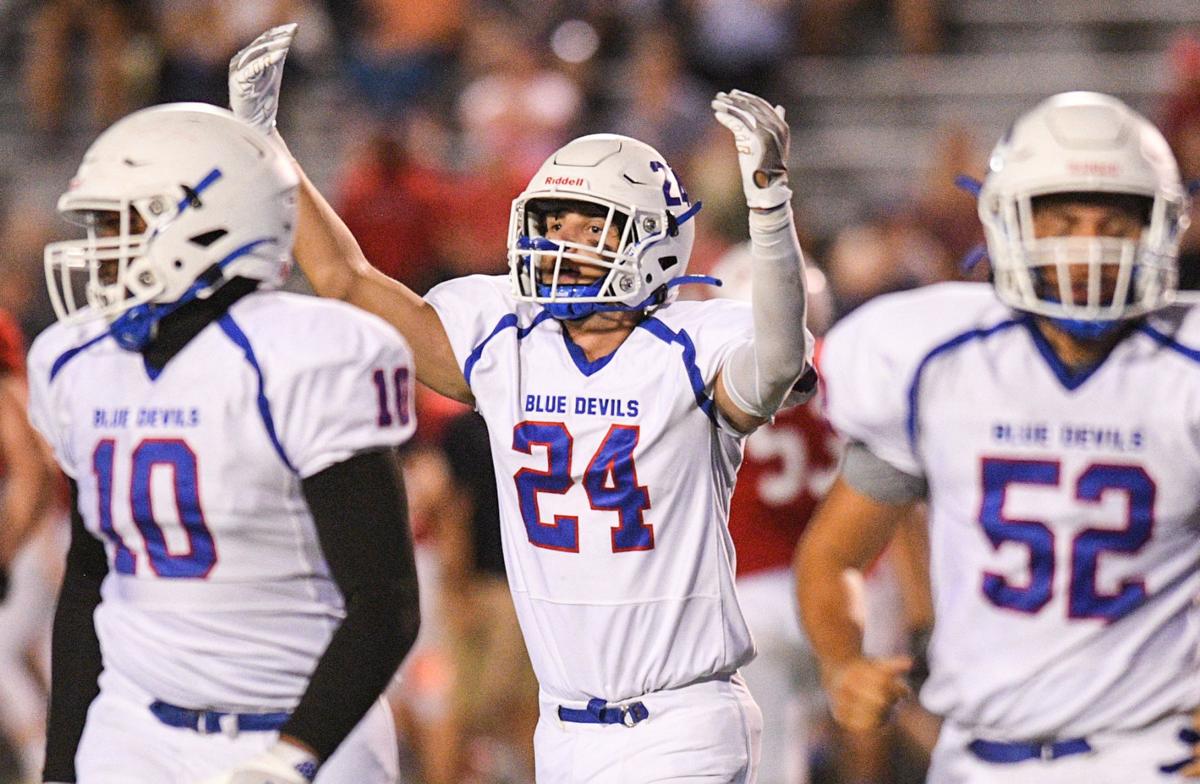 Davenport North (2-2) at Pleasant Valley (2-2)
Basics: Approx. 7:15 p.m., Spartan Stadium
Last week: North went on the road and handled Iowa City West 23-10. PV cruised past Muscatine 42-10.
Last meeting: PV 40, North 7 (2020)
Overview: This is a pivotal game for both teams, which are just outside the top 16 of the Ratings Percentage Index in Class 5A. PV has won 10 of the last 11 meetings in the series, with all of those victories by 21 points or more. Neither team has won back-to-back games this season. PV has attempted only 25 passes in four games while North throws the ball more than 28 times a game. Quarterback Caden McDermott leads PV with 293 rushing yards and junior Rusty VanWetzinga has 241. Sophomore Tate Lyon is the Spartans' leading tackler. North QB Nolan Mosier is fourth in 5A with 808 passing yards. Peter Phan and Morgan Bequeaith have teamed for 41 receptions and 492 yards.
Bettendorf (1-3) at Davenport Central (3-1)
Basics: Approx. 7:15 p.m., Brady Street Stadium
Last week: Bettendorf absorbed a 54-20 loss at state-ranked Cedar Rapids Prairie. Central knocked off city rival West 17-7.
Last meeting: Bettendorf 36, Central 0 (2020)
Overview: It has been 31 years since Central defeated Bettendorf in football, a 35-14 win in Week 9 of the 1990 season. The Blue Devils are facing a Bulldog squad which surrendered its most points in a game in 69 seasons. Central can take a big step toward in its quest to reach the playoffs with a win. Bettendorf is essentially in must-win mode. Nate Hummel leads Central's ground attack with 500 yards and nine scores. The Blue Devils have given up just two touchdowns in their last eight quarters. Bettendorf, which allowed 586 yards against Prairie, played without back Terry Dunn last week (injured in Week 3 vs. Muscatine). Tynan Numkena has accounted for 13 of Bettendorf's 31 receptions this fall.
Iowa City Liberty (0-4) at North Scott (4-0)
Basics: Approx. 7:30 p.m., Lancer Stadium
Last week: Liberty fell to Clear Creek Amana 31-30. North Scott handcuffed Cedar Rapids Xavier 20-8.
Last meeting: North Scott 24, Liberty 10 (2019)
Overview: This is the district opener for both teams. Liberty has lost to a pair of 5A unbeatens in Iowa City High and Linn-Mar along with Western Dubuque (21-10) and CCA (31-30). Tailback Darius Willis-Newell rushed for a school-record 306 yards and four touchdowns on 44 carries last week. This is North Scott's homecoming game. Up to the top spot in this week's Associated Press Class 4A state rankings, North Scott is outscoring teams on average 33-10.5. Grayson Juel leads 4A in touchdown passes (15) and second in passing yards (955). Jakob Nelson has nine TD receptions, the most in 4A. The Lancers have won 13 in a row at home dating back to the start of the 2019 season.
Cedar Falls (3-1) at Muscatine (0-4)
Basics: Approx. 7:30 p.m., Muscatine Community Stadium
Last week: Cedar Falls knocked off Ankeny Centennial at the UNI-Dome, 28-14. Muscatine stumbled at home to PV 42-10.
Last meeting: Cedar Falls 51, Muscatine 7 (2011)
Overview: Ranked seventh in 5A, Cedar Falls has won three straight since a six-point setback to Johnston in Week 1. Quarterback Hunter Jacobson, son of Northern Iowa men's basketball coach Ben Jacobson, has passed for 571 yards and rushed for 241. Trey Campbell is his top target with 15 grabs for 270 yards. Former Muskie head coach Jake Mueller is in his second year as an assistant coach at Cedar Falls. This is homecoming for the Muskies, who have produced only 37 points in four games. Muscatine is averaging a meager 2 yards per rush. Tight end Nolan Recker has caught 20 passes to lead Muscatine's offense.
Burlington (3-1) at Clinton (1-3)
Basics: Approx. 7:15 p.m., Coan Field
Last week: Burlington silenced Ottumwa 42-0. Clinton snapped a 24-game losing streak with a 28-0 conquest over Maquoketa.
Last meeting: Burlington 33, Clinton 26 (2019)
Overview: Behind the leading rusher in Class 4A, Burlington is averaging more than 35 points per game. Senior Bryant Williams has rushed for 991 yards (248 per game) and 15 touchdowns, both tops among 4A backs. The Grayhounds have thrown only 22 passes in four games. After getting shut out in the season opener, Clinton has scored 28 points each of the past two weeks. Quarterback Jai Jensen threw for 204 yards and three scores two weeks ago and followed with 319 yards and three TDs last week. Zach Connell and Addison Binnie are averaging more than 28 yards per catch. This is Clinton's homecoming game.
Davenport West (1-3) at Dubuque Hempstead (1-3)
Basics: Approx. 7:30 p.m., Dalzell Field
Last week: West lost at home to Davenport Central 17-7. Hempstead dropped a 65-35 decision to 4A Western Dubuque.
Last meeting: Hempstead 47, West 21 (2017)
Overview: West has been solid on the defensive end in three of its four games, but the offense has had trouble scoring points. The Falcons are averaging just more than 10 points a game. Hunter Jones has 27 tackles (seven for loss) to lead coach Brandon Krusey's defense. Hempstead has had difficulty stopping teams in recent weeks, allowing 35, 31 and 65 points. It has come up with just one turnover in four games. The Mustangs do have a dual-threat QB in Noah Pettinger, who has thrown for 746 yards and is the team's leading rusher with 191. West will play at Brady Street Stadium each of the next two weeks.
Moline (3-1) at Alleman (0-4)
Basics: 7 p.m. Lindberg Stadium, Rock Island
Last week: Moline blanked Rock Island 63-0 at Browning Field. Alleman fell 49-7 at Sterling.
Last meeting: Alleman 20, Moline 14 (2021 spring)
Overview: Moline shocked the conference with last week's rout. The Maroons rushed for 323 yards and scored on every possession besides one. Moline senior Gavin Grace had three touchdowns on just five carries. Riley Fuller, who entered the game with the most rushing yards in the WB6, added 105 more Friday with a touchdown on nine carries. Senior star receiver Matthew Bailey was held to just one catch, but it was a 25-yard touchdown reception. The win put Moline on top of the conference standings alongside Sterling. The Pioneers scored their first points of the season against Sterling. Alleman will try and improve as its young roster and new head coach dive deeper into league play.
United Township (3-1) at Rock Island (2-2)
Basics: 7 p.m., Public Schools Stadium, Rock Island
Last week: UTHS lost 48-14 to Quincy. Rock Island was defeated 63-0 by Moline.
Last meeting: Rock Island 54, UTHS 38 (2021 spring)
Twitter: @Jackson_Stoneee
Overview: United Township was held to just 21 yards on 26 plays in the first half last week. UT's 14 points were its fewest since a 49-12 loss to Sterling in 2019. The Panthers had 164 yards of offense and sophomore quarterback Matthew Kelley threw for only 11 yards. It was a step back for a team that had an impressive 22-17 victory over Geneseo the previous week. Rock Island was shut out for the second time this season last week. Rock Island had 171 yards of offense and six turnovers in the most lopsided defeat ever in Illinois' oldest rivalry. The Rocks will try to turn things around against a young UTHS team.
Sterling (3-1) at Geneseo (2-2)
Basics: 7 p.m., Bob Reade Field, Geneseo
Last week: Geneseo traveled to Galesburg and lost 28-7. Sterling dominated Alleman 49-7.
Last meeting: Sterling 41, Geneseo 0 (2021 spring)
Overview: Geneseo suffered a surprise defeat to Galesburg, which entered the game 0-3. The defeat was Geneseo's second in a row after a 2-0 start that was mostly led by its offense. However, the last two games have been a different story. After throwing for four touchdowns and more than 250 yards against Sandwich, Geneseo sophomore quarterback A.J. Weller has struggled to get things moving. Geneseo was held to 17 points against UTHS and had just 74 passing yards against Galesburg. Junior RB/WR Jaden Weinzierl, who came into the matchup against Galesburg with the third most receiving yards in the WB6, was held to 18 yards on two catches. Sterling, on the other hand, continues to impress. The Golden Warriors match Moline as the only 2-0 teams in WB6 play.