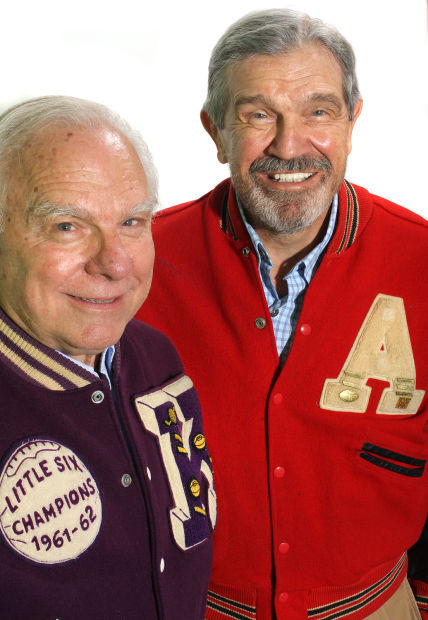 Not long after the Iowa High School Athletic Association revealed its district football pairings for the 2014 and 2015 seasons last winter, Stanislaw Maliszewski reached out to Rick Bowers.
With Davenport Assumption dropping down a classification to 3A, the Knights were placed in the same seven-team district with Keokuk.
The significance? Maliszewski is a 1962 Assumption graduate. Bowers is a 1962 Keokuk alum.
"I thought it'd be kind of fun to go and participate," Maliszewski said.
So after the former college football teammates flew in to the Quad-Cities this week, they will hop in a car together this afternoon with their old letter jackets and make the 120-mile trek to Keokuk to watch the Knights (1-2, 1-0 district) and Chiefs (1-2, 0-1) collide.
"Hopefully, Stas (pronounced Stosh) doesn't go into his linebacker trash-talking mode," Bowers said. "I'm worried about the game and the big city guys beating up on the small-town guys.
"Assumption has the stronger schedule and probably the stronger team, but I don't want to bet against Keokuk."
Maliszewski and Bowers have been friends for more than 50 years.
Currently residing in Maryland and Texas, Maliszewski, 70, was born in German-occupied Poland. His family became refugees and found their way to Davenport in November 1950, sponsored by the First Presbyterian Church.
Bowers, now living in Boston, was born in Fort Benning, Ga., when his father was in the Army preparing for D-Day to liberate Europe.
Both were all-state football players in high school, but did not cross paths until their freshman year at Princeton.
Maliszewski was recruited by Notre Dame, but Davenport resident and former United States congressman Jim Leach was at Princeton and persuaded him to attend the Ivy League school over winter break his sophomore year. Maliszewski's mother cleaned house for the Leach family.
Bowers was looking for an institution with a good blend of education and athletics. At the time, Princeton was a recognized Division I football power.
Maliszewski was a two-time all-American linebacker and drafted in the sixth round by the then NFL Baltimore Colts.
Bowers started as a quarterback but transitioned to fullback after a knee injury for Princeton, which was believed to be one of only two programs in the country to run a single-wing offense. Iowa State was the other.
"It was special for us," Maliszewski said. "We were the only two guys from Iowa in our class. There was an affinity there."
"After college, our friendship got a lot closer," Bowers said. "There is something about being from the Midwest you find similarities in people here."
Maliszewski went to Harvard Business School and spent more than four decades in finance and investment businesses.
Bowers, who maintains a residence in LeClaire, came back to Iowa after going to Stanford Business School. He is a member on the John Deere Classic and Nature Conservancy of Iowa boards of directors.
"I come back here every couple of months," said Bowers, who returned more frequently before his father passed away at age 94 in July. "I still have some clients and friends in the Quad-Cities. You can take me out of Iowa, but you can't take the Iowa out of me."
Whether at reunions or the Ivy League football meetings, Bowers said he and Maliszewski see each other four or five times a year.
"He keeps suggesting I go back to his native Poland, but I haven't made the trip yet," Bowers said. 
Maliszewski is retired, but works and lives on a 136-acre farm in Glyndon, Md., growing hay.
He still keeps an eye on the Knights.
While Maliszewski was excited to see Keokuk pop up on the schedule because of his relationship with Bowers, he was disappointed to see some of the traditional rivalries go by the wayside.
"There was nothing I dreamed of more than beating Davenport High (now Davenport Central)," he said. "To see that game go is a little nostalgic.
"Davenport was a power. They had great teams, great coaches."
Now with Assumption in 3A, Maliszewski said there is added pressure to win tonight's contest.
"I just hope we win, especially after dropping down a division," he said. "Otherwise, I'll have to write (coach) Wade King a note and ask, 'What's going on here?'
"It was probably the right thing for them to do to move down. It seems to me they are going to have more competitive situations to advance (in the postseason)."
Bowers understands it is a tall task for Keokuk, coming off an 18-13 loss to Mount Pleasant in its district opener.
At least if the game turns out to be one-sided, Bowers won't have to listen to Maliszewski gloat for 2 hours in the car afterward.
"The good thing is, Stas is coming back by himself," Bowers said. "I'm planning to stay down in Keokuk for a few days."