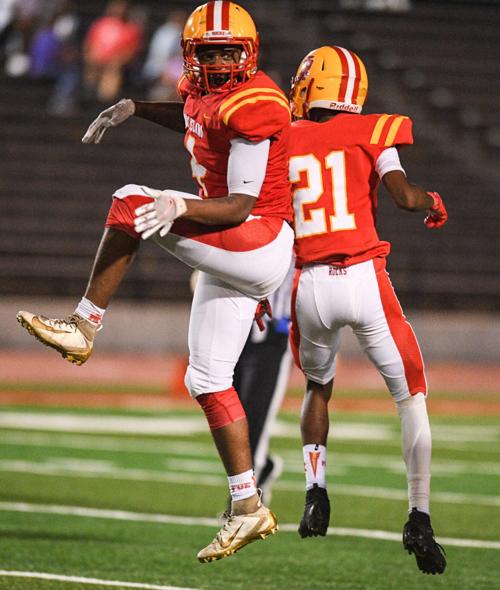 The old adage is that football teams make the most improvement between the first and second games of a season.
It seemed as if that was mission accomplished for the Rock Island and United Township high school clubs on Friday night in big road victories.
For another Western Big 6 Conference team, it may have been a record-setting night. But that can't be confirmed.
It's a pretty safe bet that sophomore A.J. Weller could have etched his name among the legendary numbers the Geneseo High School football program has put up over the years. And the quarterback did it in just his second varsity start.
In Friday's 58-7 home victory over Sandwich at Bob Reade Field, Weller put up numbers that in years past might have been season totals for the Maple Leafs. He completed 22 of 26 passes for 356 yards and six touchdowns.
Geneseo coach Larry Johnsen couldn't confirm if any of those numbers were school records.
"It's got to be one of the higher ones," said Johnsen of the single-game accomplishments, "but I don't have any official records."
Records or not, Johnsen was sure glad to see his young team perform the way it did.
"I hope it gives us some confidence," said the veteran grid boss. "In the springtime, we didn't get a win until our third game and we had some really hard weeks in there.
"This is such a young team and we have to get the kids some confidence."
Johnsen liked what the offense accomplished, rolling up 510 yards total offense as the Leafs relished in some Sandwich mistakes.
He admitted that the new spread offense instilled this past spring is taking root, but it isn't far from the Bob Reade philosophy that the Green Machine is built upon in that they want to be the best at what they do, no matter how they do it
Johnsen noted that the split ends were doing their jobs well.
"We used to call it a Rocket Sweep and get guys a wide pitch to get outside," he said. "It's really not that much different to be honest with you. We're just doing it from a different formation and people are calling it a forward pass instead of a backwards pitch."
Both Johnsen and UT coach Nick Welch were pleased with the lopsided victories – UT positing a 52-20 victory over hosting East Peoria. Each of them admitted it will get much tougher next Friday when their teams square off in Geneseo in the Big 6 opener.
Welch also liked what he saw out of his sophomore quarterback as Mathew Kelley ran an efficient offense in his second start as the Panthers also moved to 2-0.
Welch felt as if his re-tooling team dominated play and said that success started in the trenches.
"I know we were a lot more physical on both sides of the ball," said Welch of the growth he saw from Week 1 to Week 2. "… There was a lot of white going forwards and a lot of red going backwards."
Welch credit Trey Morney on the D-line and Antwan Hawthorne from his linebacker spot for "harassing their quarterback all night and doing a nice job."
The offensive line blocked well, too, as the Panthers rolled to roughly 340 yards on the ground and Kelley added another 170 or so through the air.
"We established the run early and kept it rolling," said Welch.
The third-year coach thought that also fed into some building confidence for his squad.
"He reported that Johnny Manso led the Panther rushing attack with 140-some yards and three touchdowns and that Loren Arrington had about 80 yards. Welch said that Kelley also had a couple of big runs
"We had a couple of big passes for touchdowns (to Morney and Hawthorne) and Damahz Slater took a bubble route to the house, so we played pretty well on offense," said Welch. "We still have a bit to clean up, but it was a good game."
Rock Island senior quarterback Eli Reese, who wears No. 15 may have put a scare in some folks on Friday when No. 13 made an appearance at QB. But it was not Lucas Shadden, who normally wears No. 13.
Rocky coach Ben Hammer noted that it was still Reese who threw two second-half touchdown passes -- he was just wearing the different jersey after his No. 13 "got ripped."
That was seemingly appropriate as the Rocks ripped through the Dunlap Eagles defense, led by junior running back Quonterrion Brooks, who was over 150 yards rushing and scored two TDs.
Hammer was glad to see his team play much better in rolling to a fairly convincing 32-14 victory over Dunlap, a team that beat Big 6 foe Galesburg 7-6 in the opener.
It marked a nice bounce back for the Rocks who rallied from a 20-0 season-opening loss to Pekin.
"This is a huge one," said Hammer. "Coming off of a loss, you always want to follow that with a win. We talked to the kids about not getting a whole ton of opportunities in football – that the regular season is only nine games and you're not guaranteed any more than that, so we wanted to make sure we were prepared.
"Last week was tough, but we talked about our level of play and being disciplined."
He hopes to see those attributes continue to improve when the Rocks take on Alleman in that league opener on Friday at Lindberg Stadium.