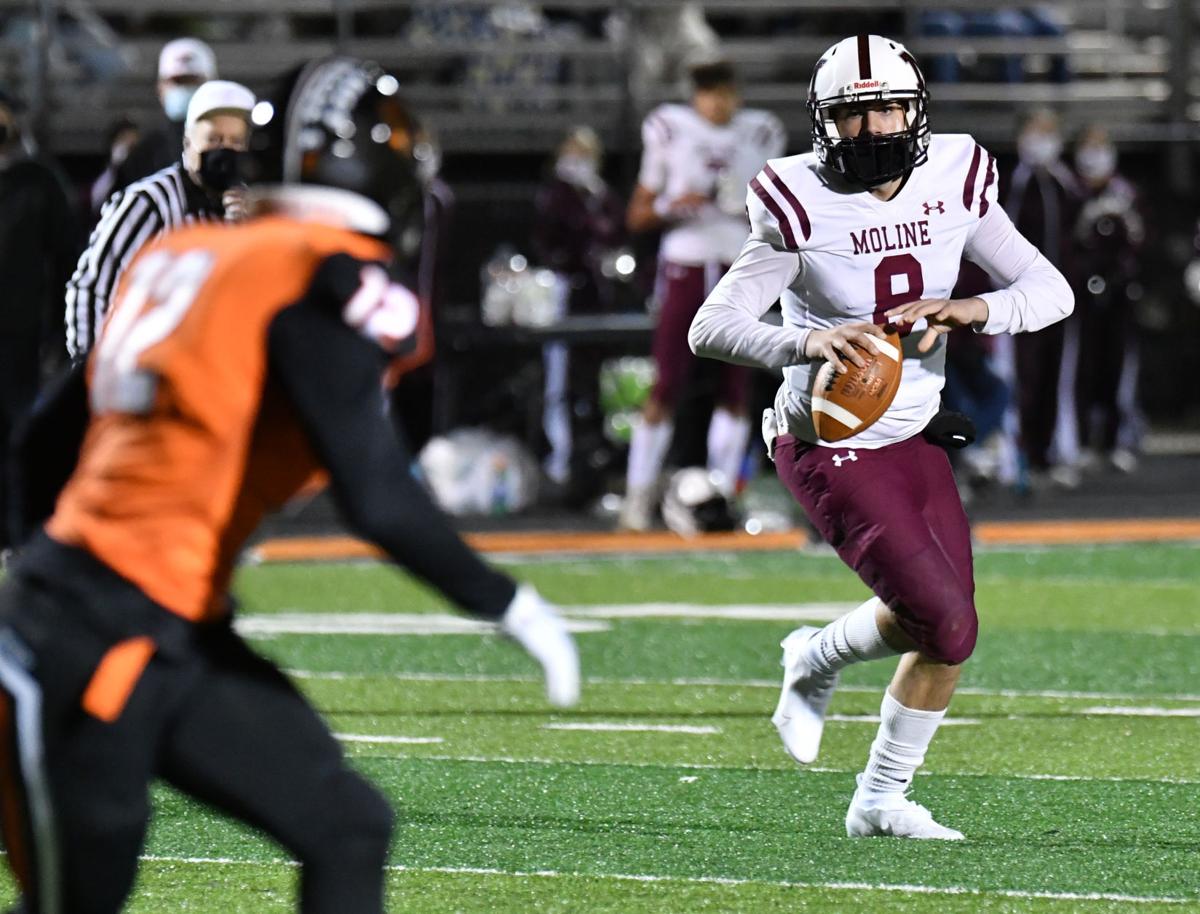 After a delayed and ultimately abbreviated spring season earlier this year, high school football in Illinois looks to return to normal this coming autumn.
When practice begins Monday, it will mark the return of a normal nine-game regular season to be followed by IHSA playoff competition. The shortened spring campaign featured teams playing four to six games, with no postseason contests.
The IHSA's recent release of schedules for a season that kicks off on Friday, Aug. 27, has area followers already circling certain dates on their respective calendars, leading up to the final weekend in October and the state's first playoff action in two years.
Looking ahead to the start of a new season, here is a look at each of the Illinois Quad-Cities' area leagues and the matchups that should be of keen interest for fans and casual observers alike:
Western Big 6: Six of the WB6's eight schools will kick off their 2021 schedules at home in just over four weeks, the exceptions being Moline (at Burbank St. Laurence) and Sterling (at Lake Villa Lakes).
Among the local opening-night games, Alleman and Davenport Assumption will meet again at Augustana's Lindberg Stadium after being unable to play last season, with the Knights playing in the fall and the Pioneers postponed to the spring.
This will be the third matchup in four years between the QC's two Catholic high schools. The teams split their 2018 and '19 meetings after not having faced each other for 34 years.
Alleman jumps into conference play on Sept. 10 by hosting intra-city rival Rock Island; other in-town matchups for the Pioneers are home dates with Moline (Sept. 24) and United Township (Oct. 8).
Speaking of UT, the Panthers' 4-2 finish this past spring marked their first winning season since the fall of 2001. They look to follow up that resurgence beginning with their Aug. 27 opener against Chicago Lindblom at East Moline's Soule Bowl. Back-to-back games with longtime rivals Rock Island (Sept. 24) and Moline (Oct. 1), the latter at home, will also be highly anticipated.
Rock Island also finished 4-2, tying UT for second place in the "unofficial" Big 6 title race this past spring as the teams finished one game behind Sterling. The Rocks host Pekin to start their slate and follow up their league opener at Alleman with a Sept. 17 trip to Browning Field in the renewal of their rivalry with the Moline Maroons.
Geneseo, which opens at home against Chicago Noble/Comer, kicks off its third season as a Big 6 member against United Township on Sept. 10 at Bob Reade Field. The Maple Leafs' matchup with traditional rival Sterling is two weeks after the UT game, also on their home turf.
Three Rivers: The departure of charter conference member Fulton for the Northwest Upstate Illini Conference and the addition of Mendota is part of a new look for Three Rivers Conference football, which includes going to the West/East divisional format used for all other league sports.
In the West, former Rock Division members Morrison, Orion, Riverdale and Rockridge will be joined by Erie-Prophetstown, Monmouth-Roseville and Sherrard. With the exception of E-P and Morrison, all of those schools competed together in the Olympic Conference until its dissolution in 2010.
Finishing 3-1 in the spring for its first winning season since 2009, Sherrard is looking forward to matchups with traditional area rivals Rockridge (Oct. 8) and Orion (Oct. 15), the latter game on the Tigers' turf at Clifford King Field.
Former Annawan-Wethersfield head coach Brandon Johnston debuts on the Sherrard sideline with an Aug. 27 road trip to Peru St. Bede.
Speaking of Orion and Rockridge, the two are set to tangle in the Oct. 22 regular-season finale at Charger Field. The Rockets are coming off a 6-0 finish in their shortened spring season.
Three Rivers stalwarts Erie-Prophetstown and Riverdale will look forward to an Oct. 1 meeting hosted by the Panthers; the Rams travel to Morrison two weeks later with E-P hosting the Mustangs on Oct. 22.
In turn, Morrison opens the season with a Saturday night special against one of its biggest rivals as it travels to Sterling to face the Newman Comets in Steve Snider's debut as Mustang head coach.
Newcomer Mendota will slot into the TRAC East, joined by Bureau Valley, Kewanee, Peru St. Bede, Princeton, Spring Valley Hall and Sterling Newman; four of those six schools (excepting BV and Newman) had been part of the Mississippi Division.
Lincoln Trail: The addition of Abingdon-Avon and Knoxville from the Prairieland Conference and Galva going to eight-player football after leaving its co-op with ROWVA and Williamsfield changes the gridiron landscape in the Lincoln Trail Conference this fall.
However, some things stay the same in the LTC. Although under new direction as Tony Gripp succeeds Logan Willits as head coach, Annawan-Wethersfield looks to remain the team to beat after going 5-1 and winning its third straight conference championship several months ago.
A Sept. 10 road trip to Princeville — which A-W beat 42-22 in last April's season finale to clinch the league crown —and key games with area rivals Ridgewood (Sept. 17) and Mercer County (Oct. 22), the latter on the road, will once again loom large for the Titans.
Nearly two years removed from reaching the Class 1A state semifinals, A-W is hoping to build towards another lengthy postseason stay.
Speaking of the Spartans and the Golden Eagles, both of whom finished 4-2 in the spring, they are set to square off on Oct. 8 at Aledo's George Pratt Memorial Field. Ridgewood is coming off its third straight winning season and looks to get back to the playoffs after making its first trip as a co-op in 2019.