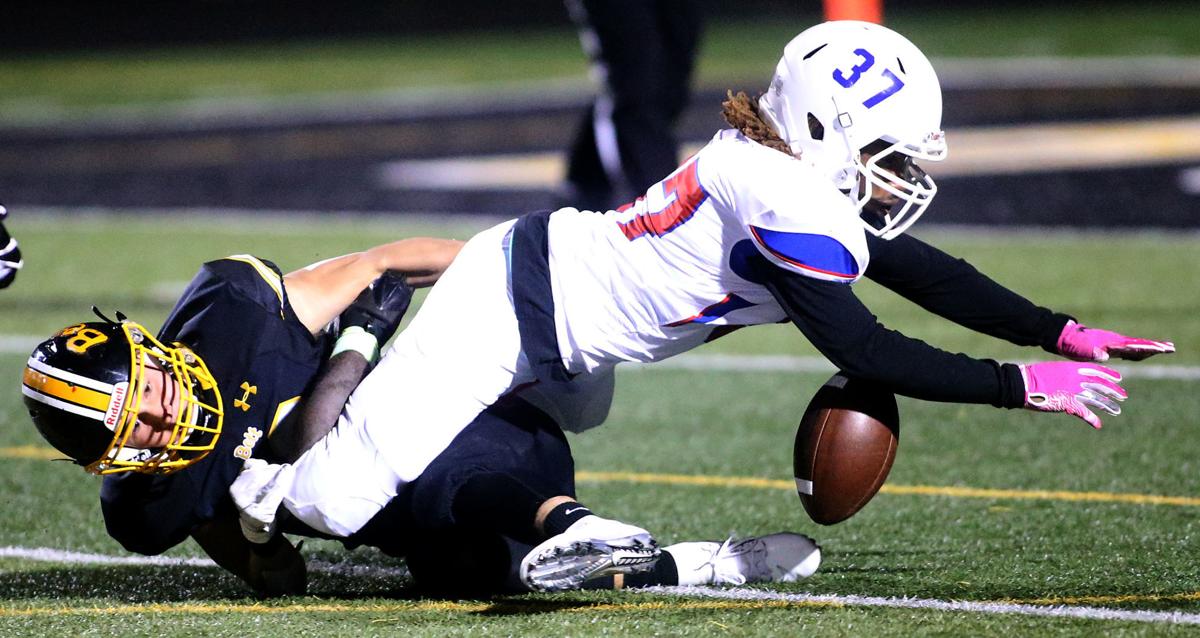 The largest classification in Iowa high school football is undergoing a makeover for the 2020 season.
Groups have replaced districts. Schedules are based on geography and competitive balance. Automatic playoff qualifiers are gone. And there are two fewer schools in Class 4A (42 to 40).
The Iowa High School Athletic Association announced Thursday it has implemented a "success model" for next fall in 4A.
Groups were organized by measuring football results the past four seasons for each program through the IHSAA's Ratings Percentage Index formula and playoff success.
"It's never going to be perfect, but we acknowledge that there are problems with our current classification system and we need to see what kind of improvements we can make," IHSAA Board of Control chairperson Rod Earleywine said in a statement.
In particular, it has been a point of contention in the Des Moines metro.
In the past decade, the five Des Moines public schools — East, Hoover, Lincoln, North and Roosevelt — are winless in 126 games and have been outscored by an average of more than 42 points against the eight suburban programs — Ankeny, Ankeny Centennial, Dowling, Johnston, Southeast Polk, Urbandale, Valley and Waukee.
The IHSAA believes this model can improve competitive balance.
"Through this new model, we believe we've increased the opportunities for schools to play football against schools like their own," IHSAA executive director Tom Keating said. "Programs experiencing participation challenges believe this is a way to encourage more students to play."
Bettendorf is among seven schools in Tier 1 along with Dowling Catholic, West Des Moines Valley, Cedar Falls, Iowa City West, Ankeny Centennial and Waukee.
Pleasant Valley fell into Tier 3 while Muscatine and Davenport Central are in Tier 4. Davenport North lands in Tier 5 and Davenport West is in Tier 6.
Using those tiers and geography, teams were slotted into groups.
Central and West are in the same group along with Cedar Falls, Cedar Rapids Prairie, Dubuque Senior and Dubuque Hempstead, but the Blue Devils and Falcons won't play everyone in that grouping.
Bettendorf, Muscatine, North and PV are in the same grouping.
Tier 5 and 6 schools will not play Tier 1 teams in their group.
"So far, I'm a fan of it," North coach Adam Hite said. "It seems really balanced from what I've seen. I'm glad they're doing it just for one year so we can hammer out any kinks.
You have free articles remaining.
"It gives the programs who have struggled an opportunity to move up and the ones who have been dominant might move down some to keep a nice balance. In theory, it is a really good idea."
Conversely, Tier 1 programs will face the Tier 2, 3 and 4 teams from its group along with being assigned games against Tier 1 or 2 teams from another group.
Bettendorf, for example, will play Cedar Rapids Kennedy, PV and Muscatine from its group. The two assigned games are against Cedar Falls and Iowa City West, Tier 1 teams from other groups.
The remainder of the Bulldogs' schedule will be four non-group games (called non-district games in the past). Schools have until late next week to submit a priority list for those games to the IHSAA.
The challenge for teams in the lower tiers will be putting together a list that can help strengthen their RPI.
"Because of the weight of your schedule now, you have to think more critically in what you're going to do for those (four) games," Muscatine coach Jake Mueller said. "How are those games going to impact our RPI?
"In the past, you might have been inclined to put teams on your list that would boost gate or help from a travel standpoint. Now we're looking how we can put together a schedule that helps us get the best RPI possible. At the end of the day, it comes down to winning football games, but you put more thought into it than before."
The IHSAA plans to release complete schedules for the 2020 season next month.
Other models were considered for 4A. Among those were adding a classification of football, increasing the number of districts or adopting a "no district" strategy that would allow schools to schedule all of their own games.
"I commend the committee for the work it has done to this point, and we look forward to the continued work it will do to develop the best competition systems for Iowa," Earleywine said. "Now that we have a model for Class 4A football, the committee can consider the possibilities and how they may apply to other sports and other classes."
All 16 playoff qualifiers in 4A will be determined by the RPI, which will not have any formula changes for 2020 (37.5% is win-loss percentage, 37.5% opponent's win-loss percentage and 25% is a team's opponent's opponent's win-loss percentage).
There is no change in the other classes for playoff qualification. The district champions earn an automatic spot while the remaining teams will be determined via RPI.
Groups and district assignments will be reevaluated after the 2020 season.
The IHSAA Board of Control denied Wednesday the football advisory committee's proposal for an eight-game regular season and 32 playoff qualifiers in 3A, 2A, 1A, A and eight-player.
"(Sixteen) is a good number for 4A," Hite said. "I didn't want any below .500 teams to make the playoffs. We still want to make sure the playoffs are sacred and the top teams are getting in."
Burlington, Des Moines Hoover and Mason City have dropped down to 3A. Iowa City Liberty has bumped up to 4A.
Davenport Assumption, Central DeWitt, Clinton and North Scott were lumped into the same 3A district with Dubuque Wahlert and Marion.
There are seven area schools moving classifications for next season. Maquoketa (2A), Louisa-Muscatine (1A), Bellevue (A), Columbus (A), North Cedar (A) and Wapello (A) have dropped a class while Durant bumped up from A to 1A.