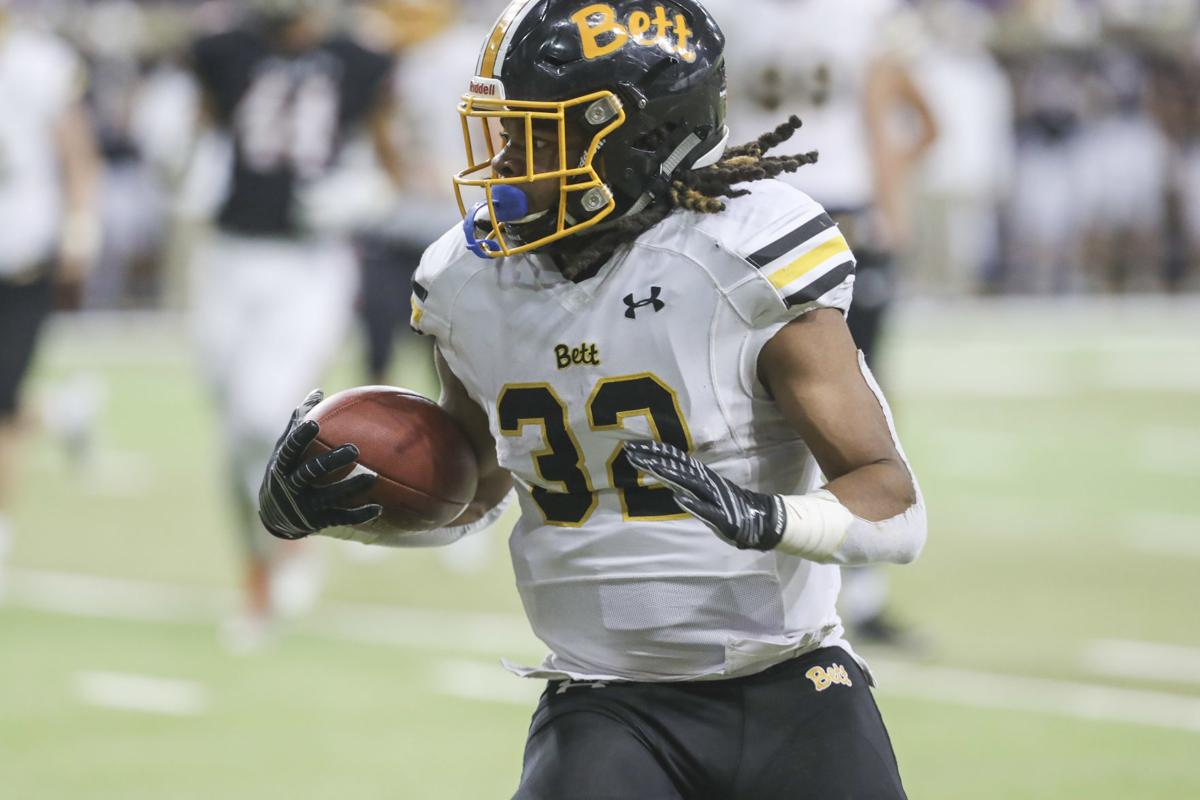 Stats/honors
Harrison Bey-Buie became just the third tailback in Bettendorf's storied football program to rush for more than 2,000 yards in a season, joining Tavian Banks and Anthony Bribriesco. 
The 5-foot-11 and 205-pound back finished the season with an Iowa Class 4A-best 2,034 yards and 32 touchdowns while averaging 9.2 yards per rush. He registered at least one touchdown in all 12 of the Bulldogs' games and had a season-high 246 rushing yards against Dubuque Hempstead.
Bey-Buie was named district player of the year in Class 4A District 5 and first team all-state by the Iowa Print Sports Writers Association. He is the Quad-City Times' offensive player of the year for a second consecutive season.
"I set my goal for 2,000 so it feels good to compete with Tavian Banks and (Bribriesco)," Bey-Buie said. "In the weight room, they've got all the records and all-state board. Every time I lifted weights, it was motivation. I wanted to make all-state my senior year."
Season highlights
Despite losing twice in the regular season, including its first loss in district play since the format started in 2014, Bettendorf (9-3) rebounded with road playoff wins over Linn-Mar and Cedar Falls to reach the state semifinals for the sixth time in seven years. It lost to top-ranked West Des Moines Valley 35-7 in the Final Four.
Bey-Buie had 219 yards in the win over Linn-Mar and followed with a 190 in the victory over Cedar Falls. He was held to 74 yards against WDM Valley.
"We beat the odds," Bey-Buie said. "We were really kind of underdogs in the playoffs and people weren't expecting us to go that far. We had a good year."
Valuable experience
Bey-Buie started his high school career at Thornton High School in the suburbs of Chicago. He spent his junior season at Moline before enrolling with Bettendorf for his final year.
Each stop was beneficial in his development as a tailback.
"I learned the important of speed at (Thornton) because that was a real athletic school," Bey-Buie said. "At Moline, I learned running downhill more. Bettendorf, it was the entire package to complete my game.
"Each school really helped craft my game, and that's going to help me a lot moving forward. It really got me ready for college, on and off the field."
Bey-Buie has no regrets about coming to Bettendorf.
"Some college coaches stopped recruiting me because they felt I wasn't a fit for their school," Bey-Buie said. "It motivated me to have a strong senior year."
On the horizon
Bey-Buie is on the basketball team this winter for the Bulldogs. He plans to run track and play soccer this spring for Bettendorf. He hasn't run track since his freshman year and his soccer experience is only in gym class.
"It's my senior year and I want to have as much fun as I can," he said. "I want to at least experience everything and hopefully there are some things those sports can teach me for football. You've got to have nice footwork in soccer, right?" 
Bey-Buie hasn't made a college decision. He admits Eastern Illinois is the current front-runner. The FCS program in Charleston contacts him on a daily basis. 
"I'm not in a rush to make a decision," Bey-Buie said. "I'll probably wait until January and then sign in the February period.
"Eastern Illinois is the main school I'm talking with. They believe in me a lot."
First, Bey-Buie wants to improve his quickness and pack on more weight.
"I'm around 200 (pounds), but I'd like to get up to 215," he said. "I'd like to have a little more breakaway speed."