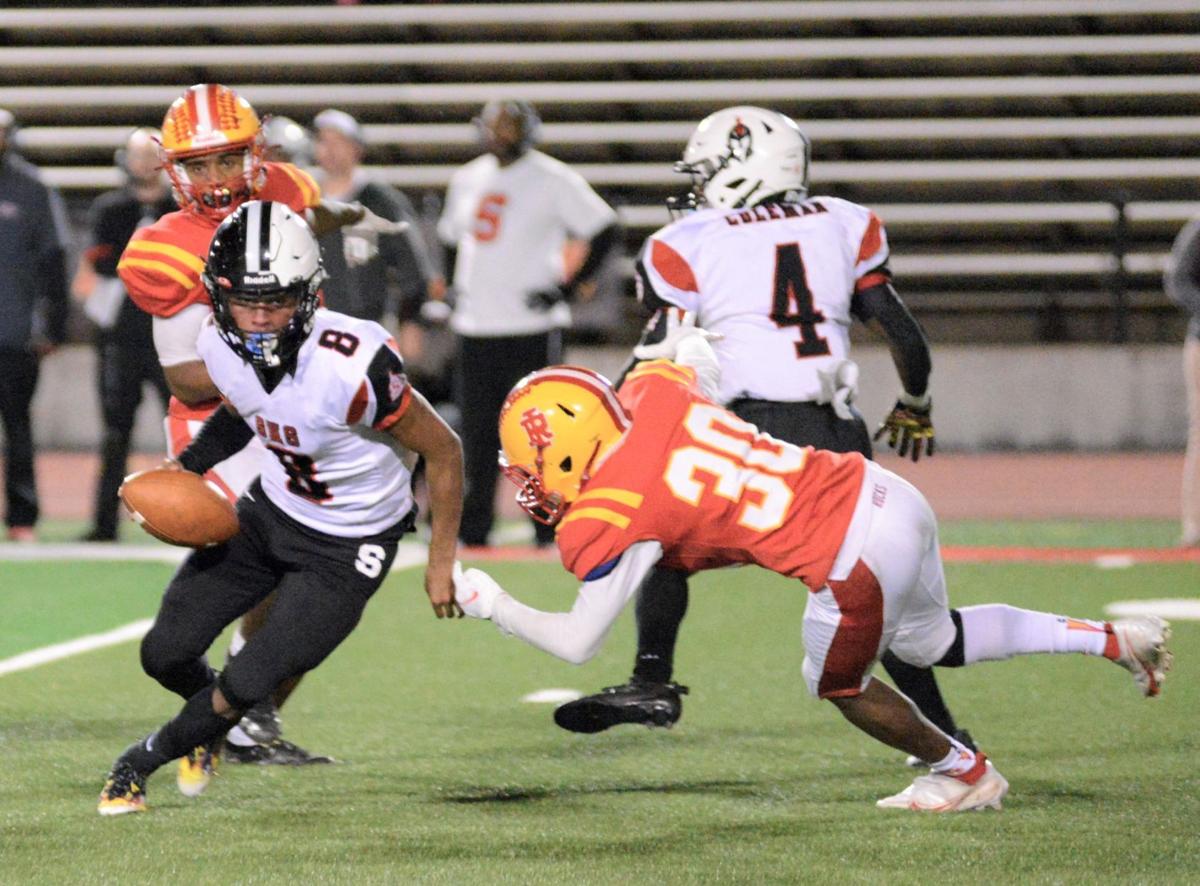 Entering Friday night's IHSA football playoffs, the Class 6A record for most points scored by one team in a playoff game was 72.
Rock Island matched that record. And lost.
The ninth-seeded Springfield Senators came to Almquist Field and handed the eighth-seeded Rocks a 94-72 defeat to open the postseason by setting multiple state records and coming close to even more in a game that lasted nearly three-and-a-half hours.
Springfield (7-4) advanced to face top-seeded Lemont next week as coach Ben Hammer's Rocks closed the season 6-4 despite their own offensive fireworks.
Not only did Springfield shatter the previous 6A playoff scoring mark set by Joliet Catholic in 2005, both teams combined for 166 points, which also obliterated the previous playoff record of 133 combined points when Huntley beat Batavia 70-63 in 2008. The next closest combined score, in any class, was 161 in 2A when Deer Creek-Mackinaw beat Chicago Hope Academy 91-70 in 2016.
Springfield scored a playoff-game record 14 touchdowns, three more than one team in any class. Springfield also set the 6A record for most total offense in a game (724) as the teams also set the record for combined total offense (1,272) in a playoff game. Both teams rushed for over 400 yards.
IHSA records are not exhaustive, so it's possible many more records were set on Friday night.
The teams combined for 63 first downs, 139 offensive plays, and three punts. Springfield's only punt of the game came after Rocky forced a three-and-out on its first drive of the game.
The Senators were led by senior quarterback and Rutgers University commit Rashad Rochelle, who accounted for nine touchdowns himself. Rochelle threw for three touchdowns and rushed for six more, rushing for 146 yards and passing for 253.
Springfield ran for 481 yards, just short of the Class 6A playoff record of 483 set in 2005.
It an inspired performance from the Senators, whose coach, Roy Gully, recently announced he will resign at the end of the season.
Hammer said there were no excuses and blame is shared by the entire team after the defensive struggles.
"We didn't tackle and we didn't cover," he said, "and we didn't get lined up right all the time. They are obviously a talented team but we have to perform better than we did."
Basic fundamentals must be improved, but the coach said hindsight is always 20/20.
"Obviously we could have called a better game on both sides of the ball," he said. "It's tough to play the blame game, but from top to bottom we have to be better than we were."
Tyree Coleman led Springfield with 255 yards rushing on 26 attempts, scoring four touchdowns.
Rock Island junior tailback Quonterrion Brooks was also massive on the ground, tallying 300 yards on 34 attempts with five touchdowns and a 78-yard kick return touchdown in the closing minutes. Tre Parks added two more rushing scores for Rocky, which led 14-0 and 21-6 before Springfield hit its stride, scoring 26 or more points in each quarter following the first.
The Senators outscored Rocky 36-14 in the second quarter.
In the passing game, Eli Reese threw for 152 yards and two touchdowns, one each for Marieon Anderson and Kai Rios.
Hammer said the offensive line showed up big despite the loss. Despite its own offensive explosion, a loss is a loss for Hammer and the Rocks. But things like blocking and tackling are things that can be corrected moving forward.
"You hate to see a great group of kids have their season end," he said. "You lose by three, either way the year ends and that's the toughest part about it."
With neither team able to make a stop, turnovers and special teams gave Springfield another edge. The Senators scored touchdowns after two of Rock Island's three lost fumbles and did not turn it over once. Springfield receivers also burned the Rocky defense on numerous occasions, oftentimes running down field uncovered on likely passing downs.
Springfield's Antwione Alwerdt scored one of his three receiving touchdowns on third-and-24 from 53 yards out when he was left uncovered.
Rocky had eight penalties for 100 yards and Springfield had 14 for 123 yards.
Each team traded kick return touchdowns with just over a minute left to solidify the highest scoring game in Illinois playoff history.