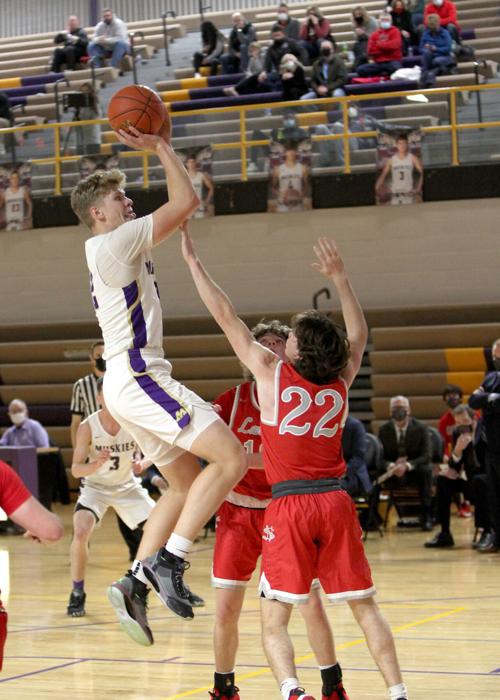 Prep boys basketball
Muscatine 51, North Scott 46: Josh Dieckman tossed in a team-high 18 points and Walker Cler had 11 as Muscatine knocked off Class 4A 10th-ranked North Scott in a Mississippi Athletic Conference tilt Friday night at Muscatine.
Fresh off a road win against Bettendorf, the Muskies (2-4, 2-2) raced out to a 12-5 lead after the opening quarter and extended the margin to 25-11 by halftime.
Oliver Hughes had a game-high 19 points for North Scott (5-2, 3-2). Cole Kilburg and Landon Eiland each had nine points for the Lancers.
Muscatine hadn't beaten North Scott since it earned a two-game sweep of the Lancers during the 2016-17 season, the only two Muskie wins in the teams' last 21 matchups.
"What's starting to happen is we're locked in on defense," said Muscatine head coach John Windham. "Defense has been the key the last two games."
That was an aspect the Muskies gave much attention to over the holiday break.
"For the first week we got back, because we played such (bad) defense against City High (in the 64-57 loss on Dec. 21) we locked in on defense," said Windham. "One day we did an hour and 15 minutes of defense. I think the kids are buying in now that they're realizing that when we play defense, we're successful.
"Holding North Scott to 11 points in a half is pretty darn good."
North Scott (5-2, 3-2 MAC) was able to cut the Muscatine lead to five late, and kept it a two-possession game for a majority of the final four minutes, but Muscatine shot 4-of-8 from the field and 8-of-9 from the free throw line in the fourth to maintain the lead throughout and put the game on ice late.
Junior Braden Hufford ended with five points but led the Muskies with six assists.
Hufford was essential down the stretch.
In a two-minute span late in the final quarter, Hufford assisted on four straight Muscatine buckets, the first two to Cler, then one apiece to Ulses and Dieckman. By the end of that span, MHS built a 44-31 lead with 2:30 to play.
North Scott made a frantic comeback attempt that was nearly successful — the Lancers scored 28 in the fourth — but five points was as close as the Lancers could get it.
Central DeWitt 51, Clinton 46: Central DeWitt collected its first win of 2021 rallying in the second half to beat Clinton in a conference title at home.
The River Kings led 14-8 after the opening quarter and 23-21 at intermission, but the Sabers (3-4, 2-2) had a 14-5 advantage in the third quarter to take the lead for good.
Clinton stumbled to 0-6 overall, 0-4 in the MAC.
Prep girls basketball
Assumption 54, Davenport Central 34: Sophomore AJ Schubert had a season-high 26 points and senior Olivia Wardlow chipped in 16 as Assumption used a big second half to race past Central.
The Knights (3-6, 3-4) led 19-13 at halftime, but scored 35 points in the closing two quarters to snap a three-game losing streak.
Schubert made nine baskets and converted 8 of 11 free throws.
Sydney George tossed in 11 points and Adriauna Mayfield had 10 for Central (1-2, 1-2).
Central DeWitt 55, Clinton 28: The Central DeWitt girls basketball team remained undefeated and at the same time kept Clinton winless with Friday's Mississippi Athletic Conference home victory.
For the third straight game -- and fifth time in its last six starts -- the Sabers (8-0, 5-0 MAC) held an opponent under 40 points.
The River Queens dropped to 0-6 overall, 0-5 in MAC action.