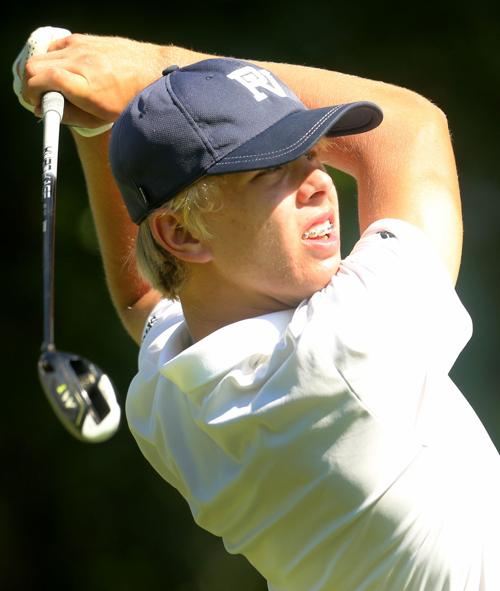 En route to Brown Deer Golf Club in Coralville on Friday morning, the coaches on the Bettendorf boys golf team made Matthew Garside aware the weather forecast for Saturday did not look promising.
"I knew the odds were pretty high it would become an 18-hole tournament," Garside said. "It certainly turned into more of a sprint than a marathon."
Propelled by his 6-under 65 in the first round, Garside can call himself an Iowa Class 4A boys state golf champion. 
With the course unplayable Saturday because of heavy rains, the final round was cancelled. It marked the first time since 1992 the Iowa fall state tournament was shortened to 18 holes because of weather.
Garside is the first Bettendorf state medalist since Collin Burich in 2003 and the third in program history. He finished three strokes clear of Waukee's Griffin Parker.
"It means a lot, certainly one of my biggest goals starting the year," Garside said. 
The 5-foot-6 and 130-pound Iowa recruit admitted he had mixed feelings about the final-round cancellation. He was in position to challenge Burich's 4A 36-hole state record of 135.
"A shortened tournament always adds a little illegitimacy to the event, but I'm happy with how things turned out," Garside said. "I was excited to play (Saturday) and to have an opportunity for my 36-hole record."
Waukee won its fifth state championship, third in the last five years, with a 289 total. Pleasant Valley was second at 296, the program's best finish. 
PV sophomore Jack Roemer finished sixth in the individual competition with a 1-under 70 and teammate Jack Dumas tied for seventh with a 71.
"We were all pretty upset we didn't get to play another round," Roemer said. "We wanted another shot to catch Waukee. At the same time, with how we finished, we weren't upset with second place. We finished on a high note."
The 296 was PV's low 18-hole score of the season. 
"Our coach told us to leave everything we had out there (Friday) because we knew there was a good chance it would be a one-day tournament," Roemer said. 
PV came into the season with plenty of incentive, missing last year's state tournament by one stroke. 
With four of its top six players back next fall, including Roemer and Dumas, PV has a favorable chance to contend for a championship. 
"We're getting closer," Roemer said. "It adds motivation we can do it. We're all going to continue to work toward that goal of a state championship."
It has been a season of peaks and valleys for Roemer, who shot 73 at the North Scott Invitational but struggled to rounds of 86 and 83 at the Mississippi Athletic Conference tournament in late September. 
"I just needed a round like that, especially at the state tournament," Roemer said. "I'm definitely very happy how I finished the season."
Garside started playing golf at age 5 with the help of his father who was a PGA professional. The family moved from the Twin Cities to the Quad-Cities this summer.
Garside finished 12th at the Minnesota state tournament in Division AA as a sophomore. He opted to play in a prestigious junior tournament in Louisiana over the Minnesota state tournament this past year as a junior.
The 65 matched his career low round. He posted the same score at last year's Minnesota high school team regionals.
"Knowing it could be over after Friday, I was a little bit more aggressive," Garside said. "Instead of just trying to get into contention, I knew I had to play well and have a good round."
Brown Deer is a risk-reward layout. Once Garside knew a shortened tournament was a possibility, he shifted his game plan to attack more.
Garside rode crisp ball-striking and a hot putter to seven birdies.
"I've been practicing quite a bit leading into the tournament, but I struggled at districts," he said. "I kind of found something on the practice greens and putted really well.
"It was great timing to have one of my best rounds at a prestigious high school tournament."
Garside has been associated with Bettendorf's program for only about two months.
Still, the championship was special to him.
"Bettendorf has been very accommodating and taken me in," he said, "so to be able to give back to the golf program and the school a little bit is nice."
Get in the game with our Prep Sports Newsletter
Sent weekly directly to your inbox!