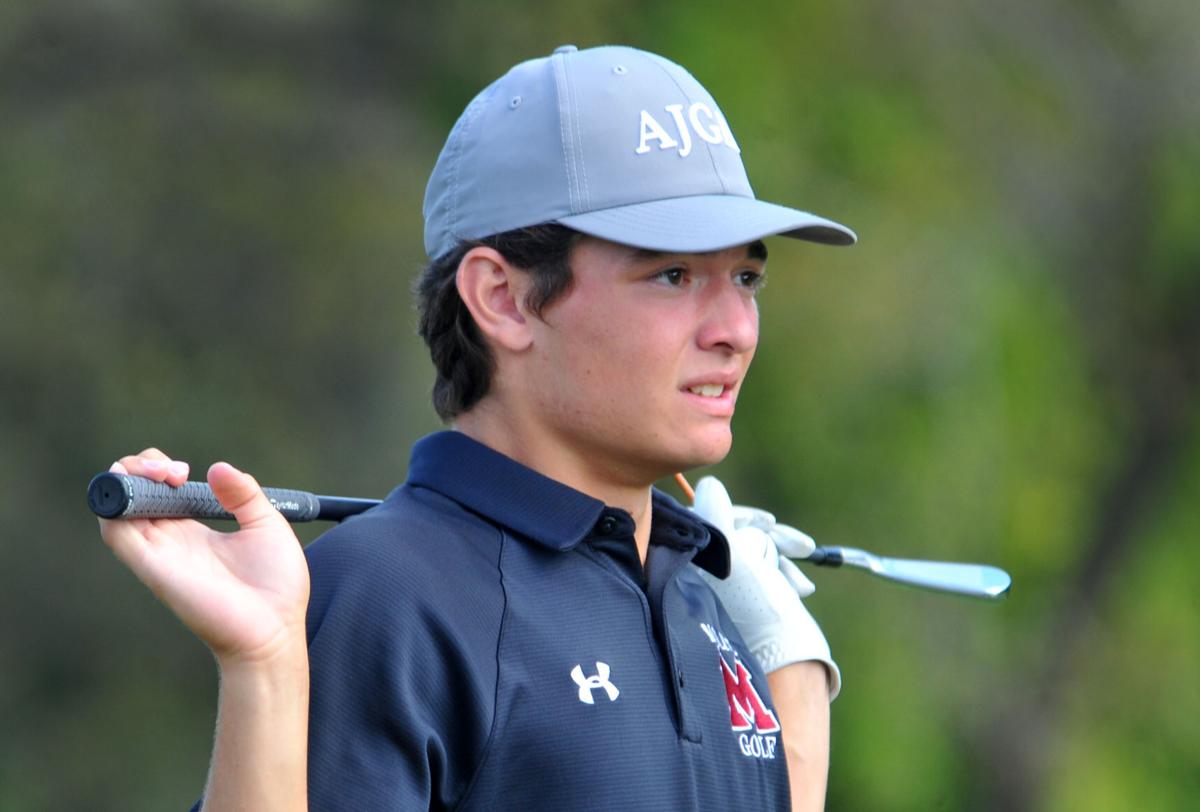 Mother Nature may have tried to put a damper on Monday's Class 3A boys Lockport Sectional golf gathering, but the Moline High School team finished the day under a shimmering rainbow.
Led by Tommy Potter's medalist-winning, career-low round of 5-under 66, the Maroons tied for second in the team race and earned a spot at the 3A state meet at The Den at Fox Creek in Bloomington that begins on Friday.
The Maroons carded a 298 team total and tied Lincoln-Way East for the runner-up spot behind champion Lockport (291) at Nettle Creek Country Club's Creek Course in Morris.
It is Moline's first state team trip in 25 years and the Maroons had their top juniors to thank for that as Potter and Jack Curnyn (T7, 73) led the way.
"Looking at the history, 25 years is pretty special," Potter said of the team ending its state drought. "I think we're all pretty glad to be a part of something like this. State's a great accomplishment, but we want to go farther than that."
Moline coach Max Haverland was impressed by his team's resiliency.
"We had a couple of guys get off to bad starts, but they scratched out a number and really finished strong," he said. "Tommy played fantastic, Jack played fantastic and that obviously helps a lot. … All the guys just took care of business and did what they had to do."
In addition to Potter and Curnyn, the Maroons logged a 77 from sophomore transfer Andre Marriott and an 82 from senior Aaron Rogers, the Western Big 6 Conference medalist. Those two placed T24 and T60, respectively.
Potter joked that "it was an interesting day" with a heavy downpour coming before the start of play and then having to deal with a soggy course.
"The ball wasn't flying as far and sticking in the ground pretty good, so it was tougher conditions," he said after topping the field by four strokes.
But not too tough to handle as he played it for just the second time in his life, the first being a Sunday practice round.
Potter carded a 1-under 35 on the back nine to start and then blistered the front nine with three straight birdies after making the turn and added another on No. 5. A bogey on the par-3 sixth was offset by another birdie on No. 8 to close with a 4-under 31 on the front side.
"It was a simple day out there," Potter said. "If you hit it straight and hit it on the green, golf is pretty simple. It was a fun day with the team."
Neither Rock Island sectional qualifier advanced to state as freshman Chase Hadley shot an 83 that tied for 66th and senior Aaron York carded a 91 that tied for 94th.
Class 2A
Geneseo boys shut out: The season came to an end on Monday for the Geneseo High School boys golf team at the Class 2A Metamora Sectional at Metamora Fields Golf Club.
The Maple Leafs finished tied for ninth in the team standings with a 336 score. Macomb won the team title with a 305, topping Springfield Sacred Heart-Griffin (315) and Normal University High (318).
Freshman Bryson VanHoutte led the Leafs with a 79 that tied for 20th. Other Geneseo counting scores came from senior Mason Steinert (T53, 85), junior Samuel Robinson (T53, 85) and senior Thomas Henson (T65, 87).