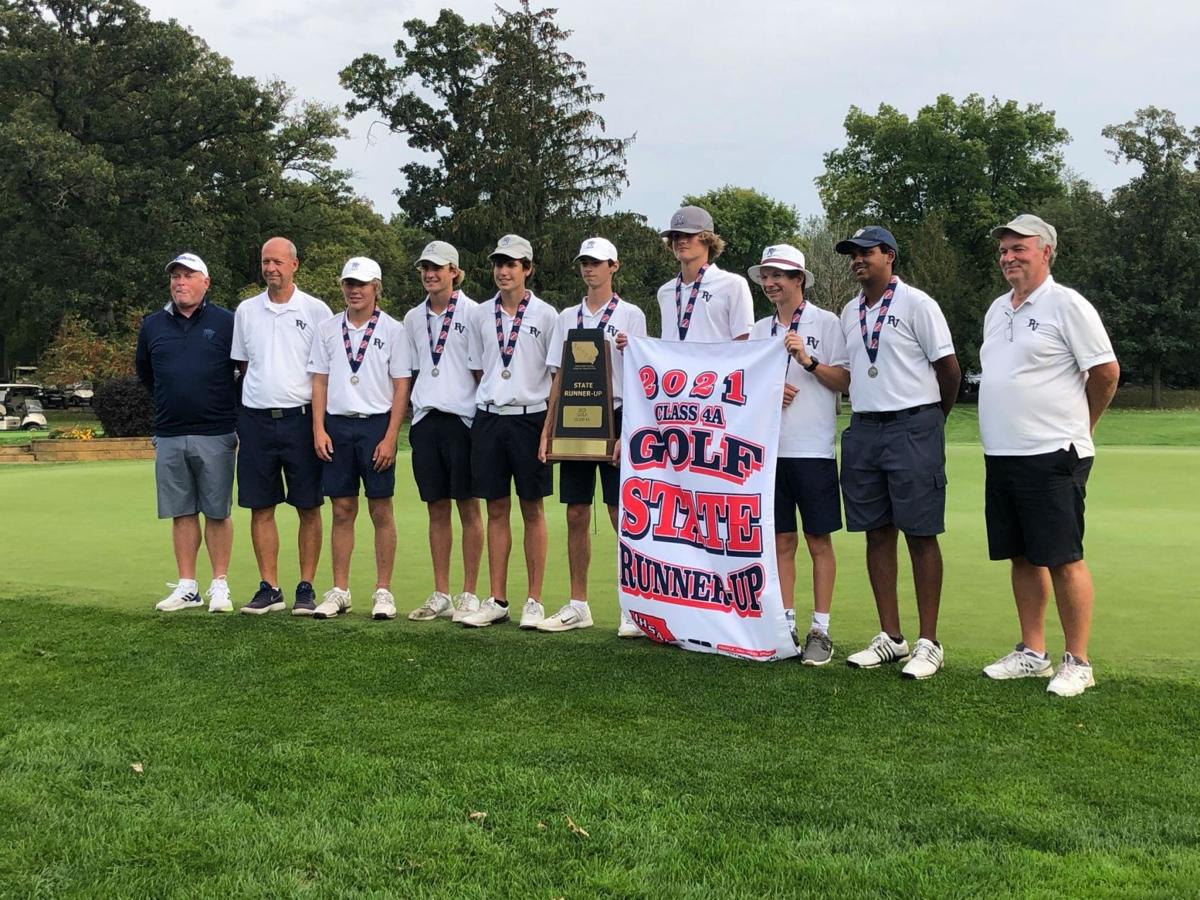 With top-10 individual finishes from Nathan Tillman and Sam Johnson, the Pleasant Valley High School boys golf team placed second in the Class 4A state tournament that concluded Saturday afternoon at Beaver Hills Country Club in Cedar Falls.
Top-ranked and favored Cedar Falls shot a second-day 301 to post a 596 team score and beat the field by 18 strokes.
The Spartans, though not improving on their opening round score, jumped up one spot on the leaderboard to finish second with a 614 total. On a blustery day that blew around scores, PV carded a 309 — the only other team score under 310 — to shoot up to a runner-up finish.
"The boys competed well today," PV coach Mike Nedelcoff said. "Conditions were definitely more difficult today with the wind blowing 20-25 miles per hour."
Tillman, a senior headed to play at Western Illinois University next fall, recorded a Saturday 77 to finish at 147 and tied for seventh. In his fourth straight state appearance, Tillman lost a scorecard cardback for the final medal that went to the top seven finishers.
Johnson, a junior, tied for the second-best round of the day on Saturday with an even-par 72 that left him with a 36-hole 149 total and solo 10th-place finish.
"Both Nathan and Sam played very solid golf," Nedelcoff said. "Sam played really well (Saturday). Nathan had two bad swings and that cost him four shots. That was the same thing that happened to Sam on Friday."
Freshman Ethan Blomme (82-78—160) tied for 35th individually with junior teammate Jack Kilstrom (78-82—160).
Those scores were enough to help the Spartans match last year's runner-up finish. In the last four years, the Spartans have three runner-up team finishes and a third-place.
"We've been very, very competitive the last few years and we don't plan on that changing," Nedelcoff said. "We'd just like to get over that hump some day and we're going to keep battling."
Ottumwa senior Cale Leonard (69-70—139) won the individual title, finishing ahead of two others who were under-par for the weekend — Waukee junior Tanner Dinnebier (69-72—141) and Cedar Falls junior Owen Sawyer (69-73—142).
Finishing behind Cedar Falls and PV in the top five were Southeast Polk (622), Burlington (624) and a tie between Johnston and Waukee at 626.