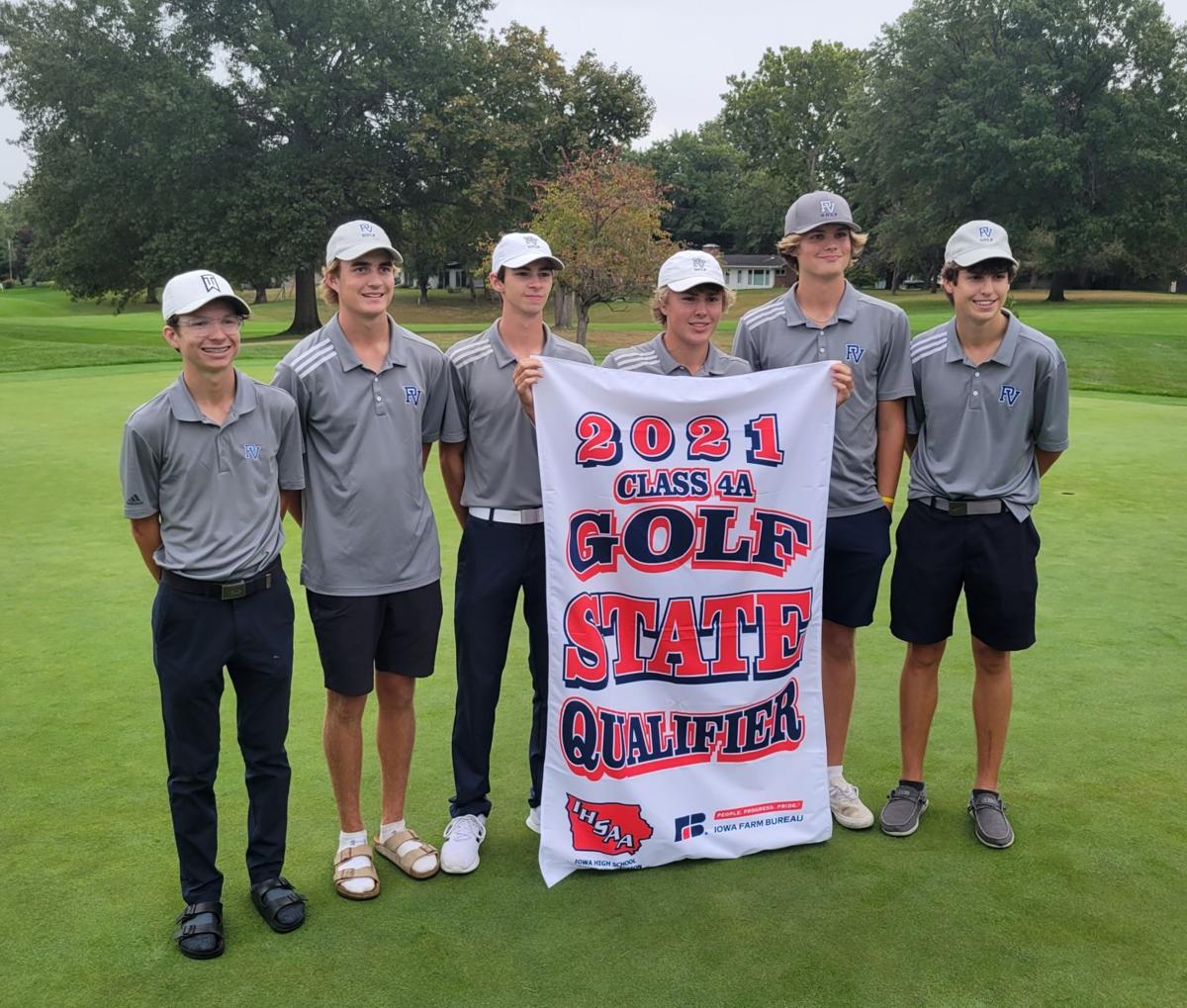 BURLINGTON — Sam Johnson was in a groove. The Pleasant Valley High School junior had just made an eagle at the par-5 12th and dropped in a birdie at the par-3 13th.
He was 3-under par with five holes remaining Tuesday afternoon in the Class 4A district meet at Burlington Golf Club.
Then, Johnson's round came to a halt.
With the 14th hole featuring a blind tee shot and a steep cliff, there were seven to eight groups waiting on the tee box at one point. It was more than an hour before Johnson struck another shot.
"You can really get worked up and get a lot of stuff going on in your head," he said. "It was tough to stay focused. You're 3 under and the nerves are going in a district meet.
"Then after waiting for an hour, you're hitting over a cliff. It took some time to get back in a flow, not just with your body but getting your mind back to playing tournament golf."
Johnson labored a bit coming in, but still managed to shoot a 2-over par 74 to help PV claim a district title and its fourth consecutive state tournament trip.
Nathan Tillman turned in a season-low round of 71. Connor Borbeck posted 77 and Owen Wright had 81 as the Spartans finished with a 303 total, two strokes clear of host Burlington. Cedar Rapids Prairie snagged the other state-qualifying berth with a 324 total.
"We left a lot of strokes out there," Borbeck said. "We can definitely go under that."
The Spartans likely will have to be better to contend with Cedar Falls, Cedar Rapids Kennedy and Waukee this weekend at the 36-hole state tournament at Beaver Hills in Cedar Falls.
"I have never ever gone into a competition thinking we don't have a chance," PV coach Mike Nedelcoff said. "We'll have to play our best, but this group has the potential to play better than it did today.
"Whether that's good enough, I don't know. I'm sure glad we're getting the chance."
Like Johnson, Tillman had it at 3-under par before stepping to the par-4 14th that measures around 385 yards.
Tillman made bogey there and followed with a double at the par-5 15th after hitting his tee shot out of bounds, but rebounded with two pars and a birdie at the par-3 17th in his closing stretch.
"When you have to wait that long, you have to keep yourself distracted," Tillman said. "I just went and watched the guys behind me. I just tried to keep talking and swing a club every once in a while.
"When it is a 20- to 30-minute wait, that's not terrible. When it gets to an hour, it is tough to get back in a rhythm."
Borbeck admitted it was almost like two rounds in one with the long delay.
With a 14-team field, six schools teed off at 9:30 a.m. in threesomes off each side and another wave went off at 10:16 a.m. The last group did not finish until after 5 p.m.
"(The wait) was definitely an obstacle, and I'm not sure we handled it greatly," Nedelcoff said. "We handled it well enough. I'd like to think our kids are pretty mentally strong."
The biggest advantage for the Spartans was playing the golf course earlier this season. PV shot a 310 in a triangular against Burlington and Macomb last month.
Prior to that, nobody on Nedelcoff's squad had ever seen the course.
"This course is all about off the tee," Tillman said. "It is a lot of doglegs and a lot of placement, knowing where you're going.
"If you can put it in the fairway, you can have wedges and you can score."
Ottumwa's Cale Leonard, a Drake recruit, was the meet medalist with a 3-under 69. Burlington's Mateo Rascon fired a 70 and Tillman was third with his 71.
"It was great to put up a low score when we really needed it," Tillman said. "This is when it really matters."
Outside of Tillman, Johnson and Borbeck, there were only two other players from the Mississippi Athletic Conference to break 80.
North Scott's John Dobbe and Assumption's Keaton Thissen each had 79 but neither advanced as only the top two finishers on a non-qualifying team moved on. Leonard and Linn-Mar's Caden Postma (75) earned the individual spots.
It was the seventh tournament title of the season for the Spartans.
"We're all friends and we don't put any pressure on each other," Borbeck said. "We know if we have a bad day, we're going to get backed up by the team. That's a great feeling."