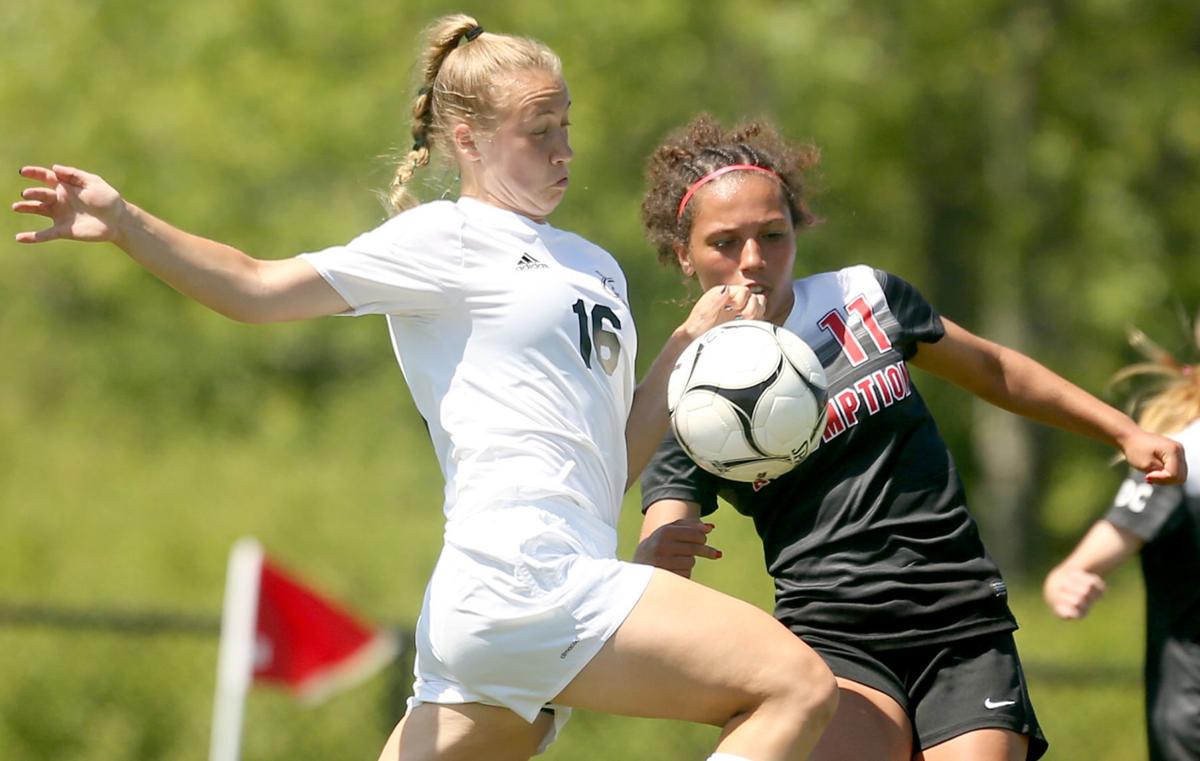 Davenport Assumption girls soccer has dominated the spring this past decade, winning eight state titles in the last nine years.
But whether or not that run can continue this year will remain to be seen.
Following Sunday's announcement from Iowa Gov. Kim Reynolds recommending all schools close for four weeks in response to the COVID-19 pandemic, all spring activities of Iowa's high school unified activities partners — the Iowa Girls High School Athletic Union, the Iowa High School Athletic Association, the Iowa High School Music Association and the Iowa High School Speech Association — will be prohibited through that time period.
Illinois activities had been called off for two weeks starting last Friday.
"I think it's definitely a frustrating situation for everyone involved," Assumption head coach Elizabeth Maus said. "I understand that it has to be done and I do appreciate the reasonableness the state is using as far as going in incremental steps instead of just canceling it all at once."
The recommended closure date extends through April 10 and would mean a school return of April 13.
Prior to that date, the activities schedule will be assessed as necessary with information from the governor, Iowa Department of Public Health, Iowa Department of Education and activity partners at the IGHSAU, IHSAA and IHSMA. 
Track practices in Iowa had already started on Feb. 17, while the first practice date for boys soccer, golf and tennis was scheduled for Monday.
The first practice date for girls tennis and golf was also scheduled for Monday, while girls soccer was set to begin March 23.
The first practice date for baseball and softball remains scheduled for May 4 until further notice.
Hopefully, that time will be used to address several questions moving forward.
"I've marked all of our games and meets postponed but it's going to be all but impossible to make up a week and a half of events, as packed as the seasons are to begin with," Davenport Central activities director Kevin Petersen said. "Can we really put kids in competition after one or two days of practice? There are a lot of question marks."
Petersen said he expects some further guidance on how to handle the schedule either Tuesday or Wednesday, but he also recognizes the possibility that this ban could last longer than the initial four weeks, depending on what happens with the virus.
The Center for Disease Control recommended Sunday the cancellation of gatherings of 50 or more people for the next eight weeks. President Donald Trump recommended avoiding gatherings of 10 or more people Monday.
"I'm 50/50," Petersen said of whether or not this restriction would only last four weeks. "It's going to depend on at least how the next two weeks go. If you read different articles, the two-week quarantine period is the big time to catch it and see where your numbers are at. I think after two more weeks, we'll get a lot more guidance when we see the numbers across the nation. We just don't know."
All IHSAA and IGHSAU sports are now in a prohibited period for practice, competition and sanctioned activity until the closure is lifted, meaning no in-person contact between coaches/administrators and student athletes for the duration of the period. High school weight rooms are also off limits during this time.
With the possibility the season will resume in four weeks, it will be up to the athletes to stay in shape. Petersen said he plans to talk to his coaches about setting up workouts that can be done at home, something Maus said is also being worked on at Assumption.
"Our girls are pretty self-motivated," Maus said. "I just think with some encouragement and effort to guide them along the way, as far as fitness and at home lifting activities they can do, I think they're just going to keep pushing forward with the hopes that things will level off by the time the 13th rolls around.
"Just be hopeful at this point and keep pushing."
Concerned about COVID-19?
Sign up now to get the most recent coronavirus headlines and other important local and national news sent to your email inbox daily.