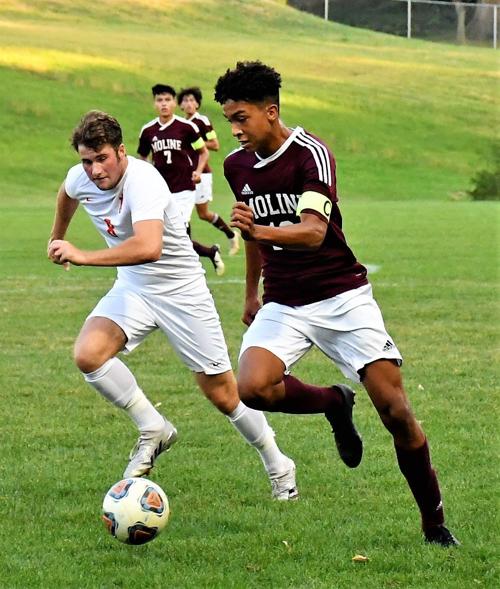 JOLIET — Saiheed Jah recorded a hat trick and Isiah Gallegos scored a goal as the Moline boys soccer team breezed past top-seeded Joliet West 4-0 to capture a regional championship Friday afternoon.
The Maroons (17-3-3) advance to a Tuesday game in the Collinsville Sectional, where they will face Minooka or Normal Community, who play their regional final Saturday.
It's the second straight time third-seeded Moline has won a regional title against a higher-seeded team. The Maroons made a run to the Sweet 16 as a No. 5 seed in 2019, also defeating Joliet West that year.
Moline coach Rick Sanchez said scoring first and getting the lead was the key this time in negating Joliet West's quickness.
"It was pretty impressive to be able to hold them without a goal," Sanchez said. "It was a total team effort both offensively and defensively."
Jah scored in the ninth minute to give Moline a 1-0 lead. It poured it on in the second half as Jah scored in the 57th minute and Gallegos found the net in the 70th minute. Jah registered his third goal three minutes later for the Maroons, who haven't yielded a goal in their past four outings.
"Saiheed had a great game tonight and set the tone early," Sanchez said. "We were able to create and be efficient in the second half to put them away."
Football
North Scott 55, Mount Pleasant 0: North Scott wasted no time wrapping up its first undefeated regular season since 2006 by bolting to a 28-0 first-quarter lead.
The Lancers (9-0), ranked No. 1 in Iowa Class 4A, struck early with a touchdown run by Darnell Butler, TD receptions by Oliver Hughes and Miles Robertson and a scoring run by Drew Kilburg, then coasted from there.
Jakob Nelson and Hughes added TD receptions early in the second quarter to send the game to a running clock.
Mount Pleasant finished its season 1-8.
Pleasant Valley 41, Iowa City West 20: Pleasant Valley took some time to get started in its regular-season finale but once it did, the Spartans rolled into the Class 5A playoffs with a rout.
PV (7-2) had only a 7-6 lead on West (2-7) before Makhi Wilson scored in the second quarter to make it 14-6 at halftime.
Caden McDermott scored a touchdown on a lengthy drive to open the second half and after the Trojans countered with a TD of their own, sophomore Tyge Lyon scored twice and Ryan Doyle added a long TD run for the Spartans.
Assumption 42, Maquoketa 14: Assumption broke open a game that was tied in the second quarter to roll into the Class 3A playoffs.
The Knights (6-3) already had a playoff berth clinched prior to the contest by virtue of a second-place finish in their district. Maquoketa finished 0-9.
Benton 33, Central DeWitt 22: Central DeWitt had its slim Class 3A playoff hopes squashed with a road loss in the final game of the regular-season.
The Sabers finished 5-4 while Benton secured a playoff berth at 8-1.
Iowa City Liberty 45, Clinton 13: Clinton held an early lead before Liberty took control of the game in the second quarter.
The Lightning (3-6) scored pair of touchdowns in the second period, including a 1-yard run by Darius Willis-Newell with 30 seconds left in the half. They then dominated the River Kings (2-7) in the second half.
Muscatine 24, Davenport West 18: Muscatine averted a winless season by grinding out a victory over West.
The Muskies (1-8) held a 14-8 halftime lead and recovered an onside kick to open the second half. They scored on just the second play after that on a 19-yard run by Ty Cozad to make it 21-8.
The Falcons (1-8) narrowed the gap on a 10-yard touchdown run by Tucker Avis with 2:39 remaining in the third quarter. Sophia Tucker kicked a 22-yard field goal for Muscatine early in the fourth quarter but Caleb Hass countered with a 23-yarder with just 1:08 remaining.
The Falcons' attempt at an onside kick failed, however, and Muscatine ran out the clock.
Galesburg 63, Alleman O: Galesburg piled up a 28-0 halftime lead and continued to roll from there in the final regular-season game for both teams.
The Silver Streaks ended their season 4-5 while the Pioneers finished 0-9.
Mid-Prairie 35, Northeast 28: Northeast Goose Lake put on a strong finish but it wasn't enough to keep the Rebels from being eliminated in the opening round of the Class 2A playoffs.
Mid-Prairie (6-3) had a comfortable 35-14 lead after three quarters before Northeast (4-5) tacked on a pair of touchdowns in the final period.
Sigourney Keota 34, Durant 6: Unbeaten Sigourney-Keota put an end to Durant's season in the first round of the Class 1A playoffs.
Durant finished its season 2-7.
North Tama 23, Wapello 22: Wapello opened a halftime lead but was unable to score in the second half while having its season ended in the Class A playoffs.
The Indians (6-3) had a 22-15 halftime edge but North Tama (7-2) scored a go-ahead touchdown in the third quarter and held on from there.
Easton Valley 69, Dunkerton 8: No. 3-ranked Easton Valley had an easy time getting through the first round of the Iowa 8-man playoffs.
Girls tennis
Rector eliminated: Alleman's Kate Rector played five matches at the Illinois Class 1A girls state tennis tournament in Buffalo Grove before finally being eliminated from the consolation bracket Friday.
The junior split two matches while battling through seven rain delays Thursday, then won two more matches Friday before going down to a 6-0, 6-1 defeat to Lia Quintero of Quincy Notre Dame.
Rector opened Thursday with a loss to Emma Baker of Chicago University High before bouncing back to defeat Lisa Henry of Robinson, Margaux Bruce of Marion and Caitlyn Conrad of Belleville Althoff.
The Geneseo doubles team of Annie Turpin and Ali Rapps also lost their opening match Thursday. They won a consolation bracket match over Camryn Strine and Maleah Armstrong of Mt. Carmel before being ousted by Julia Musgrave and Reagan Martyn of Rochester.
In Class 2A, Moline singles players Karenna Zemek and Camille Keys and the doubles team of Sarah Gustafson and Zayda Graham were each eliminated in two straight-sets matches Thursday.