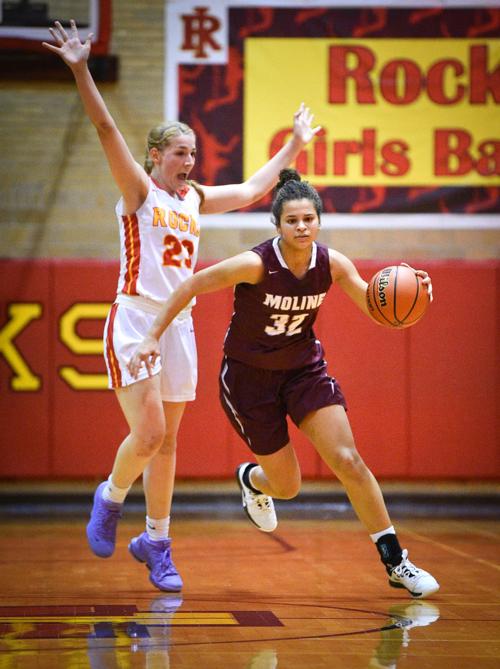 Athletes of the week
Lindsey Banowetz
Banowetz made 11 of 14 field goals and finished with a career-high 24 points last Tuesday night in Bellevue's 70-25 rout over North Cedar. The 5-foot-9 Banowetz also grabbed four rebounds, dished out three assists and recorded two steals. Banowetz is coming off a junior season in which she averaged 14 points and 7.2 rebounds per game. 
Grace Boffeli
The Northern Iowa signee and reigning conference player of the year averaged 35.5 points and 10.5 rebounds in North Scott's wins over Cedar Rapids Kennedy and Class 4A fifth-ranked Cedar Rapids Xavier. Boffeli shot 69.2 percent from the field and connected on 17 of 22 free throws (77.3 percent). She has accounted for 55 percent of North Scott's points. 
Josh Johnson
Johnson had 18 points, five rebounds and two steals Saturday night in Orion's 63-43 win over Sherrard to capture the Chargers' 10 & 32 Tip-Off Classic title. Johnson was the lone unanimous selection on the six-player all-tournament squad. Johnson had 14 points, seven rebounds and four steals in Orion's 60-34 victory over Alleman last Friday. He's averaging 18.3 points per game.
Teams of the week
Assumption girls basketball
Last week: Davenport Assumption opened its season with road victories over 4A fifth-ranked Cedar Rapids Xavier 52-51 and Keokuk 54-46. The Knights overcame an 11-point deficit in the fourth quarter at Xavier, and used a 19-6 surge in the third quarter to break free at Keokuk. Anna Wohlers, Dawsen Dorsey and Corey Whitlock averaged double figures in the two games. Whitlock also hauled in 20 rebounds in the two outings. 
Mercer County wrestling
Last week: The Golden Eagles opened the season with dual wins over United Township (54-28) and Marion Catholic (39-32). Jon Headley (132 pounds) and Seth Speaker (170) each recorded a pair of pins. Of Mercer County's 10 contested wins in the two duals, all of them came by fall. Speaker is coming off a 37-win season. Broctyn King, who had a pin at 120 pounds in the win against Marion Catholic, was 25-13 a season ago. 
Moline girls basketball
Last week: After claiming the Macomb tournament, the Maroons ended Rock Island's 40-game Western Big Six Conference winning streak last Thursday, 61-58. Bralee Trice hit a go-ahead 3-pointer in the closing 30 seconds for the victory. Trice hit four treys and finished with 26 points. Moline, which beat Peoria 49-43 on Saturday, is off to a 6-0 start. Trice leads the Maroons in scoring at 15.2 points per game.