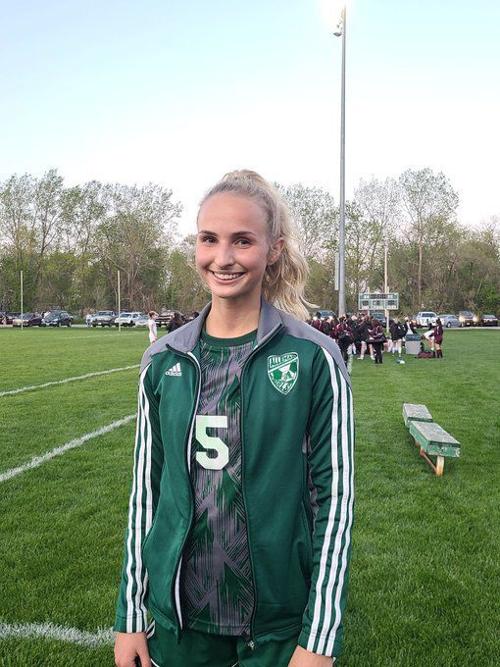 Despite Moline having a big advantage in scoring opportunities, the Alleman girls soccer team made its shots count in a significant 2-1 Western Big 6  home win on Thursday night.
It was believed to be Alleman's first win over Moline in school history by many following the game, but it was not. Under the team's first head coach, Mark DeBaene, Alleman beat Moline 2-1 in 2001.
Thursday, the Pioneers (2-2, 2-0 Big 6) used a pair of goals from senior leaders Kendall Wendt and Ella DeSmet in the win over Moline (2-4, 1-1), shutting out the Maroons for the first 70 minutes.
Moline fell despite a 15-4 advantage in shots on goal. Alleman freshman keeper Carolyn Maynard had nine saves.
None of the Moline coaches, including assistant Lindsay Schilb, could recall the last time Alleman beat Moline.
Rock Island joined Alleman at 2-0 to tie for the early Big 6 lead after Rocky scored a clutch 1-0 OT win over United Township in a game decided by a penalty kick.
DeSmet's high-arching chip shot goal gave Alleman a 2-0 lead in the 59th minute.
"I don't think that's ever happened," said DeSmet of the win over Moline. Her older sister, Julia, is a 2019 Alleman grad who also played for the Pioneers. Julia is also assisting the team this season.
"It's huge. I'm so proud of everyone. We all literally put everything we had into it," Ella said. "This team is really something special I think. We just gave it all we've got."
Wendt found space and struck for Alleman's first goal in the 18th minute in what was a very competitive and mostly clean contest. Wendt was issued a yellow card in the second half.
Moline had a number of shots sail just wide or get driven right at the keeper. The Maroons had 21 shots to Alleman's eight.
Maroons freshman Charlise Martel used a big boot to get her team on the board in the 70th minute.
"They definitely had possession of the ball more of the time," DeSmet said of Moline. "I just think we got lucky and took our opportunities we had and it ended up working out well for us."
Alleman was without sophomore Kiersten Bailey, who coach Chad Hollmer said must sit out and quarantine due to a potential COVID-19 exposure. The Pioneers started five freshmen on Tuesday night. Moline started three.
"This is massive for the girls and for the program," Hollmer said. "I'm proud of them. They're incredible. They're a really strong team across the board. No weak links and things like that. Our girls were up for it."
Hollmer said the Pioneers do not care where the goals come from, but his big players showed up in a big game.
"The girls feed off of them (DeSmet and Wendt)," he said. "We're young, we have a lot of freshmen, so when they see that, it becomes contagious."
Hollmer said while Moline did have plenty of chances, his defense and Maynard in net were solid.
"To hold them to one goal is a feat in itself," he said.
With a handful of players from each team familiar with one another from club play, each squad knew what they had to bring in the contest after last year's IHSA season was cancelled.
Moline coach Jonathan Dreasler, whose team played its third game in three days, said the Maroons had their chances.
"In games like this, when you two good teams play each other, you have to finish on your opportunities," Dreasler said. "Alleman was able to do that tonight twice, and we were only able to do it once."
Dreasler said his team did not exploit the Alleman defense as well as it should have, but he was proud of his team after it gave everything it had.
"Hats off to Alleman, they have a good team," Dreasler said. "Probably the team that I have seen Alleman have in coaching on the Iowa side and the Illinois side of the river, since (around) 2007."
After a third straight game night, Dreasler did not make excuses and credited Alleman's strength as a team.
"If we wouldn't have played three games in three days, and we played Alleman 10 times, it might've been they won five, we won five," he said. "I felt it was a pretty evenly matched game."
DeSmet said the team must continue to take on all challenges to keep rolling this season.
"Just go hard every day at practice," she said. "Just fight for one another, no matter how hard it gets."