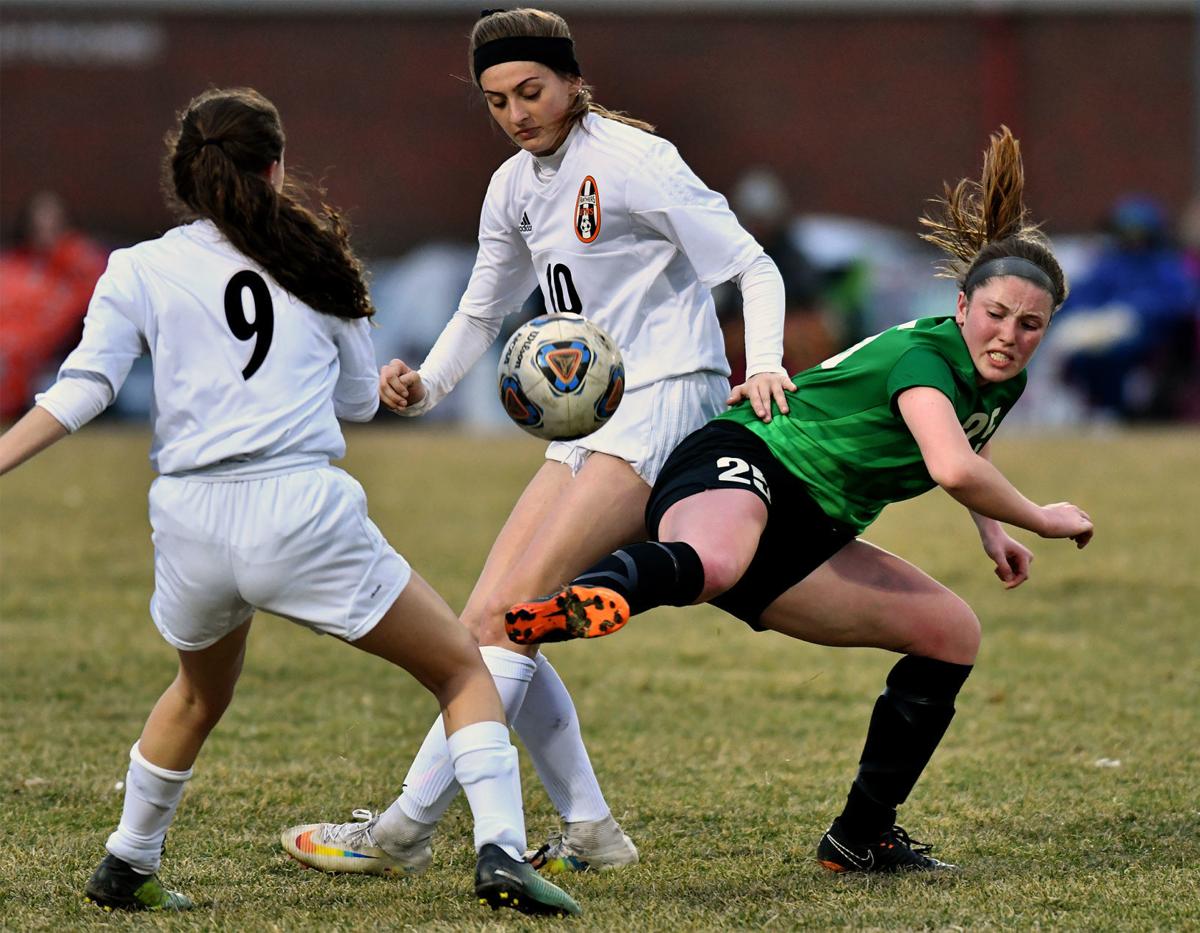 Pranking each other with red cards is just one way the United Township girls soccer team has stuck together during the COVID-19 pandemic.
"Basically, we go to each others' houses and we put this big red card down and leave 20 cones laying out," said UT senior Madison Gordon. "And there's a little note that says 'You've been red-carded, and now you have to do it to somebody else.'"
It's a simple idea, but it's something to help lift the spirit of the team, which had its season canceled.
"It's something so small," Gordon said, "but it means a lot to all of us, because it's fun."
Gordon is one of three UT girls signed to play soccer at Scott Community College, along with Aria Fix and Breanna Nesseler. Jenna Fender (St. Ambrose) and Mackenzie Jones (Coe College) also will play college soccer. UT's sixth senior, Alex Garcia, plans to attend Black Hawk College but won't play soccer.
Coach Phil Weaver said the pandemic has brought out the personality and creativity of his team as it tries to stay close through social media and sharing workout routines. The "Be the Light" stadium events and support from the parents and community also have helped lessen the frustration.
"We were all looking forward to a challenging and rewarding season before the pandemic struck, and believed we had the players to do really well," Weaver said. "You can't hide their disappointment of not playing, but you quickly understand that some things are far more important than playing soccer, especially at a time like this."
Gordon, a forward who won the team's MVP award last season, said she felt blessed to have the chance to play soccer in college and get another chance to play with two of her teammates again. She and Fix, who won UT's "most improved player" award last year, were both All-Western Big 6 Conference selections last season.
She said this year's group of seniors came together to help team solidarity. Their main focus was keeping a "winning mentality" heading into the season.
"We really haven't seen each other a lot," said Gordon, "but we still communicate and make sure we're doing OK and staying safe and healthy and active."
Knowing they are playing at the next level also has helped the seniors continue to hold each other accountable.
"We're all still growing and finding out who each other are," she said. "It's really nice that we can still keep growing with each other."
Gordon said the soccer players will take part in UT's altered signing day in the commons area at 1:30 p.m. on Wednesday.
She hopes the returning Panthers don't take anything for granted and continue to work hard.
"I'm going to miss them so much," said Gordon, who plans to take care of her general education at Scott and continue in the business and finance fields. "I'm just starting to work toward my future now."
Get in the game with our Prep Sports Newsletter
Sent weekly directly to your inbox!